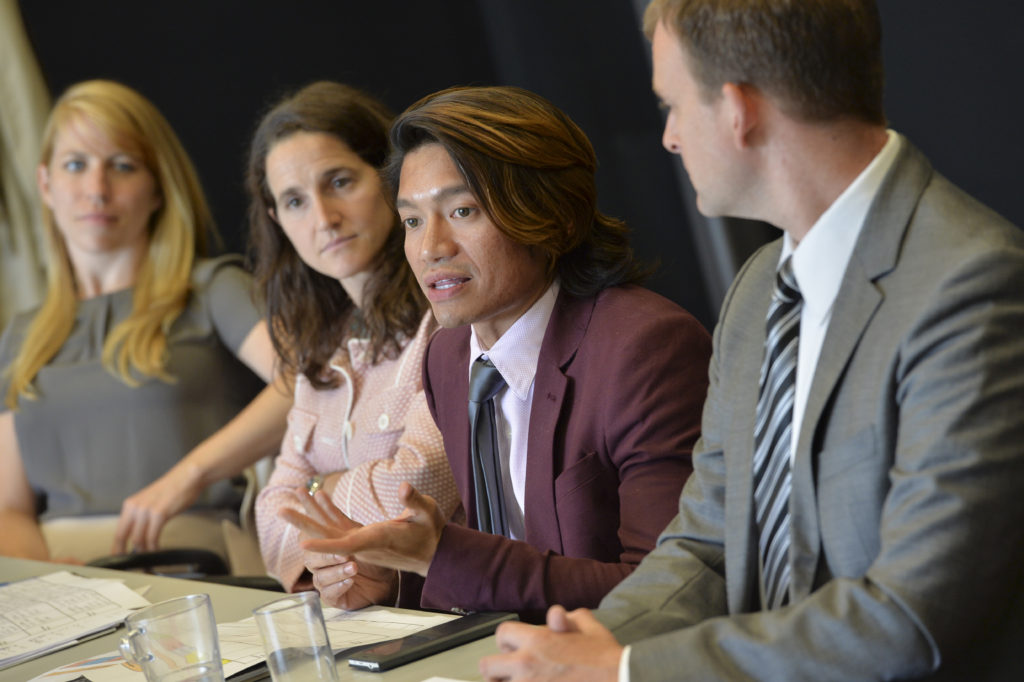 Robert Bosch Foundation Fellowship Program 2018 (fully-funded)
Deadline: November 1, 2017
Apply now for the fully funded Robert Bosch Foundation Fellowship Program 2018. The Fellowship Program is a distinguished transatlantic initiative that offers a select cohort of accomplished Americans the opportunity to complete a comprehensive intercultural professional program in Germany that is comprised of three main components:
Individual professional assignments
Professional seminars
German language training
Bosch Fellows act as consultants in their field of expertise at leading public or private institutions in Germany. In addition, they participate in professional seminars, where they travel to meet and exchange ideas with experts and decision makers from Germany and Europe.
Benefits
Fellows are involved in one or two practical phases (stages) at leading institutions in Germany;
Seminar series covering issues of German, European and transatlantic concern;
Private German language instruction before departure; intensive language training in Berlin;
Receive monthly stipend within the range of EUR 3,200 to 3,700 starting in October; monthly summer stipend of EUR 1.500 + free accommodations during July, August and September; exact amount of stipend dependent upon number of accompanying dependent family members;
Accommodation and travel for the orientation program;
Stipend for travel to and from Germany;
Lifelong membership in the Robert Bosch Foundation Alumni Association.
Eligibility
Applicants are expected to have a genuine interest in German and European affairs, have clear goals for the professional assignment(s) of the program, and demonstrate a commitment to the transatlantic relationship that extends beyond their own professional interests.
In particular, the following qualifications are required of all applicants:
U.S. citizenship;
Age 40 or younger at time of application;
Minimum five years of full-time work experience in target field (excluding internships);
Professional experience and Fellowship target field should be in the areas of: public policy and administration, foreign and security policy, urban and regional planning, business, journalism and communications, law, or cultural and arts management;
Evidence of outstanding professional performance and academic achievement;
Graduate degree preferred;
Active participation in community and/or public affairs;
Willingness and commitment to learn German; high proficiency would be an asset.
Application
Interested applicants should make request for application here
Please review these instructions before completing and submitting your application:

Application must be submitted online no later than 11:59 p.m. EST on November 1, and any supporting documents not submitted online or via email must arrive in hard copy by the same date;
You may log into, edit and log out of your application at any time until you have clicked on the "Submit" button. Once an application has been submitted, it is considered final. Please make sure to click "Save" in each section you edit before exiting your application to ensure that all data is saved;
Prior to submitting your application, please be sure to review the information you provided very carefully by clicking on the "Review and Submit" tab. On the last page of this section you will be able to view a print version of your application, which you can save and keep for your records;
Once you have submitted your application, you will not be permitted to view or make any changes to the information you provided;
They recommend saving your résumé and answers to the short essay questions as PDF files in order to avoid formatting issues.
Key Dates
April – June: Private German language tutoring
May: Pre-departure orientation
July – September: Full-time German language training in Berlin; Introductory workshops with the Bosch Stiftung
September – October: Seminar I
October: First professional assignment begins
January/February: Seminar II; 8-month Fellows depart
February: Second professional assignment begins
May: Seminar III; 11-month Fellows depart
For more information, see FAQ or visit Robert Bosch Foundation Fellowship Program.