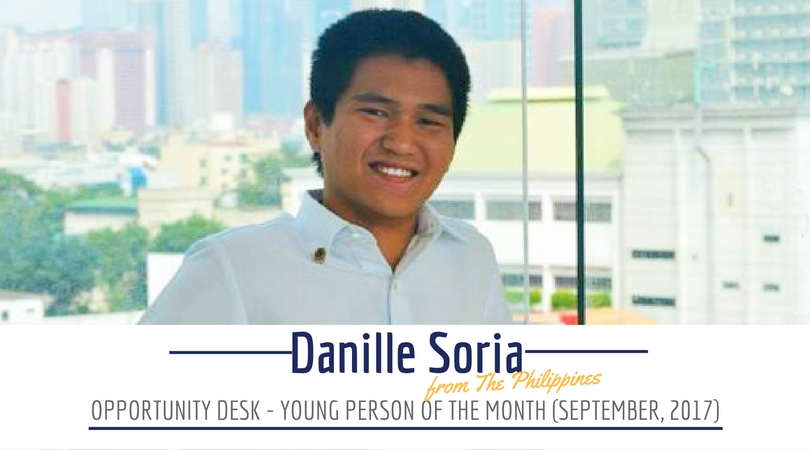 Danille Soria from the Philippines is the September 2017 OD Young Person of the Month!
Welcome to September!
New month, new goals, new beginnings! The OD Young Person of the Month is Danille Fritzgerald O. Soria a.k.a. Neil Soria from the Philippines! He is the co-founder of ASEAN Youth Leaders Association (AYLA), an award-winning organization based in South East Asia with over 45000 volunteers and which promotes an inclusive and empowered youth participation for sustainable development. Neil is multi-talented and is passionate about advocating and improving the lives of youth.
Read his amazing story below and be inspired!
NEIL SORIA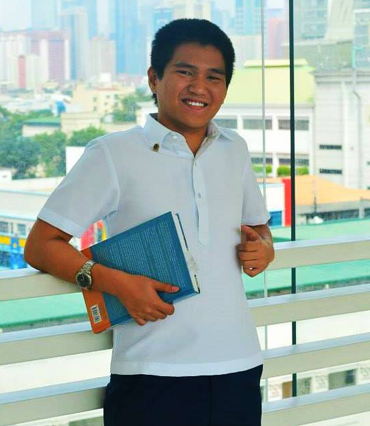 Danille Fritzgerald O. Soria commonly referred to as Neil Soria is an NGO leader, activist, poet, writer, and author. A graduate of Development Studies from De La Salle University – Manila in the Philippines, Neil co-founded ASEAN Youth Association at the age of 19 with Ms. Lutfiya Al-Qarani from Indonesia. Neil Soria is also the founder of Discovery Space, a social enterprise that bridges people and opportunities.
On how he began AYLA
Any youth living in South-East Asia and its environs must have heard about ASEAN Youth Leaders Association (AYLA), a non-profit organization on the forefront to bring together young people from all walks of life and nationalities in South-east Asia to help transform their ideas into positive actions.
"Antoine de Saint-Exupéry, author of The Little Prince once said – "The proof that the little prince existed is that he was charming, that he laughed, and that he was looking for a sheep. If anybody wants a sheep that is proof that he exists." This is the story of a journey. Like most journeys, it started out as a personal quest, but I never expected that I would be sharing it with the world," says Neil, gracefully beginning the conversation on how he founded ASEAN Youth Leaders Association.
Like most young people, Neil faced what he terms 'existential crisis.' He always tried to prove himself and each time he did so; he would end up vulnerable. It had never occurred to him during his childhood that he would one day become an advocate considering his naïve, curious and adventurous nature.
At the age of seven, Neil Soria became a victim of bullying. During his college years, he actively engaged himself in sports as well as in the different organizations which existed.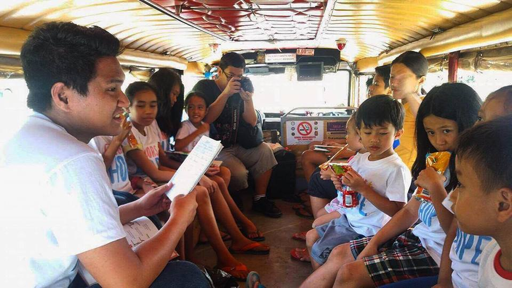 Neil Soria is an alumna of De La Salle University where he earned his Bachelor of Arts Degree in Development Studies. It was during his university days that Neil had a taste of how cruel the exploitation world is. "I was pressured to join a local 'organization' with a supposed purpose of building lifetime networks by fostering a sense of acceptance and inclusion. But it was the opposite. I was forced to work for people I have never met before and worse; they are fellow young people engaged in violations of human rights."
This experience made him think critically for months if this is what he truly wanted. He decided to come out of his 'box' in 2014. He made applications to numerous opportunities, international youth conferences, summits, and workshops.
In February 2014, together with his Indonesian best friend, Lutfiya Al-qarani, they co-founded AYLA during a youth summit event in Manilla. The organizers allowed Neil to address the audience. "The people behind the gathering gave me time to talk in the podium and right there and then the podium became my outlet – I was an advocate."
"I tried taking a step further by organizing with Lutfiya the delegates of the summit, creating a movement of young leaders that will challenge the status quo. We knocked all 30 doors and asked each one to come down and make an impact with us. At first, our invitation was not well received, but I knew we had a mission, so we pushed to convince. Eventually, we saw ourselves with all delegates from the 30 doors we knocked."
On the awards, honors, conferences, and fellowships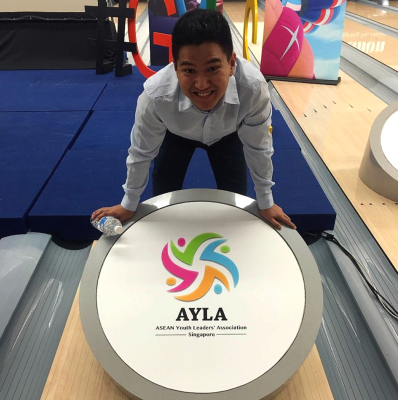 "Being able to breathe and live life for 23 years is already a significant milestone for myself. Credits, awards or recognitions are mere consolations because each day we try to win ourselves from our evils while the real journey is yet to unfold."
On October 2014, Neil was the youngest awardee of the Youth Ambassador for Peace in Asia granted by Universal Peace Federation – Asia (UPF – Asia) and Youth Federation for World Peace (YFWP – Asia). A month later Neil was selected by Universitas Muhammadiyah Yogyakarta (UMY, Indonesia) as the senior board member for the International Fair for People with Special Educational Needs (IFOSEN), Vice-Chair under its international arm, as co-organizer representing AYLA.
On 2016 together with five other young entrepreneurs, Neil co-founded Discovery Space Philippines, a start-up focused on bridging people and opportunities. "Discovery Space started with a simple idea of redefining traditional learning spaces, which evolved into a venture providing services on Education, Innovation and Leadership Development. "
On May 2017, Neil was invited by the Institute for Strategic and International Studies in Kuala Lumpur, Malaysia as the youngest panelist to represent AYLA and the voices of youth across Southeast Asia in the "ASEAN 50|50 Symposium: forging the future".
A week after, Neil was invited by the United Nations to participate in two workshops in Bangkok, Thailand which jointly present a forum for international exchange of experiences and substantive knowledge on Youth Policies.
"With the help of my colleagues, we are continuously growing AYLA. I couldn't have done it without them. Many people have been critical in AYLA's journey, and I would like to pay tribute to our most hard working members and volunteers behind the screen. At times when I was becoming less of a believer, they picked me up. They showed me the good and bad realities of life, and those realities became the basis of our foundation."
What are people not aware of, Neil?
"I am not the best nor the smartest. My initial concept of AYLA was crazy, but I figured if nothing else, then I could just give it a shot. I had no organized concept, all I had were motherhood statements and a little knowledge about my region. I wasn't also sure what kind of movement I was trying to build, but I knew I have to create a welcoming environment where our members will be encouraged to make contributions. I always believe that a lot of people are way better than me, but I never compete. Instead, I create an opportunity to work with others better."
His advice to the youth
"My advice to young people all over the world is to enjoy the journey. Enjoying is as simple as smiling every step of the way – win or fail. Enjoying also means believing that we never lose in our journey in life, just as how Nelson Mandela puts it – We never lose. It's either we win, or we learn."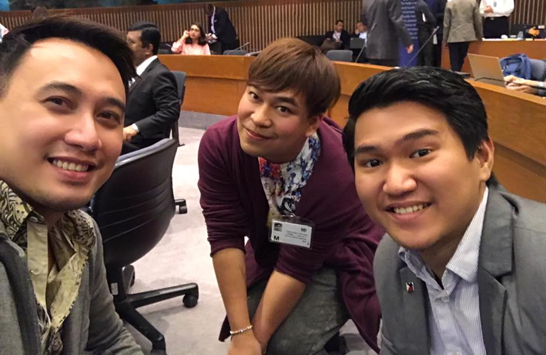 "Appreciate the little things. The little things that make you grow. Sometimes we tend to overlook beautiful moments in our lives simply because we get too busy. Imagine how much you will regret if you keep living the same way you currently are. I say stand up, reflect, learn and if you can, travel to learn some more. Experience life and never miss an opportunity. Once you are ripe, share your knowledge to our generation and future generations to nurture their sense of self-discovery. Once you see others grow under your watch, you know your purpose – that is true happiness."
To learn more about AYLA, Click Here! and you can connect with Neil Soria on LinkedIn and Twitter!
———————————————————————————————————————————
Who will be the Next Young Person of the Month?
You can be the next Opportunity Desk Young Person of the Month! All you have to do is get a friend to recommend your work or fill out the nomination form here. We want to use the platform to recognize and celebrate the efforts of amazing young people around the world. O! And you must be an active Opportunity Desk member, either as a fan, reader or subscriber!
Don't miss any updates in the future. Join Opportunity Desk on 121k+Facebook, 14.5k+Twitter, 61k+Group or join 27k+Subscribers via Email below!