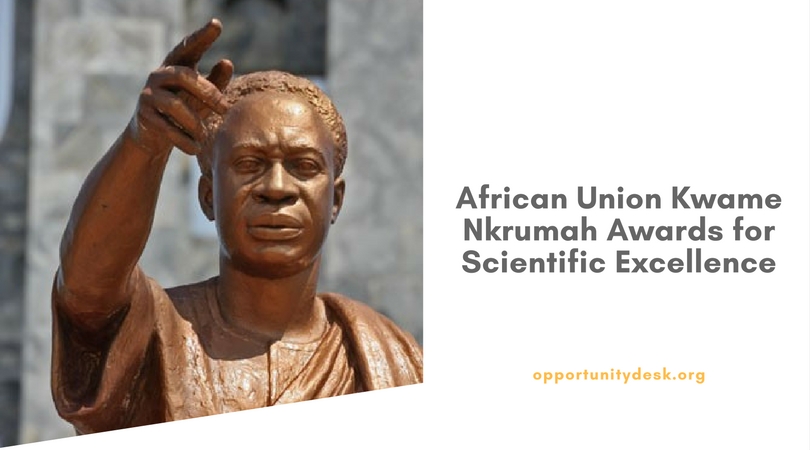 African Union Kwame Nkrumah (Continental) Awards for Scientific Excellence 2017 ($100k in Prizes)
Deadline: November 10, 2017
Nominations are open for the African Union Kwame Nkrumah Awards for Scientific Excellence (AUKNASE) Continental Award 2017 Edition. The AUKNASE programme is implemented at national level for young researchers, regional level for women scientists and continental level open to all scientists. The Continental level is the highest level of the programme. The objective is to give out scientific awards to top African scientists for their scientific achievements and valuable discoveries and findings.
The Commission of the African Union is committed to supporting the use and development of science in Africa and has, since 2008 been running the African Union Kwame Nkrumah Awards for Scientific Excellence (AUKNASE). These awards are in memory of the Great Pan-Africanist and First President of the Republic of Ghana, Dr. Kwame Nkrumah, a firm believer in African liberation and unity! A man who pursued a revolutionary pan-African policy, with a strong vision extending beyond national boundaries, for the creation of a new Africa, "a federal union of African states". He is among the key founding fathers of the then Organization of African Unity in 1963, an important pan-Africanist organization, which later become the African Union in 2002. Today the "dream and determination" of Dr. Kwame Nkrumah inspires Africa in all facets of development.
Categories
Under this programme prizes are awarded to top African scientists in each of the following two sectors
Life and Earth Science and innovation; and
Basic Science, Technology and Innovation at the national, regional and continental levels.
Awards
The African Union Kwame Nkrumah Awards for Scientific Excellence Programme (AUKNASE) shall be organized at three levels:
Two Continental awards receiving each USD 100,000 of for pioneer scientists
Regional award for women scientist two per each of the five regions and each award amounting to USD 20,000 and
National awards for young researchers two per country and each award amounting to USD 2,000
Eligibility
To be eligible for the African Union Scientific Awards nominees shall be African scientists who have made remarkable achievements, demonstrated by number and quality of their publications, number of trained research graduate students, applicability of the scientific work to Africa's challenges, and its patentability. The award is intended to recognize those who demonstrate excellence in research of relevance to the developmental needs of the continent.
Only nationals of the African Union (AU) Member States are eligible to participate in these Awards;
Nominees shall be Africans residing in any of the AU member states and can be nominated only for achievements based on work conducted in an African country.
Application for the Continental Prize:
Applicants should have nominees with a PhD degree, if the nominee is an Academic in a university must at least have a rank of Associate Professor. There is no age limit for this award. The nominee should meet at least four of the following:
Must have published in journals (at least 20 articles with impact factor greater than 1.0)
Must appear as senior/corresponding author in at least 15 of the 25 articles
Must have a minimum H-index of 25
Must have at least two international or four national patents registered
Must have supervised or co-supervised at least 10 PhD students
Must have won an international grant as a principal investigator
Must have written a review article in his/her field of specialization
Note: the above criteria are oriented to academics in a teaching or research institution. However, individuals or groups from non-academic establishments, such as industry, technical and vocational institutions where a patent or other trade secret may have been the basis for developing a product or service that has clearly made impact on society or have contributed in a significant way to objectives 1.3 and 1.4 may be nominated even though many of the criteria above have not been fulfilled.
NOTE:
Nominations may be declined due to the following:
Nominations which do not focus on specific contributions, but rather list lifetime achievements;
Self-nomination will not be accepted;
Dossiers are not complete and/or all supporting document/s are not included or not attached;
If the same work has received an AUKNASE;
If their Member State is under AU sanctions in conformity with a decision taken by the AU relevant policy organ;
If they are employees of any an AU organ or employees of the Regional Economic Communities.
Nomination
Nominations will be invited from any institution in the continent, from universities, research institutions, professional bodies, academies, industrial establishments, and so on
Nominations may be received from:

Individuals who may be senior individuals of the same or higher rank than the nominee;
Heads of institutions who may have their own formalized procedure for nomination, chairpersons of committees who review the achievements of scientists in their institutions;
The nominator is required to show the importance and impact of the research.
The focus will be on the quality of the work and not necessarily the number of publications.
The nominator should provide a narrative presentation (up to five pages) of the importance, relevance, quality and impact of the work.
How to Submit
A full CV as well as 5-10 copies of best publications are to be submitted together with the nomination form.
The Application forms are also available from:
Ministries in Charge of Science and Technology, National Academies and Research Councils in Member States
The Regional Economic Communities Headquarters
For any enquiries, contact the secretariat of AUKNASE Programme:  [email protected]. All successfully completed nominations on the on-line system will be automatically acknowledged.
For more information, visit African Union Kwame Nkrumah Awards.