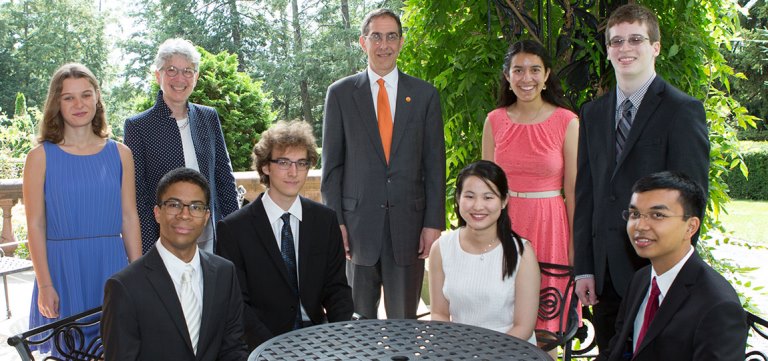 Princeton Society of Fellows in the Liberal Arts 2018-2021 (Up to $86,600 Stipend Per Year)
Deadline: September 15, 2017
The Princeton Society of Fellows, an interdisciplinary group of scholars in the humanities, social sciences, and selected natural sciences, invites applications for the 2018-2021 Fellowship competition. The Princeton Society of Fellows in the Liberal Arts, comprised of recent Ph.D. recipients seeks to promote innovative interdisciplinary approaches to scholarship and teaching.  Fellowships are awarded to candidates who are at the beginning of their academic career and have already demonstrated both outstanding scholarly achievement and excellence in teaching.
Postdoctoral fellows are appointed each year for three-year terms in residence to pursue research and teach half-time in their academic host department, in the Program in Humanistic Studies, or in other university programs. The fellowships carry with them an appointment as Lecturer in the fellow's host department.
Benefits
Four three-year Postdoctoral Fellowships will be awarded this year.
The stipend for each of the three years of the fellowship will be approximately $86,600.
In addition, fellows are provided with a shared office, a personal computer, a research account of $5,000 a year, access to university grants, benefits and other resources.
The Society will reimburse the cost of travel and lodging associated with the interviews for successful applicants.
Eligibility
Fellows must reside in or near Princeton during the academic year of their fellowship term in order that they can attend weekly seminars and other events on campus.
You must have received your PhD degree between January 1, 2016 and September 15, 2017.
The receipt of the PhD is determined by the date on which you fulfilled all requirements for the degree at your institution, including the defense and filing of the dissertation.
If you will not meet the September 15, 2017, deadline for receipt of PhD but are expected to have fulfilled all conditions for the degree, including defense and filing of dissertation, by June 15, 2018, you may still apply for a postdoctoral fellowship provided you have completed a substantial portion of the dissertation (approximately half).
Recipients of doctorates in Education (Ed.D. or PhD degrees), doctorates of Jurisprudence, and candidates for/recipients of PhD degrees from Princeton University are not eligible to apply.
Applicants must have already demonstrated outstanding scholarly achievement and excellence in teaching. Their work should also show evidence of unusual promise.
Application Process
Applicants may apply for one or more fellowship(s) pertinent to their research and teaching by choosing one or both fellowships on the online Application.
The following application items should be uploaded by the applicant:

Cover letter
Curriculum vitae
Dissertation abstract
Writing sample: one chapter of the dissertation or one published article related to the dissertation topic.
Research proposal
Two course proposals
For ABD (All But Dissertation) candidates:  letter of "Progress to Degree" from the director of graduate studies or department chair.
For applicants with PhD degree: document confirming your completion of all requirements for the PhD degree.
Names and email addresses for three referees, who will be contacted with an invitation to upload their confidential letter of recommendation to the online portal once the application has been submitted.
For more information, please visit the Princeton Society of Fellows.