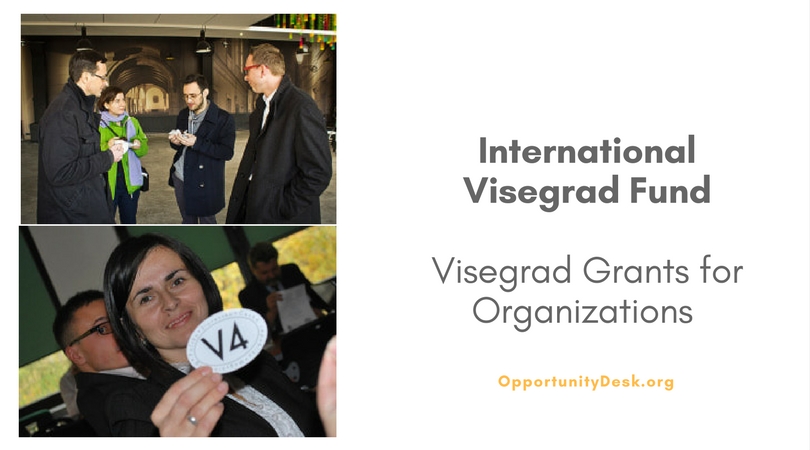 International Visegrad Fund: 2017 Visegrad Grants for Organizations Worldwide
Deadline: October 1, 2017
The International Visegrad Fund is now accepting applications for the 2017 Visegrad Grants. The Visegrad Grants offer funding for organizations from the Visegrad countries (V4) and worldwide fostering regional cooperation between the V4 countries and projects advancing innovativeness and sustainability in Central and Eastern Europe.
In the last 16 years, they have supported more than 5,000 of projects encouraging partnerships among NGOs and civil society organizations, public institutions and local governments as well as educational and research institutions in the Visegrad region and beyond.
Grant
Grant amounts vary depending on the size and scope of the project. The average grant support for supported project in 2016 was around €20,000.
Eligibility
Any legal entity (organization) worldwide is eligible to apply with a project proposal involving participation of project partners from at least 3 V4 countries. The active involvement of partners from 3 V4 countries is therefore a prerequisite for applying.*
Preferences are given to groups of non-governmental, civil society organizations (CSOs) and municipalities and local governments; applications submitted by schools, higher education institutions, research and scientific bodies and public institutions in general will also be considered.
Natural persons (individual citizens) or institutions of state administration (ministries, government agencies, embassies, etc.) cannot apply nor can be valid project partners.
* Projects that deal with specific local issues in border areas/regions (e.g. Tokaj wine region, Těšínsko/Śląsk Cieszyński, the Tatras) within 40 km from the border can be implemented on a bilateral basis.
Project Criteria
Any original proposal can get support if it deals with V4 regional cooperation, advancement of innovativeness and sustainability in Central and Eastern Europe in one of our seven focus areas:
Culture and common identity
Education and capacity building
Innovation, R&D, entrepreneurship
Democratic values and the media
Public policy and institutional partnerships
Regional development, environment and tourism
Social development
Selection Criteria
The selection committee considers following criteria:
compliance of the project objective with the aims of the fund
quality, relevance and contribution of project partners
regional relevance, originality/innovativeness and feasibility of the proposal
impact/multiplicative effect and continuity of the project
transparency and accuracy of the budget
previous experience of the applicant and project relation to applicant/partners' mission
Application
Project proposals are accepted only electronically through an on-line application form at my.visegradfund.org by 11:59:59 CET (noon) on given deadline date.
Applicants need to register with a valid e-mail address to start a new application form. Each form is then password protected and can be saved and edited later.
A Sample application form is available here (PDF).
Please see the updated Grant Guidelines for further information.
The fund doesn't support infrastructure and investment projects.
For more information, visit Visegrad Grants.