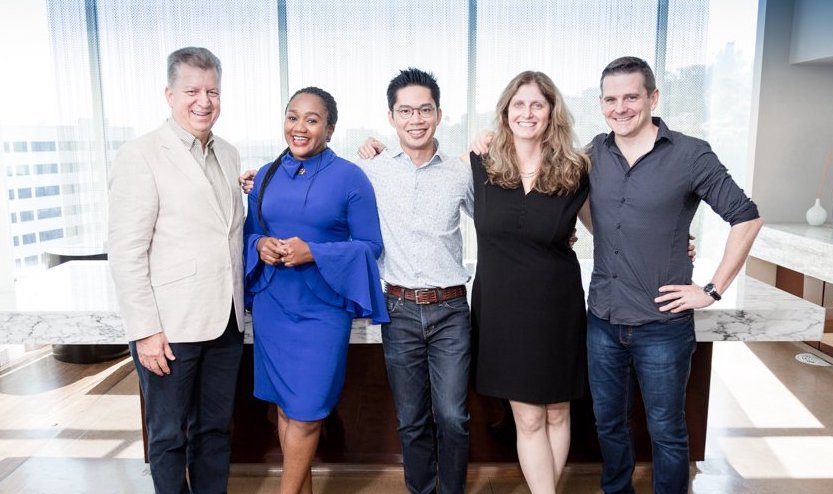 Chivas Venture Competition for Social Entrepreneurs 2018 (Win a share of $1 Million in funding)
Deadline: October 30, 2017
Enter the Chivas Venture for the chance to win a share of $1M for your business. Chivas Venture is looking for innovative start-ups that use business to solve global social or environmental challenges. Social entrepreneurs from around the world who are using business to create a better future.
The Venture is a global search to find and support the most promising startups with the potential to succeed financially and make a positive impact on the lives of others. The most promising startups – one from each country participating in The Venture – will make it to the global final and have a chance to win a share of $1 million in funding.
Chivas Venture believes generosity and success go hand in hand. That by sharing the good stuff, we can all achieve more. That's why every year, they invest $1million in start-ups that are creating positive change and a better future. Since the launch of the Chivas Venture in 2014, nearly 6,000 entrepreneurs have applied, a new generation that is doing well by doing good.
If you have a business that can create real, positive change, then the Chivas Venture Competition is for you!
Benefits
A SHARE OF THE $1MILLION FUND
If you are selected to take part in the global final, you'll have the opportunity to win a share of $1 Million in funding. Each finalist will have the chance to tell us how much funding they seek and how they believe this will make a difference for their business.
THE VENTURE ACCELERATOR WEEK:
Over the course of a week, all the finalists will take part in a variety of intensive business master-classes at some of the world's leading businesses to help them sharpen their skills.
MENTORED BY THE BEST IN THE BUSINESS:
We have recruited a team of experts in partnership with the Skoll centre at Oxford University to provide business and pitching support to The Venture's global finalists.
GLOBAL EXPOSURE:
The global finalists will feature on The Venture website and crowdfunding site IndieGogo. Our international campaign will reach millions of people around the world, offering incredible exposure for your business.
LOCAL PRIZES:
The Venture is an international project with some of the participating countries offering additional prizes. Check your local Terms & Conditions to discover what else The Venture could offer your business.
Eligibility
They are looking for social entrepreneurs who have a registered, for-profit startup or business.
They are searching for businesses in

seed stage (which means the product is still in prototype stage and the business is not yet generating revenue from customers or users yet),
startup stage (which means the business has a working prototype of its concept, ideally with some demonstrable user traction, generating a maximum of US $500,000 – or local currency equivalent – in annual revenues and has been incorporated for no more than three years) or
growth stage (which means the business is beyond the working prototype stage, and can show significant user traction and sales, generating a maximum of US $1 million – or local currency equivalent – in annual revenues and has been incorporated for more than three years).

You will have a strong vision, a compelling idea and a solid business plan.
You'll also need to showcase how your business has a positive impact and articulate how funding would help to take your business to the next level.
You must be over 25 to enter The Venture.
Make sure you check out your local Terms & Conditions should you choose to apply for further eligibility requirements.
Judging Criteria
Every submission will be judged on five criteria. These criteria are:
Market opportunity and size.
Demonstrable impact: measurable social or environmental impact and a model that can scale.
Sound business model and organizational strategy.
Financial feasibility and sustainability: can earn revenue.
Skills, experience and commitment of management team.
Eligible Countries
Below is a list of the countries that are participating in The Venture Year 3. In order to enter as a potential startup or startup idea, your resident country must be in the list below.
Argentina
Australia
Belgium
Brazil
Bulgaria
China
Colombia
Czech Republic
Dominican Republic
Germany
Greece
Gulf
Hong Kong
Hungary
Israel
Japan
Kenya
Malaysia
Mexico
Nigeria
Netherlands
Poland
Portugal
Romania
Slovakia
South Africa
Spain
Thailand
UK
US
How It Works
Each application will be reviewed and the very best from each of the participating countries will be selected to take part in national finals. You will have the chance to pitch to a panel of business experts who will offer advice and decide which finalist has the most promise to continue to the global finals.
Semi-final: If you are successful at the national final, you will receive one-to-one pitch coaching and social business mentoring by experts from the Skoll Centre for Social Entrepreneurship, Oxford University.
Voting: The online voting period will be your chance to inspire people around the world with your story, and get them to support your startup with their vote. The first $200,000 of the Chivas Venture fund will be distributed amongst finalists based on the number of votes received.
Final Pitch: This is your chance to pitch in front of a live audience of business experts, influencers and change-makers. At this exclusive event, the Chivas Venture global panel of judges will decide where the remaining share of the $1million fund will be awarded.
Each country participating in The Venture will select one winner to go to the global final. The selection process will vary between countries so please be sure to check your local Terms & Conditions to find out more.
Application
Start your online application.
If you have a business that can create real, positive change, then then is for you!
For more information, visit Chivas Venture.