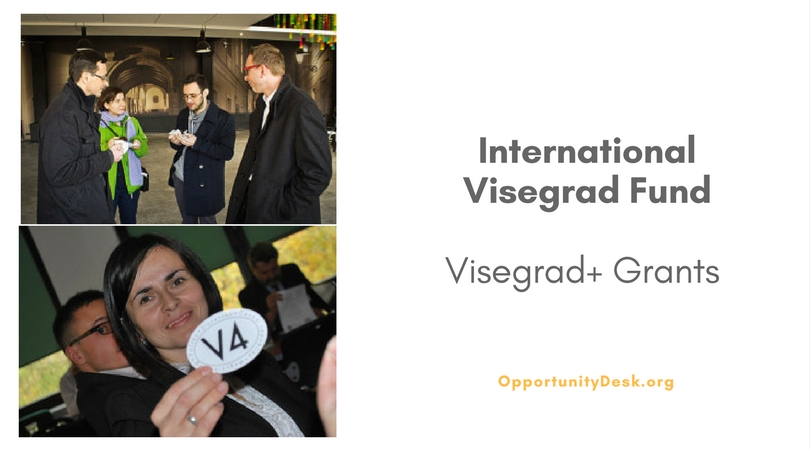 International Visegrad Fund: 2017 Visegrad+ Grants Programme
Deadline: October 1, 2017
International Visegrad Fund is now accepting applications for Visegrad+ Grants. The Visegrad+ grants support projects which con­tribute to the democ­ra­ti­za­tion and trans­for­ma­tion processes in selected coun­tries and regions, espe­cially non-EU mem­ber states in the Western Balkans and the Eastern Partnership countries. 
In the last 16 years, they have supported more than 5,000 of projects encouraging partnerships among NGOs and civil society organizations, public institutions and local governments as well as educational and research institutions in the Visegrad region and beyond.
Grant
Grant amounts vary depending on the size and scope of the project. The average grant support for supported project in 2016 was around €20,000.
Eligibility
Any legal entity (organization) worldwide is eligible to apply with a project proposal involving participation of project partners from at least 

3 V4 countries and at least one entity from Western Balkans (Albania, Bosnia and Herzegovina, Kosovo,[1] Macedonia, Montenegro and Serbia) or
Eastern Partnership countries (Armenia, Azerbaijan, Belarus, Georgia, Moldova and Ukraine).
The active involvement of partners from 3 V4 countries is therefore a prerequisite for applying.

Preferences are given to groups of non-governmental, civil society organizations (CSOs) and municipalities and local governments; applications submitted by schools, higher education institutions, research and scientific bodies and public institutions in general will also be considered.
Natural persons (individual citizens) or institutions of state administration (ministries, government agencies, embassies, etc.) cannot apply nor can be valid project partners.
Requirement
Any original proposal can get support if it deals with one of seven priority areas:
Healthcare
Education
Rural development
Good governance
Legislation and justice
Communication, media and access to information
Development of civil society/support of human rights and minorities
The fund doesn't support infrastructure and investment projects.
Selection Criteria
The selection committee considers following criteria:
compliance of the project objective with the aims of the fund
quality, relevance and contribution of project partners
regional relevance, originality/innovativeness and feasibility of the proposal
impact/multiplicative effect and continuity of the project
transparency and accuracy of the budget
previous experience of the applicant and project relation to applicant/partners' mission
Application
Project proposals are accepted only electronically through an on-line application form at my.visegradfund.org.
A Sample application form is available here (PDF).
Please see the updated Grant Guidelines for further information.
For more information, visit Visegrad+ Grants.