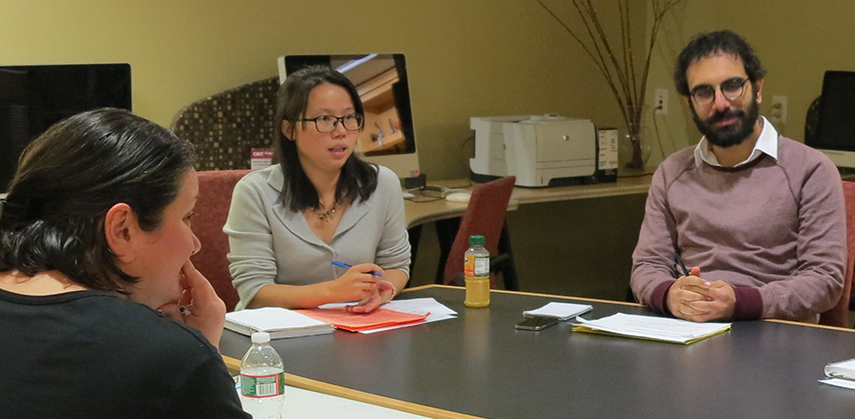 Nieman-Berkman Klein Fellowship in Journalism Innovation 2018-19
Deadline: December 1, 2017 and January 31, 2018.
Applications are open for the 2018-2019 Nieman-Berkman Klein Fellowship in Journalism Innovation. The Nieman-Berkman Klein Fellowship in Journalism Innovation brings individuals to Harvard University to work on a specific course of research or a specific project relating to journalism innovation. A Nieman Fellowship is an extraordinary, transformative learning opportunity open to journalists working in all media in every country around the world.
Each year, the Nieman Foundation awards paid fellowships to up to 24 journalists working in print, broadcast, digital and audiovisual media. Those selected for the program spend two full semesters at Harvard auditing classes with some of the university's greatest thinkers, participating in Nieman events and collaborating with peers. Nieman Fellows are also able to audit classes at other local universities including MIT and Tufts.
During their time at Harvard, Nieman Fellows attend seminars, shop talks, master classes and journalism conferences designed to strengthen their professional skills and leadership capabilities, thereby helping to fortify the news industry itself. With the knowledge they gain on campus and the relationships they build, fellows often return to work as journalism entrepreneurs, industry innovators and top managers in their newsrooms.
Benefits
Nieman Fellows receive a stipend of $65,000 paid over a nine-month period to cover living costs.
The Nieman Foundation also provides housing, childcare, and health insurance allowances based on the number and ages of family members.
Nieman additionally covers the cost of attending Harvard classes for fellows and their affiliates. Affiliates are the partners and spouses of fellows. They enjoy many of the same privileges as fellows and may attend classes, use Harvard libraries and other facilities, and are welcome to participate in almost all Nieman activities.
Because funds from the original Nieman bequest are restricted to U.S. citizens, International Nieman Fellows are encouraged to work with Nieman staff to find financial support from sources outside the Nieman Foundation. However, obtaining outside funding is not a condition of being selected for a fellowship.
Eligibility
The Fellowship is open to both U.S. and international applicants.
There are no age limits or academic prerequisites, and a college degree is not required.
Candidates should either be working journalists or work for a news organization in a business, technology, or leadership capacity.
Freelance journalists are welcome to apply.
All prospective fellows must speak, read and write English fluently.
During the two years prior to applying, an applicant should not have participated in a fellowship lasting four months or longer.
Journalism-related work completed as a university student does not count as professional experience.
Professionals who work in public relations or in a position whose primary focus is not the media are not eligible to apply.
Proposals from candidates may deal with any issue relating to journalism's digital transformation. Examples include ideas for new revenue streams to fund journalism, the construction of new tools for reporting, or research into news consumption patterns.
Candidates must explain how their proposals will benefit journalism.
Application
Learn how to apply
Complete an online application form.
Candidates for full academic-year fellowships must submit the following information as part of their package: two essays; a professional profile and study plan; work samples and three letters of recommendation.
Candidates should complete either the international fellowship application or the U.S. fellowship application and indicate interest in being considered for the Nieman-Berkman Klein program in the appropriate section.
For questions about the application process, contact Nieman Fellowship program administrator Nicole Arias – [email protected] or call 617-495-2238.
Application deadlines:
For more information, visit Nieman-Berkman Klein Fellowship.