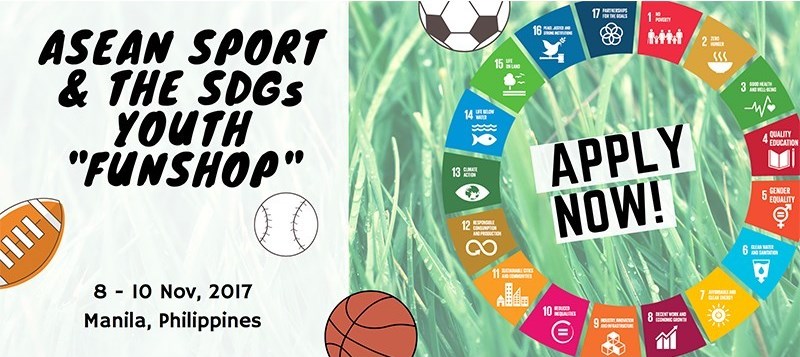 Call for Applications: UNESCO ASEAN Sport & the SDGs Youth Fun-shop 2017
Deadline: October 1, 2017
UNESCO is calling for applications from young leaders using sport as a tool for Development and Peace to attend the Youth Funshop. The 3 day Fun-shop is a workshop designed to emphasize positive thoughts and interactions inherent to sports.
Sport is a celebrated aspect of community life across the world and in Southeast Asian region. It is also explicitly referenced within the UN Agenda 2030 as an important enabler of sustainable development and peace. The use of sport in pursuit of the Sustainable Development Goals (SDGs) is broadening, likely due to its versatility and ability to engage diverse segments of society where other mediums may fall short.
Benefits
Two outstanding young people from each of the countries listed below (in eligibility) will be invited to deliver a TED-style talk in Manila to an audience of fellow-youth advocates for the power of sport.
The funshop will be learning and action-based, complete with obstacle courses, interaction with local youth and field trips to visit and participate actively in local grass-roots sport for development programmes.
Eligibility
Eligibility to submit applications is based on the following criteria:
Aged between 18 – 30 years.
A community leader with a proven history of engaging diverse segments of society through sport.
Leading or taking a managerial role in a sports-based social enterprise.
A resident in one of the following countries: Brunei, Cambodia, Indonesia, Laos, Malaysia, Myanmar, the Philippines, Singapore, Thailand, Timor-Leste, Vietnam.
Application
Submit your application form online.
Alternatively, download the application form and send an email to [email protected] with supporting documents and application form.
You will need to provide the following when filling the form:

Your full CV.
A link to your sports-based social enterprise (website, social media platform).
Your passport or other government or UN recognized ID (such as driver's license).
Proof of your resident status (non-citizens are invited to submit, you just need to prove you're living in one of the countries mentioned).
A report summarizing your sports-based development activities. (Optional)
Links to any talks, news articles or advocacy material for you and your work. (Optional)

The event holds from November 8 – 10 2017 at the Philsports Complex, Meralco Ave, Pasig, MetroManila, the Philippines.
For more information, visit UNESCO.