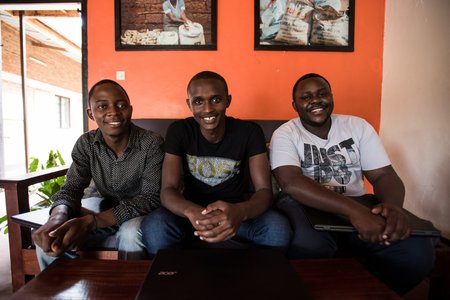 One Acre Fund Young Professionals Program 2018 for East & Southern Africans
Deadline: October 15, 2017
Launch your career in development with a paid internship or fellowship in one of several departments at One Acre Fund. They are looking to place a cohort of paid interns and fellows in several departments in 2018.  For twelve to twenty-four weeks (January to April/January to July), interns and fellows will work on impactful projects, receive mentorship from organizational leaders and provide support to One Acre Fund's operations. Interns and fellows will be given substantial work assignments and asked to produce high quality deliverables. Opportunities may be available in the following departments:
Business Development & Communications – tells the story of One Acre Fund's smallholder clients to donors, supporters and the world.
Finance, Audit – supports the operation with financial advice, reporting. Reduce waste and inefficiency by improving processes
Field Operations – serves farmers directly with training, input delivery and loan servicing
Government Relations and Policy – builds and maintain relationships with government and other stakeholders. Help shape rural development policy
Procurement, Supply Chain and Logistics – sources and delivers the quality inputs and supplies our farmers need each season
Product Innovations, Monitoring and Evaluations, Ag Research – conducts research that measures the impact of core program and finds the next innovative solution for farmers
People Operations – supports the rapidly growing One Acre Fund family of leaders, finds the next generation of talent
Systems – Manages the data and business processes that help One Acre Fund reach farmers efficiently.
Tech –  build the software and tools that help One Acre Fund serve more farmers
Benefits
This is a paid program. Interns/Fellows will be provided with a reasonable stipend for the duration of their contract. Those based at rural sites will be provided assistance in locating suitable housing;
Internships are a recruiting initiative. Historically, about 40% of interns/fellows are hired on to full-time roles.
Eligibility
This program is designed to provide meaningful work opportunities for East and Southern Africa's brightest young professionals
Applicant should be a university graduate (first degree) by January 15, 2018
Be able to speak and read English fluently
Hold citizenship or work authorization in Kenya, Rwanda, Uganda, Malawi or Zambia.
Application
Complete the application form by October 15, 2017. Submitting a CV is optional but you must complete the application form including two essays and proof of work eligibility.
As part of the application process, candidates will be required to complete written assessments, a phone interview and in-person interview at one of our offices.
Final selection will be made in December 2017. All candidates will be contacted – please do not email for an update on your application.
For more information, visit One Acre Fund Young Professionals Program.