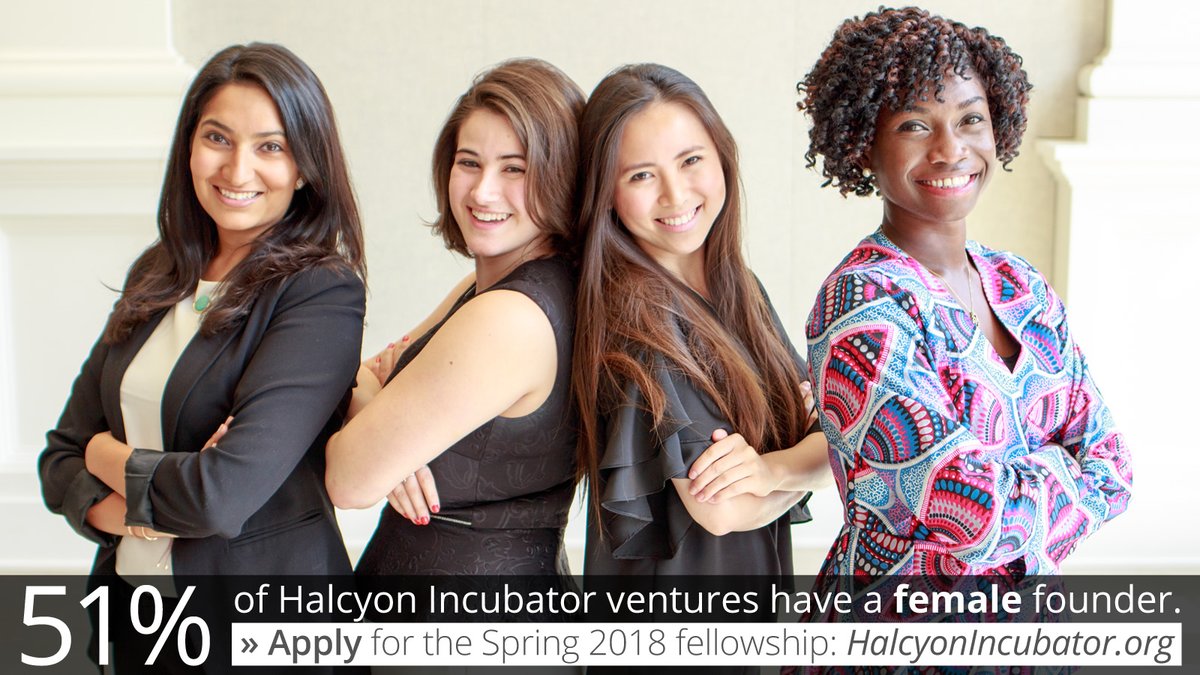 Halcyon Incubator Program for Social Enterprises – Spring 2018 (Funding Available)
Deadline: October 17, 2017
Do you have a bold idea to change the world? Apply now for the Halcyon Incubator Program for Social Enterprises 2018. The aim of the program is to equip early-stage social entrepreneurs with the support they need to transform audacious ideas into scalable and sustainable ventures, and change the world.
The Halcyon Incubator is committed to solving 21st century challenges throughout the nation and the world. By helping social entrepreneurs transform audacious ideas into scalable and sustainable ventures, the Halcyon Incubator acts as a catalyst for measurable social outcomes. It's perhaps the most immersive incubator in the world that focuses on both social impact and profit.
During this 18-month fellowship, a diverse cohort of fellows receives free residency and workspace, mentorship and leadership coaching, robust support from business consultants, and a living stipend to develop their entrepreneurial vision into reality.
Fellows engage with the program in two major stages:
Residency (5 months): Fellows live and work at the Halcyon Incubator with unfettered access to expert guidance. They also participate in core programming that includes pitch sessions, a skill development series and other events, ultimately taking part in a "Demo Day" in front of partners and investors.
Post-Residency (13 months): Fellows continue to work at the Halcyon Incubator, with free access to all resources to further build their networks, secure funding, and grow their venture.
Benefits
Fellows accepted into the program will have access to the following resources:
Strategic Venture Resources – The Halcyon Incubator has partnered with some of the leading firms in the community to advise and directly support the fellows' ventures. During the course of the program, fellows receive more than 1,000 hours (in aggregate) of:

Strategy and operations consulting provided by Deloitte
Legal and business advice through Arnold and Porter LLP
Technical advice and hosting credits through Amazon Web Services
Communications, public relations, and marketing assistance through Sage Communications
One-on-one executive coaching provided in partnership with The HR Sage

World-Class Network of Mentors and Advisors – The Halcyon Incubator builds a community of support around the fellows by bringing together a robust network of seasoned entrepreneurs, experienced change-makers, and leaders across sectors.

Each venture is paired with an experienced, field-specific mentor who provides weekly guidance and support during the Residency Phase.
Select dinners and events engage fellows with a robust network of supporters, advisors, and potential funders.

Residency, Business and Living Expenses – The Halcyon Incubator was founded to ensure that all social entrepreneurs, regardless of their economic background, can succeed. The program reduces the financial barriers to starting a social venture by providing:

Five months of free housing at the historic Halcyon House (Residency Phase)
13 months of free workspace at Halcyon House (Post-Residency Phase)
A $10,000 stipend per venture for food and living expenses during the Residency Phase

Critical Audiences – The program helps fellows gain exposure for their ventures to support their long-term sustainability. The Halcyon Incubator provides fellows:

Access to entrepreneurs, press, and supporters during a formal debut at Kick-Off, an event at the beginning of the Residency Phase
Access to potential funders, investors, and partners during the Halcyon Showcase, an event at the end of the Residency Phase
Access to key community figures and innovators at conferences and other events
Eligibility
To be eligible for the Halcyon Incubator:
Applicant must be at least 21 years of age by the start of the program;
They must be fluent in English;
The venture must be the original idea of the applicant(s);
The venture must be in start-up idea, MVP, or pilot phase;
The venture must have less than $500,000 annual revenue;
The venture must be independent and autonomous. Ventures cannot be considered independent or autonomous if they were started under the direction of an existing organization;
The applicant or applicant's team must be the primary decision maker for the venture's development and management;
Applicant must be able to make a full-time commitment to the venture's development during the first twelve months of the fellowship;
Applicant who will be enrolled in a college or university during the time of the fellowship are not eligible;
Applicant must have legal work status in the United States or be able to obtain a visa for the Residency and Post-Residency phases;
Applicant must complete the entire online application and submit it and all required documents before the closing date.
Selection Criteria
Applications are judged and selected based on the following six criteria:
Execution: The application is the first introduction; get off on the right foot. Successful applicants have a big vision but also pay careful attention to detail;
Talent: Do you have what it takes to lead your venture to success? Strong applicants exhibit characteristics of extraordinary leadership: vision, intelligence, resilience, and follow-through;
Problem/Solution: Does your venture identify a real and pressing problem and propose a viable solution? Strong applications effectively and narrowly define a pain point and outline a solution that addresses the pain point;
Sustainability: They're looking for innovative social ventures that sell a core product or service to achieve impact;
Impact: Successful applicants demonstrate significant impact as a core part of their venture. Halcyon looks for impact both in terms of how impactful the core product or service is, and how scalable is the model to spread this impact;
Innovation. How is your solution to a problem different from current solutions? What sets you apart? Halcyon values audacious ideas that disrupt the status quo and move the needle on 21

st

 century challenges. Think big!
Application
You must login or register to view the application form.
Application Timeline
Here is the Halcyon Incubator program timeline for Cohort 8
Application Opens – August 15, 2017
Application Closes – October 17, 2017 at 5:00 PM EST
Selections Committee Notification – December 15, 2017
Residency Phase – February 5, 2018 to June 30, 2018
Post-Residency Phase – July 1, 2018 to August 31, 2019
For more information, visit Halcyon Incubator Program for Social Enterprises.