Opportunity Desk (OD) is pleased to have Douglas Owino accept to host a Facebook Live session for September 2017. No doubt, studying abroad is the desire of most people. While the application process can be long and tough, securing funding can be an even bigger challenge. This month, Douglas Owino from Kenya will join us to speak on "Studying Abroad: Strategies to a successful application." The #ODLive monthly series is part of our efforts to empower our users with the right knowledge and tips they need to grow and succeed in their businesses, projects and applications for global opportunities.
Event Details
Topic: Studying Abroad: Strategies for a Successful Application
Date: Friday, September 29, 2017
Time: 11:00am EST or 3:00pm GMT
Venue: Opportunity Desk – facebook.com/opportunitydesk (LIKE and FOLLOW).
_________________________________________
MEET DOUGLAS OWINO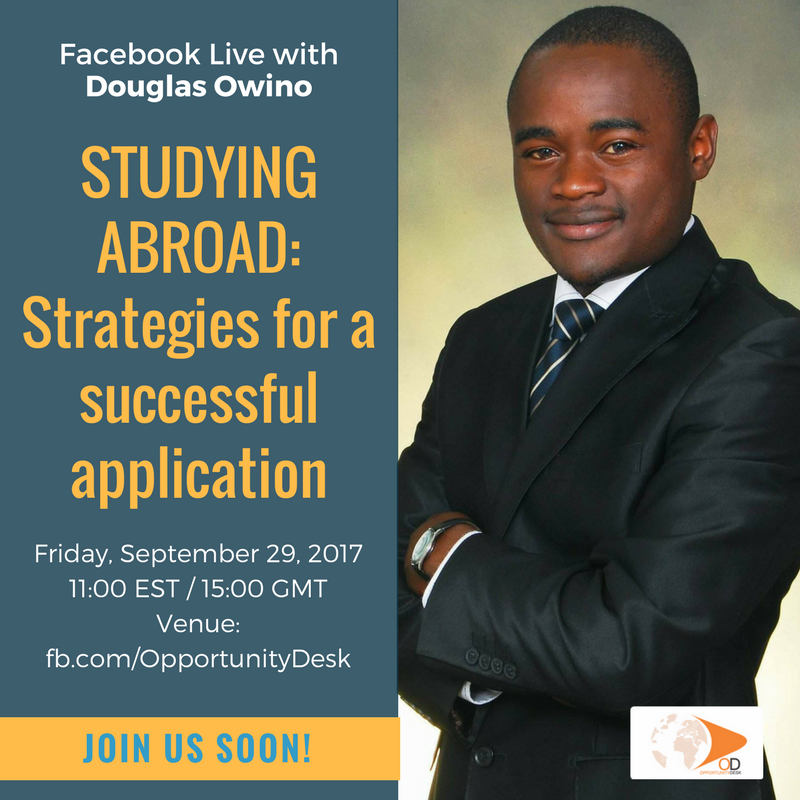 Douglas is a scholarship consultant and winner of both local and international scholarships. He has found a passion in scholarships consultancy to help students to access higher education.
In 2015, he set up Scholarship Academy Africa Ltd. This is an enterprise that eliminates financial barriers to enable students to access higher education through scholarships and financial aid.
Douglas is a multiple scholarship award winner of over Ksh. 6 million in value of both local and international scholarships. He holds MBA (International Business) from SolBridge International School of Business in South Korea, and International Business Administration (Finance) degree from United States International University- Africa. Douglas has had scholarship advising experience for the past 4 years and has successfully assisted students win scholarships.
He currently writes about scholarships for the Standard Newspaper.
__________________________________________
Opportunity Desk is an online platform that bridges the gap to education by sharing information on relevant learning and growth opportunities for disadvantaged youth around the world. These opportunities help to facilitate young people's efforts in exchanging ideas and preparing themselves for the future.
You don't want to miss this. Save the date! #ODRocks #ODLive