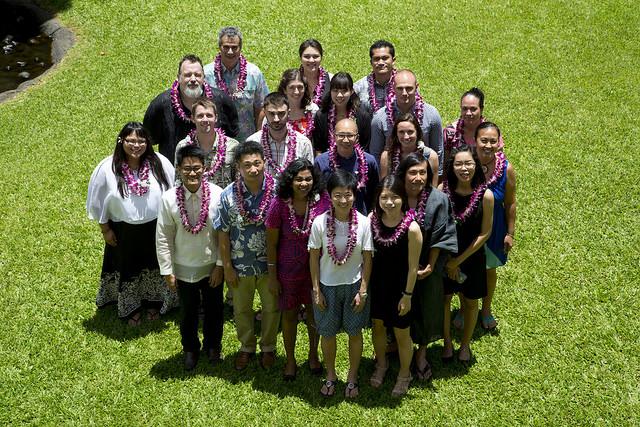 East-West Center Graduate Degree Fellowship 2018-2019 at the University of Hawai'i
Deadline: December 1, 2017
The East-West Center Graduate Degree Fellowship provides master's and doctoral funding for graduate students from Asia, the Pacific, and the United States to participate in educational, cultural, residential community building, and leadership development programs at the East-West Center while pursuing graduate study at the University of Hawai'i at Mānoa (UHM).
Undertaking degree studies at UHM through an East-West Center fellowship is not merely about receiving a financial aid scholarship. Since the basic purpose of the East-West Center is to build a sense of Asia-Pacific community and prepare for future leadership roles, EWC graduate student fellows live together and interact with each other in both intellectual and social activities.
They are, from the very outset, an identifiable group committed to the notion of building an Asia-Pacific community. Through team-building activities, leadership development projects and internships, learning about the Asia Pacific region, cultural exchange, educational enrichment gatherings, community service and service learning projects, EWC graduate degree fellows establish friendships and lifelong ties to a network of people committed to positive change in the Asia Pacific region.
Fellowship
The East-West Center Graduate Degree Fellowship provides the following funding:
Full-time graduate tuition and fees up to the equivalent of the tuition charged for post-baccalaureate students at the University of Hawaii at Manoa toward master's or doctoral studies;
Housing in an East-West Center residence hall, based on single occupancy;
A stipend to partially cover food and incidental expenses (Refer to the section on taxes on stipends for additional information);
An allowance for books, materials and supplies; and
Subsidy toward health insurance coverage.
All provisions above are subject to change.
Eligibility
Individuals who are citizens or permanent residents of the countries listed below may apply for the Fellowship:

United States
Pacific Region: American Samoa, Australia, Cook Islands, Federated States of Micronesia, Fiji, French Polynesia, Guam, Kiribati, Marshall Islands, Nauru, New Caledonia, New Zealand, Niue, Northern Marianas, Palau, Papua New Guinea, Samoa, Solomon Islands, Tokelau, Tonga, Tuvalu, Vanuatu, Wallis & Futuna Islands
Southeast Asia: Brunei, Burma, Cambodia, Indonesia, Laos, Malaysia, Philippines, Singapore, Thailand, Timor-Leste, Vietnam
South Asia: Afghanistan, Bangladesh, Bhutan, India, Iran, Maldives, Nepal, Pakistan, Sri Lanka
East Asia: China, Hong Kong, Japan, Macau, Mongolia, North Korea, South Korea, Russia, Taiwan

Before the start of the award, applicants for graduate programs must have obtained a 4-year bachelor's degree or its equivalent from an accredited U.S. college or university, or from a recognized institution of higher learning abroad. Generally, an applicant must have a minimum grade point average of 3.0 (4.0=A scale) or the equivalent, in the last four semesters or six quarters of the undergraduate record and in all post-baccalaureate work.
Application
When you apply to the EWC, you may also simultaneously apply for admission to a UH Mānoa (UHM) graduate department. It is not necessary to obtain admission to a field of graduate study at UHM before applying to the Center. The University of Hawai'i launches their online application system on August 1 each year for admissions the following year.
Download application materials for the Graduate Degree Fellowship:
To download only the forms (including the application form, letters of reference, and verification of funds form) as a separate PDF file, click below:
GDF Application Forms (all)
If you are unable to download application materials, or if you are unable to use these PDF files and wish to request a DOC version, please email your request to [email protected]
For more information, read FAQ or visit East-West Center Graduate Degree Fellowship.