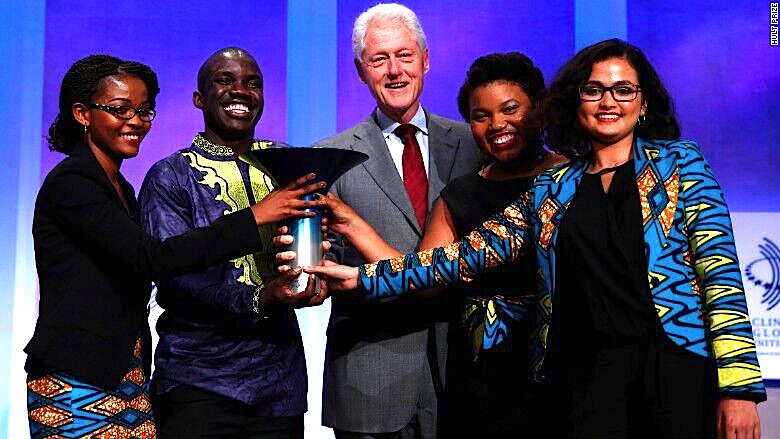 Hult Prize 2018 Challenge for Social Entrepreneurs (US$1,000,000 in Seed Capital)
Deadline: October 31 (Early), November 30 (Next) and December 23, 2017 (Final)
How will you change the world with US$1,000,000 in seed capital? Applications are now open for the 2018 Hult Prize Challenge. This is the world's largest student competition for social good. Annual winners can make their ideas reality.
The Hult Prize is a start-up accelerator for impact entrepreneurship which brings together the brightest college and university students from around the globe to solve the world's most pressing issues through pitching ideas and launching companies. It's the biggest and most prestigious start-up event in the world, and awards millions of dollars in investment capital to young budding entrepreneurs, including a grand prize of USD1Million.
Through crowdsourcing, training, mentorship and funding, the Hult Prize seeks to build and launch the next wave of social entrepreneurs, all of whom are poised to change the world
Program Details
Topic:
The 2018 Hult Prize Challenge as announced by President Bill Clinton at the United Nations is: "Harnessing the Power of Energy to Transform the Lives of 10 Million People." They are not necessarily looking for the next big breakthrough in energy, but rather they are looking at the application of various energy innovations to change the world. Much like the light bulb. See, it wasn't the invention of the light bulb that changed everything, it was how people like you took that tech innovation and lit up the world with it. That's what they are solving with this year's challenge.
How it works:
Each year, a pressing social challenge is selected by President Clinton and becomes the theme for the respective cycle. The "President's UN Challenge" provides a specific and measurable objective that each participating team is intended to solve through the creation of a sustainable enterprise.
You don't need an idea to start. Participants compete in local events organized in cities, countries and on campuses around the world.
Regional Semi-Final Rounds of competition are hosted world-wide – they will be held in Boston, San Francisco, London, Dubai, Shanghai, Toronto, Mexico City, Quito, Bogota, Melbourne, Lagos, Nairobi, Cairo, Tunisia, Kuala Lumpur and Singapore on the weekends of of March 09-11 and March 16-18, 2017.
Winners from these regional events will be invited to spend 8-weeks living, working, learning and playing in a castle in the UK.
Eligibility
Open to anyone currently enrolled in any college or university in the world (undergraduate, graduate and PhD level).
Students past or present are invited to form teams of 3-4.

While only teams may compete, individuals who cannot form a team but are interested in competing should join the Facebook community to find others individuals who are looking to form teams.
All participants should belong to the same college or university. However, this may consist of a mix of programs and undergraduate, graduate and PhD level.

You are considered a student if at the time of application submission, you have not yet graduated.
Alumni and faculty are not allowed to be official team members.
How to Apply
There are four ways to apply for the Hult Prize (choose one):
General Application – Complete the general online application. Compete on the global stage at one of 15 regional final rounds across the world for the chance to join the summer Hult Prize Accelerator at the castle.
Hult Prize on Campus – Find your school. Winning teams from each of the nearly 1000 Hult Prize Campus events bypass the general application round to compete in one of 15 regional finals.
Hult Prize National – Find your country. Winning teams will bypass the regional finals and be directly admitted into the Hult Castle Accelerator.
Hult Prize Online Competition – Application Opens soon. Compete in a wild card round after the regional finals for one more opportunity to join the Hult Castle Accelerator.
Applying is easy and consists of four easy steps:
Select your city of competition
Create a team of 3-4 students from your college or university that share your passion
Upload your resumes and one team statement of purpose into the online application
Check back regularly to see if your team has been selected or join our Facebook page
On-campus events and programs are on-going.  National Programs have floating deadlines, please visit your local country page to learn more or email tghem at [email protected] See FAQs if you have more questions.
For more information, visit Hult Prize Challenge.