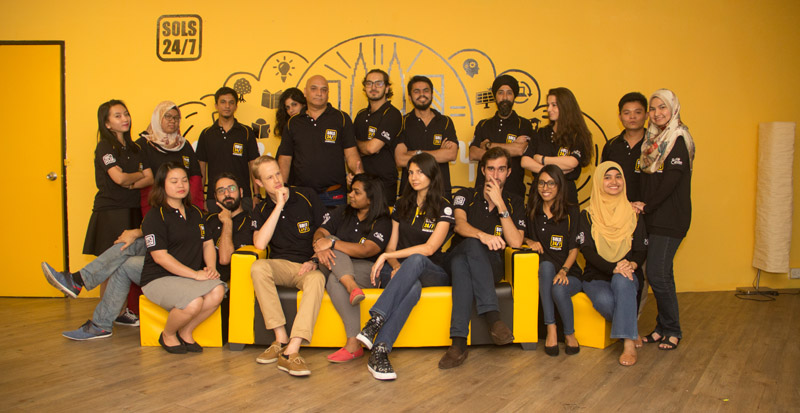 Hot Job: SOLS 24/7 Malaysia is recruiting for Full-time Positions – Apply now!
Deadline: November 15, 2017
Science of Life Studies (SOLS) 24/7 Malaysia is currently recruiting for full-time positions. They are looking for passionate and motivated individuals from around the globe to join their team and be part of their journey. Sharpen your professional skills and advance your career.
SOLS 24/7 is an award-winning humanitarian organization, committed to serve, educate and empower poor and underserved communities. Through various education and social empowerment programs, they work unconditionally towards transforming underserved communities to develop their true potential and break the cycle of poverty. Using revolutionary and custom-designed models – Science of Languages, Science of Technology and Science of Life – the organization provides free education and social empowerment programs to underserved communities in Malaysia.
Benefits
Gain International Experience
Work for an Award-Winning NGO
Understand Malaysia
Broaden Your Professional Horizons
Receive:
Food

Basic living Allowance

Accommodation
Visa
Full-time Positions Available
1. Education & Training Executive:
Working with education with them will always be exciting. They use a self-developed, simple and powerful educational philosophy to support our programmes. They run a nationwide community centre programme, so there is no shortage of teachers to train to head out into the field. Not to mention the excitement of the rich culture of international work environments. There will never be a boring moment!
Your responsibilities include maintaining, researching and developing our education materials, assessing and advising teacher teams and delivering formal training.
Key tasks
Training
Design Education Materials
Research & Development
Requirement
Good proficiency in English- spoken and written.
1-2 years of experience in teaching, training, coaching/mentoring and education development.
Knowledge of Word/Excel/Ppt or Google Docs/Google Sheets/Google Slides.
Interpersonal skills (building relationships, conduct and conflict mediation).
Cultural sensitivity as they work in a multicultural environment.
Teamwork (egalitarian, supportive, collaborative, dependable).
Communication (listening, questioning, explaining, giving feedback).
Presentation skills (public speaking, structure and communicate ideas, using visual aids).
Willing to learn and be trained in specific education and training materials and approaches.
Flexibility (responsive, adaptable, creative, manage change).
Candidates with teaching, volunteering and training experience will be at an advantage
2. SOLS Smart Executive: (Cambridge & Corporate Training)
The person under this role would be working with organization focusing on delivering for-profit based education programs to different stakeholders (Including but not limited to teachers, youths, corporates, government agencies and more). He/She will be responsible for handling three major departments within SOLS Smart, which are Google PDP program, Cambridge and Corporate training.
Key Task
Training
Marketing
Administration
Requirements:
Bachelor's in Education, Training and Development or equivalent;
1 to 2 years of professional experience in the related field;
High English proficiency; Written and verbal.
Pays high attention to detail and is meticulous;
An ability to work autonomously, using initiative to self-direct research and analysis.
Excellent research skills and an ability to teach oneself new skills.
Able to facilitate a classroom environment;
Able to work under pressure and meet set deadlines.
Microsoft office skills; based on Cambridge's set of requirements.
3. Operations Executive in NGOHUB
Executing, managing and planning the daily operational tasks for the NGOHub team, including coordinating the work of junior staff members (including interns and volunteers). The Operations Executive is responsible for the smooth running of NGOHub's projects, including Grants, monthly events and communication related tasks (with focus on social media).
Key Tasks
Events & Communications
Grants Coordination
Coordinations of Junior Staff
Requirements
Minimum 3 years of experience in project management and coordination work
Good command of English, knowledge of Bahasa Malaysia is an advantage
Good writing skills
Capability to oversee and coordinate different projects running at the same time
Attention to detail
Good organizational skills
Overall good communication skills
4. Scholar Development Coordinator
The Coordinator of the Scholar Development Program plans projects, leads training, and monitors the progress of our scholars. With the aim of supporting the scholars, the Coordinator of the SDP focuses on training and educational development through various methods of activities and engagement.
Key Task
Training
Scholar Development
Monitoring & Evaluation
Requirements
1-2 years of experience in student affairs.
Counseling background will be an added advantage.
Minimum degree level (TESL/Education/Psychology)
Excellent time management skills.
Able to train and monitor.
Able to take initiative and be resourceful.
High proficiency in English and Bahasa Malaysia communication skills (written and verbal).
Able to work under pressure and meet deadlines.
Flexible with working hours.
Able to produce workshops/modules based on the given framework.
Computer skills: High proficiency in Microsoft Office
How to Apply
Learn more about the open positions:
Record yourself speaking in a 2-minute video. Show them your motivation, tell them about yourself and how your skills can fit in SOLS 24/7.
Complete the online application form
Attach your CV, your portfolio and your video and send it to [email protected]
Link your video cover letter (not mandatory, but it will give you more chances to get selected)