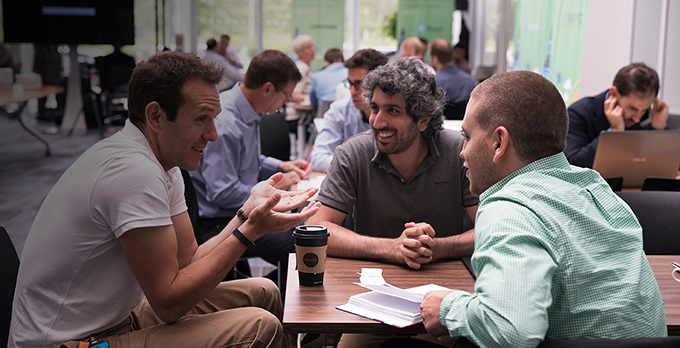 Microsoft Innovate.AI Global Startup Competition 2017 (Up to $1m Investment)
Deadline: December 31, 2017
Microsoft Ventures and partners are now accepting applications for the Innovate.AI, a global competition for startups harnessing the power of A.I. & machine learning. The competition aims to help high-potential startups gain access to capital and further the development of A.I. to solve problems and improve people's lives. The 3 winning startups receive a $1,000,000 USD investment, with a total prize pool valued at $5,500,000 USD.
Microsoft Ventures partners with visionary entrepreneurs looking to drive digital transformation. As part of its promise to portfolio companies, Microsoft Ventures offers unrivaled access to go-to-market resources and strategic relationships globally.
Regional Competition:
Top applicants from each region will compete in live local pitch competitions in Seattle, Tel Aviv, and London*, with 1 winner in each region.
The prizes for each regional competition will be:
1st Place THREE (3) TOTAL WINNERS
A $1,000,000 investment USD split between Microsoft Ventures & our VC partners, along with $500,000 USD in Azure credits for 3 years, 100 Office 365 licenses for 1 year, and an Azure Standard support plan.
A.I. For Good ONE (1) WINNER
A $500,000 USD investment from Microsoft Ventures, $500,000 USD in Azure credits for 3 years, 100 Office 365 licenses for 1 year, and an Azure Standard support plan.
The A.I. For Good Prize will be given to the top finalist globally that is responsibly harnessing the promise of A.I. to positively impact people's lives and the world. Examples include: increasing access to education, teaching new skills and creating jobs, enhancing the capabilities of existing workforces, and improving the treatment of diseases. (For additional context, please refer to our A.I. Fund Announcement in December 2016.)
Eligibility
In order to qualify for the competition, companies must meet the requirements in the official rules.
These include:
Headquartered in North America, Europe (E.U.) or Israel.

North America: United States, Mexico, & Canada
Europe: Austrian, Belgium, Bulgaria, Croatia, Cyprus, Czech Republic, Denmark, Estonia, Finland, France, Germany, Greece, Hungary, Ireland, Italy, Latvia, Lithuania, Luxembourg, Malta, Netherlands, Poland, Portugal, Romania, Slovakia, Slovenia, Spain, Sweden, and United Kingdom
Israel

Have raised less than $4,000,000 USD (local equivalent using foreign exchange rates on dates of funding).
Your company must currently offer or intend to release a product, service, or platform which utilizes A.I. and/or machine learning techniques.
Judging Criteria
A group of judges from Microsoft Ventures and the partner VC firms in each region will each vote on the top 10 entries in reach region based on the following criteria:
Problem addressed
Market size and growth potential
Differentiated/disruptive solution
Performance and traction with customers
Ability of founding team to execute
Application
A complete list of winners will be posted to www.microsoftventures.com within 30 days of May 31, 2018
For more information, visit Microsoft Innovate.AI Competition.