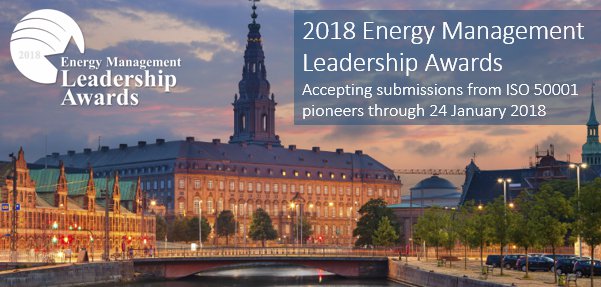 CEM Energy Management Leadership Awards 2018
Deadline: January 24, 2018
The Clean Energy Ministerial (CEM) is inviting applications for 2018 Energy Management Leadership Awards. The Awards recognize organizations using an ISO 50001-certified energy management system to save energy and reduce costs. It will raise global awareness of the benefits of energy management, helping accelerate broad implementation of these proven systems to help meet organizational, national and global energy and climate goals.
Entries will be considered for several award categories:
CEM Award of Excellence in Energy Management: The top winners will be honored at the 2018 Clean Energy Ministerial (CEM9) in Denmark and Sweden. This global award brings high-profile government recognition and media attention;
National Energy Management Awards: Governments may honor organizations submitting top entries from their countries;
Energy Management Insight Awards: All qualifying entries will be recognized for helping to build global insight on the benefits of energy management systems.
Benefits
Participating organizations will
Gain global recognition for efficient energy management.
Demonstrate commitment and leadership to investors, customers, and employees.
Affirm leadership in a global gathering of energy ministers and high-level international organizations.
Eligibility
Any organization from around the world in the industrial, commercial, or public sector with a current ISO 50001 certificate is eligible to participate;
Organizations may be corporate- or facility-level, as noted on the ISO 50001 certificate. ISO 50001 certificates must be issued by an accredited, third-party certification body.
Application
To enter the competition, you must submit a copy of your organization's ISO 50001 certificate and a structured case study, which will be evaluated by an independent panel of international experts.
First, if considering participation, please send an email to [email protected] to receive important updates or clarifications. This does not obligate participation. Please provide the full name and email address of the point of contact, company name (and the site, if applicable), and country.
Second, complete the required Entry Form and case study:

Entrants must use the Case Study Template, which provides guidance on content and format and shows the evaluation criteria and point values.
Case studies must address ISO 50001 implementation.
Participants must submit case studies that are 4–6 pages in length; shorter or longer case studies will not be accepted.
English must be used for provision of information in the case study template.

Third, submit the completed Entry Form in Excel and case study in Word format, along with a copy of the ISO 50001 certificate issued by the accredited certification body, via electronic mail to [email protected] with the subject line "Energy Management Leadership Award – 2018 Entry" no later than the submission deadline. The Secretariat will reply to confirm receipt.
After the selection process is complete, award recipients will be notified by email. The anticipated date for notification is mid-April 2018.
For more information, see FAQ or visit CEM Energy Management Leadership Awards.