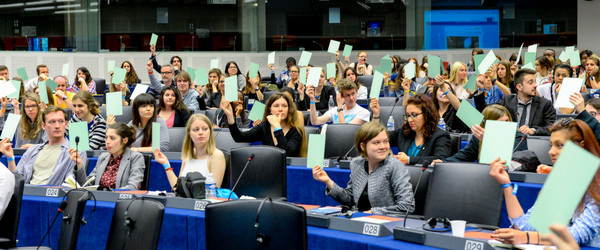 Call for Programme Contributors for European Youth Event (EYE) 2018
Deadline: November 15, 2017
Youth groups taking part in the EYE2018 are invited to propose a workshop or an artistic performance by answering the Call for programme contributors. As always, the European Youth Event (EYE2018) wants to involve its participants by asking them to shape the programme of the event in an interactive and youth-oriented way.
Young people are at the very heart of the EYE2018 and have plenty of talents and ideas that simply await for the right opportunity to emerge. During the last edition of the EYE, about 200 proposals were presented to the European Parliament. More than 50 of those proposals became part of the official programme, making the whole event not only for young people but also by young people.
Benefits
Visibility: Once your proposal is selected, it will be published in the official programme and you will reach an audience of about 20-40 people for a workshop or 50-200 people for an artistic performance;
Possibility of financial contribution: The best proposals may receive a financial contribution by the European Parliament to cover some expenses. Please note that to qualify for funding it is necessary to describe the promotional activities about your participation at the event;
Logistical facilities: The Parliament will offer rooms and spaces for the workshops and artistic performances, in addition to some basic technical equipment, such as stationery, projectors, microphones and sound support (subject to availability).
Eligibility
Open to young leaders in the European Union who are part of a youth group going to the EYE2018.
Selection Criteria
Clear connection to the programme themes
Clear explanation of what you want to do and your motivation
Proof of previous experience in organising a workshop or staging a performance
Presence of interactive elements with the audience
Communication activities promoting your participation at the event
Application
Fill in the online application before November 15, 2017, 12:00 CET;
Be part of a youth group going to the EYE2018;
Link your workshop or performance to the programme themes;
Organise the workshop or performance in English, French or German.
For more information, visit EYE 2018.