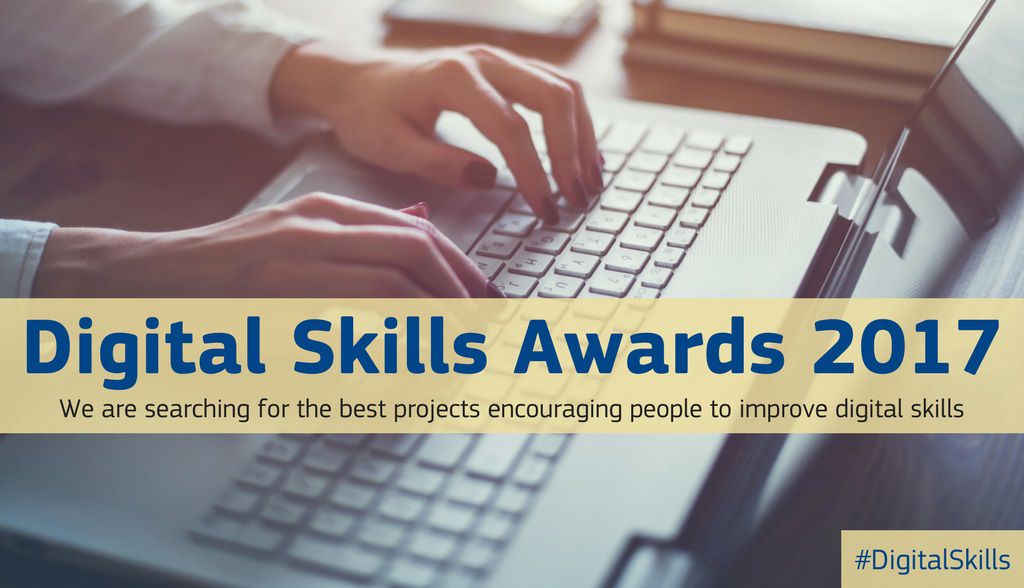 European Digital Skills Awards 2017
Deadline: November 5, 2017
European Commission invites applications for the European Digital Skills Awards. The European Digital Skills Awards 2017 aim to showcase initiatives that develop the digital skills of Europeans in school, at work and in society in general. The initiatives should be easy to scale-up and replicate in other cities, regions, countries and sectors. Companies and other organisations are invited to submit projects they have implemented to improve digital skills in Europe for the awards.
Categories
The winners and finalists will be selected in the following four categories:
Digital skills for all – developing digital skills to enable all citizens to be active in our digital society
Digital skills for the labour force – developing digital skills for the digital economy, e.g. upskilling and reskilling workers, jobseekers; actions on career advice and guidance
Digital skills for ICT professionals – developing high-level digital skills for ICT professionals in all industry sectors
Digital skills in education – transforming teaching and learning of digital skills in a lifelong learning perspective, including the training of teachers
To highlight the importance of closing the gender gap in digital skills, a fifth project selected from all the submissions that also promotes digital skills for women and girls will receive an award. The winners will be awarded the European Digital Skills Awards by Mariya Gabriel, European Commissioner for Digital Economy and Society at the Digital Skills and Jobs Coalition Conference that will take place in Brussels on 7th December 2017.
Award
The best 4 projects designed at improving the digital skills of citizens, the labour force, ICT professional and in education will receive an award.
A fifth award will go to the best project which also address the needs of women and girls.
Both winners and runners up will also be invited to exhibit their projects at the at the Digital Skills and Jobs Coalition conference in Brussels.
Additionally, they will be featured by the European Commission in newsletters, the media and on the web.
Eligibility
The Awards are open to any organisation or company (e.g. national or local public authorities, businesses, education, non-governmental organisations, associations or a mix thereof) undertaking digital skills projects in Europe.
The initiative must cover one or multiple EU Members States or EFTA countries and have started and shown results in the period 1 January 2015 – 30 October 2017.
Submissions made for the 2016 awards may be re-submitted, excluding the winners.
Winning organisations are nevertheless welcome to submit a different initiative.
Application
 Complete the application form by 5 November 2017.
By submitting the application form you agree that the project be listed in the European Commission's Digital Skills and Jobs initiatives repository openly available through the European Commission website.
Have further questions? Please send an e-mail to [email protected].
For more information, visit European Digital Skills Awards.