The Hansen Summer Institute on Leadership and International Cooperation is a fully-funded vibrant leadership development program in which students travel to the University of San Diego's School of Leadership and Education Sciences (SOLES) in San Diego, California. Funded by a generous grant from the Fred J. Hansen Foundation, the Hansen Summer Institute brings together 5 outstanding young Americans and 20 young students from developing countries for an immersive learning experience around themes of peace-building, social entrepreneurship and leadership.
The program is fully funded, which means that all travel, accommodation and program-related costs are borne by the program. The costs of an international passport and of a U.S visa are NOT provided.
Why Should You Apply
Hansen Gives You the Tools a Young Leader Needs: The Hansen Summer Institute is not like any other leadership summit or conference that you will ever attend! The phenomenal planning team do an extraordinary job at identifying the skills and competencies that are necessary for the aspiring young leader to be significant in today's rapidly changing world. Key skills of the three-week Hansen Summer Institute include:

Public Speaking Skills
Negotiation Skills
Conflict Resolution

The Social Venture Pitch Competition: Are you an entrepreneur who loves the hustle and bustle of pitching for funding? Or are you an aspiring entrepreneur who wants to learn how to go from business idea, prototype and product launch in the most effective way possible? Then this program will be like Christmas coming early! At the end of three intense weeks of concept development, prototyping and strategy planning, student teams will compete in a 'Shark Tank' styled pitch competition for seed funding of between $500 and $10,000. Do you think you have what it takes to win the funding? Then what are you waiting for? APPLY!
It's Relevant: What a time it is to be alive today! Arguably more nations are on the verge of war with each other, than in recent times. Today, there is perhaps the greatest distance between the rich and the poor, with a mere 8 people said to own as much as the world's poorest 50%. It has become the norm to read and hear about human rights atrocities almost daily
Highlights of Karabelo's Experience
Karabelo is an Investment Management and Banking graduate from Lesotho. He is an NGO founder and a social entrepreneur who is passionate about using his skills to uplift and transform the lives of the most vulnerable members of his community, in his homeland of Lesotho.
He first found out about the Hansen Summer Institute through the Opportunity Desk website. He is an Opportunity Desk addict, and checks the webpage around 10-20 times a day. When he first saw the Opportunity Desk post inviting applications for the Hansen Summer Institute, Karabelo knew the program was for him!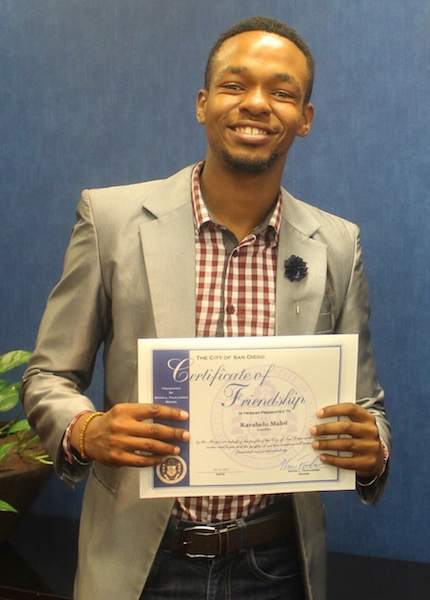 "I won't lie, when I heard that only 20 students would be selected to partake in the program, I thought I stood no chance! But I always make it a point to finish applications that I start. Lo and behold, I received my acceptance to participate in the Hansen Summer Institute in February!
The program ran from July 1st -23rd. I flew to San Diego, California on the 1st July 2017 with high expectations, and I must say, it lived up to the hype! At the Hansen Summer Institute, I learned the 'California way' of doing great things; "Work hard, and play even harder!". This was a university-based leadership program like no other!
I learnt a lesson in restorative justice from a father who had lost his only son in a brutal gang murder but rather than choose the path of hate, started a foundation to inspire thousands of at-risk youth out of gang membership. I learnt key business secrets on how to build a great business, from one of California's most innovative companies, Nextivity Inc. As an NGO founder and social entrepreneur, I took home the skills that catapulted my social ventures to the next level.
I am a small-town boy from a small country that very few have ever heard, called Lesotho. Never in my wildest dreams could I have thought one day I would have the opportunity to engage and share ideas with people from Kyrgyzstan, Mongolia, Brazil, Palestine and many others, but the Hansen Summer Institute made this possible. If I could get into the Hansen Summer Institute, so can you. Heed the call to apply; the Hansen Summer Institute is calling your name!
APPLICATION TIPS
1. Recommendation Letters
As part of the application process, you will be required to upload the details of two referees to provide a recommendation for you to participate in the program, on your behalf. There are two types of referees in this process:
Academic Referee
Non-Academic Referee (From an NGO or similar Org)
Do not make the mistake of leaving this part of the application till the last minute. Contact your referees right away, and get this done ASAP. I've seen so many people go through the entire application process, put together a fantastic application, only to be let down by a referee who does not submit a recommendation in time. So, once you've filled in the details of your referee, the referee will receive an email prompt to submit a recommendation on your behalf.
Once you've entered your referee's details, make sure you hound your referee until they've completed the process. Yes, they might become a little irritated with you, but not as irritated as you'll be with them if you miss out on this great opportunity because they forgot to upload this on your behalf. ii. Academic Transcript A lot of people I've heard from ask specifically about this one. My advice is to not fuss or worry if you're not an A-student. The purpose of your academic transcript is to show that you're a student with solid academics capable of juggling the demands of the program and any potential effect it could have on your normal calendar year.
2. Academic Transcript
A lot of people I've heard from ask specifically about this one. My advice is to not fuss or worry if you're not an A-student. The purpose of your academic transcript is to show that you're a student with solid academics capable of juggling the demands of the program and any potential effect it could have on your normal calendar year.
3. Essay Questions
This is the most critical part of the application process. This is where places to participate in the program are won and lost. When you fill this part out, bring you're a-game! If not for any other reason than the fact that others will! Essay styles differ from person to person, and each person is a unique individual with a special story, so I cannot prescribe what to write. But I can offer a few tips:
Be truthful.  Be as expressive and as passionate as you can. Make your application stand out by letting your soul speak through the text.
Always assume the reader of the essay knows nothing about your region/country. So, paint the picture of ills that exist in your society and what you're doing about it.
Don't be modest, but keep it authentic!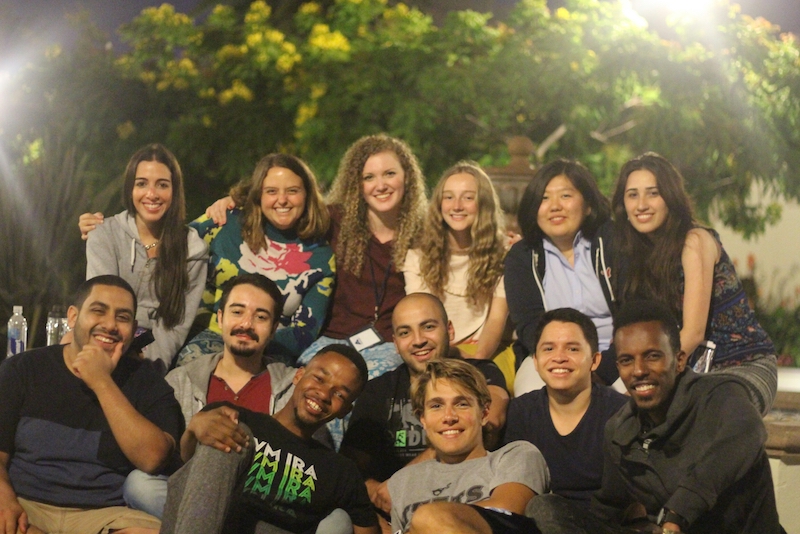 I hope you have found this article useful, and that you do not let such a wonderful opportunity pass you by! So please apply, I promise you it'll change your life! Take Care and Never Forget; the World is Yours!
Warm Regards from Maseru, Lesotho
Karabelo Maloi
Hansen Summer Institute 2017 Fellow
For more information and to apply, learn more about Hansen Summer Institute.