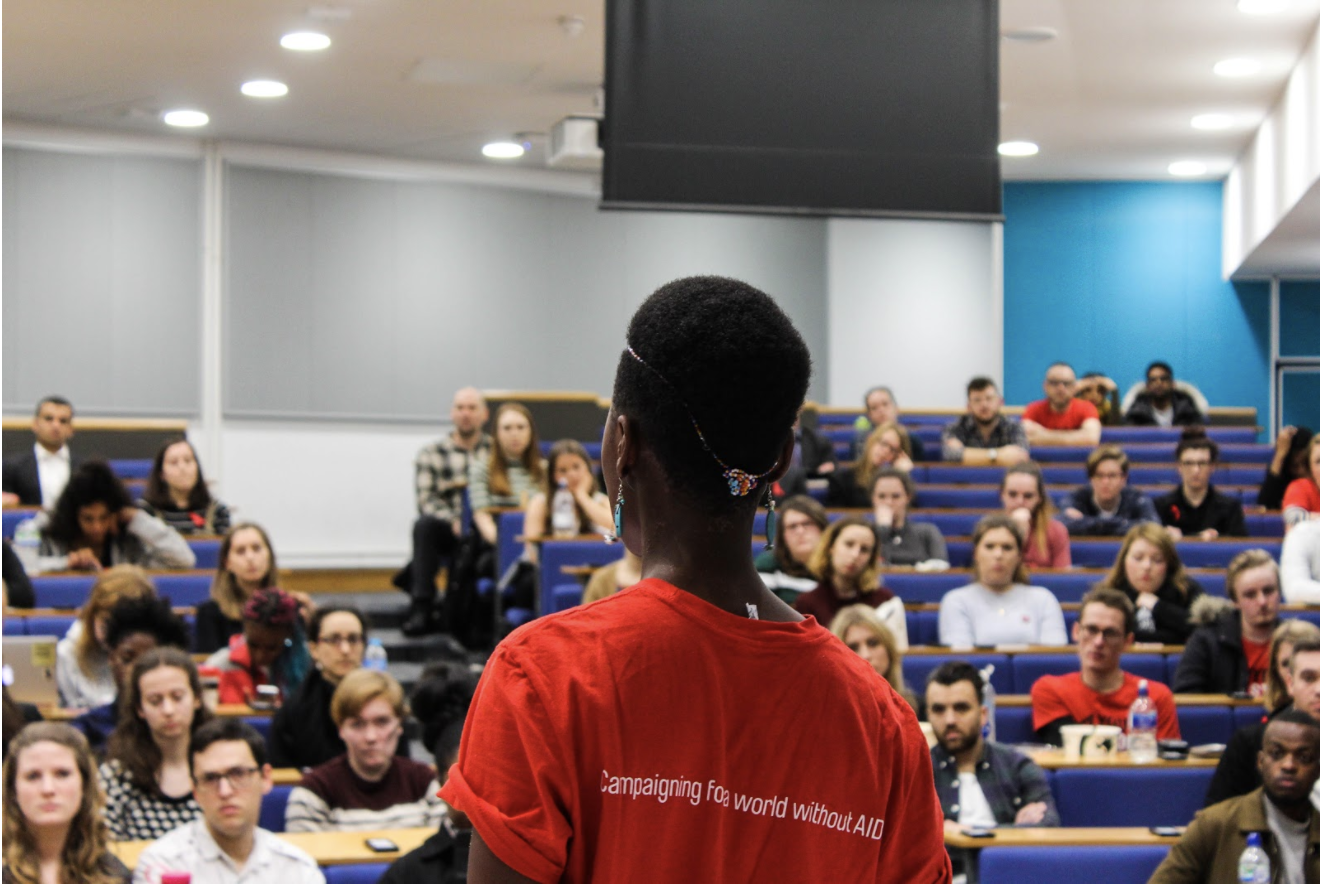 Apply for Restless Development's Youth Stop AIDS UK Speaker Tour 2018 (Fully-funded)
Deadline: December 19, 2017
Restless Development is looking for a young, passionate speaker from the Global South to join them on their annual Youth Stop AIDS Speaker Tour. Are you a young person affected by HIV or AIDS? Do you have the skills, knowledge and passion to inspire other young people to take action? Then they want to hear from you!
Youth Stop AIDS is a youth-led movement campaigning for a world without AIDS. Each year Youth Stop AIDS brings together the voices of young people affected by HIV & AIDS from the Global South and the UK for a nation-wide tour.  There is nothing more powerful than hearing the true-life stories of people affected by these diseases, and their ability to motivate people to take action and change this reality. 
This year's Speaker Tour will focus on our current campaign, called It Ain't Over. This campaign aims to put HIV & AIDS back at the top of the international agenda, and ensure that decision makers take action to end the epidemic by 2030.
Responsibilities
The Speaker Tour will visit around 14 universities across the UK within a three week period. In this voluntary role, you will tour the UK, to help bring to life the issues behind the HIV&AIDS pandemic by telling your personal story to young people and decision-makers, and inspiring them to take action.
The Speaker Tour aims to engage and inspire young people in the UK to take action to help tackle the pandemic. As well as telling your story at speaker events, the tour group will also take part in media interviews and support youth campaigning activities across the UK.
Your role will be to work as part of a team of two to four UK based speakers, alongside a Restless Development staff member and driver, visiting universities around the UK.

You will deliver a fifteen minute talk on why HIV is important to you and how it has affected your life, your community, country and region.

The talks will be followed by a 15-30 minutes question and answer sessions with the audience. We will either visit one or two universities per day.

You will also take part in regional campaigning activities and activism during the daytime alongside our student volunteers – this will include public engagement, media interviews, campaign stalls, action cards signing, flashmobs, and publicity stunts.
Timing and Dates
You will be in the UK for 3 weeks from approximately 7th February to 28th February 2018 (exact dates to be confirmed). You will have at least one full day off on each weekend. After arriving in the UK, you will attend a 3 day training to prepare you for the Tour, and will then travel to events across the UK (including England, Wales and Scotland) for the following 2.5 weeks.
Interested? Great!
Benefits
This is an unpaid voluntary position. However the following costs will be covered directly by Restless Development:
Travel to UK:

Travel and visa costs (if needed) to and from the UK will be covered by Restless Development.

Accommodation:

Basic accommodation will be provided during the Speaker Tour which will be a mix of hostels and our volunteers providing their own accommodation for us. Sometimes this may require sleeping on sofas or the floor with sleeping bags/mats but we will try to make sure there are beds wherever possible.

Travel in the UK:

All travel within the UK will be covered. This will be a mix of trains, cars and other public transport.

Travel insurance:

You will be provided with travel insurance for the full time that you are in the UK.

Food:

Food will be provided during the team training, and a food allowance will be given throughout the 3 week Tour.

Phone:

You will be provided with a UK pay as you go sim card with £20 credit upon arrival in the UK to contact Speaker Tour team members and staff. You will need to pay for any phone use over and above this amount. We will ensure where possible there is access to Skype and internet during the Speaker Tour.
Eligibility
The successful applicant is from the Global South (Africa, Latin America, or developing Asia including the Middle East) and will have the following:
Personal Qualities
Positive mental attitude

Open minded and culturally aware

Independent

Flexible

Belief in the role of young people as activists

Belief in the potential of Youth Stop AIDS
Skills and Experience
Proven ability to engage, motivate and inspire others

Ability to work as part of a team and to get on with others

Excellent communication skills: an articulate and confident public speaker

Experience of and commitment to grassroots HIV & AIDS activism

Be an active member of a HIV network

Excellent knowledge of national (i.e. from your country) and global issues around HIV and AIDS

Good knowledge of key debates around access to HIV prevention, treatment, care and support
Other Criteria:
Be aged 18-30

Speak fluent English

Be personally affected by the HIV & AIDS epidemic
They are especially keen to have applications from:
Young people living with HIV

Young people from key affected populations, including sex workers, drug users, men who have sex with men and transgender.
*If you are from the Global South but currently reside in the UK, you may apply for the UK Speaker role
Application
If you have any questions or issues, please contact [email protected].
For more information, visit Speaker Tour of the UK.