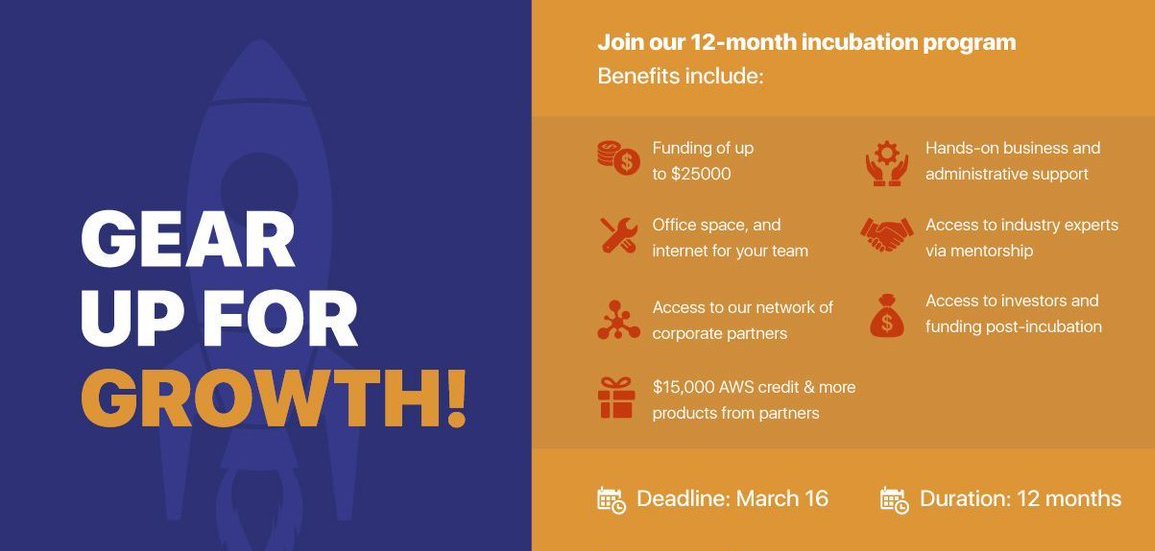 Co-Creation Hub Incubator Program 2018 ($25,000 and more for Startups)
Deadline: March 16, 2018
Co-Creation Hub invites applications for its new Incubator Program. The Incubation program at CcHUB takes a hands-on approach to helping  entrepreneurs execute a working business model and grow a sustainable business. Their goal is to help the entrepreneur(s) properly structure their business, ensure consistent growth and access funding to build a lasting global entity.
The new incubation program will now run for a fixed duration of 12 months, as opposed to 18+ months. A new program plan has been designed to be more intentional about the support they give to startups with a core focus on enabling startups to gain more traction and access funding post-incubation. It is important to note that startups will have to work from their incubation space in Lagos, Nigeria for the duration of the program.
Benefits
Startups that are accepted into the program will receive the following:
Funding of up to $25,000 to run your operations during the program. In addition, startups will get direct access to possible follow-on capital between $100,000 – $250,000 from the Growth Capital fund by CcHUB.
Entrepreneurs will get hands-on support from the different practices in CcHUB to help with business strategy, financial management, digital security and recruitment. In addition, a newly created product development unit will be available to support the technical lead/team of the different startups.
There will be an emphasis on growth and distribution as we have identified how challenging it can be for startups to reach their customers quickly and effectively. This will involve one-on-one sessions with experts in sales, marketing, and distribution, as well as marketing opportunities via partnerships with media platforms, companies and personalities.
Office space for up to 6 team members, high speed internet, meeting rooms & more.
Hands-on support:  Business strategy, financial management, recruitment, product development (advisory)
Access to experienced entrepreneurs and industry experts via mentorship.
Access to our network of corporate partners.
Access to investors for funding post-incubation.
$15,000 Amazon Web Services Promotional credit and more products from partners.
Eligibility
The program is open to startup teams from anywhere in the world that are looking to grow their businesses in Africa, particularly Nigeria.
They are looking for committed and ambitious founders with technology solutions that have gained some traction,  generating revenue, addresses a clear need/want and has the potential to scale.
To be eligible to attend the program, startups must meet the following criteria:
Have a revenue model and be generating revenue.
Have a functional product (web or mobile).
Have gained Users/customers.
Been in operations (since launch date) for at least 6 months.
Have a management team consisting of up to 3 members which includes a technical lead and founder(s) that are fully committed to the business.
Have the potential to scale.
Application
Applications will be reviewed on an ongoing basis until all spaces are filled. Start-up founders are encouraged to send in their applications as soon as possible.
Complete the online application.
For more information, visit Co-Creation Hub Incubator Program.