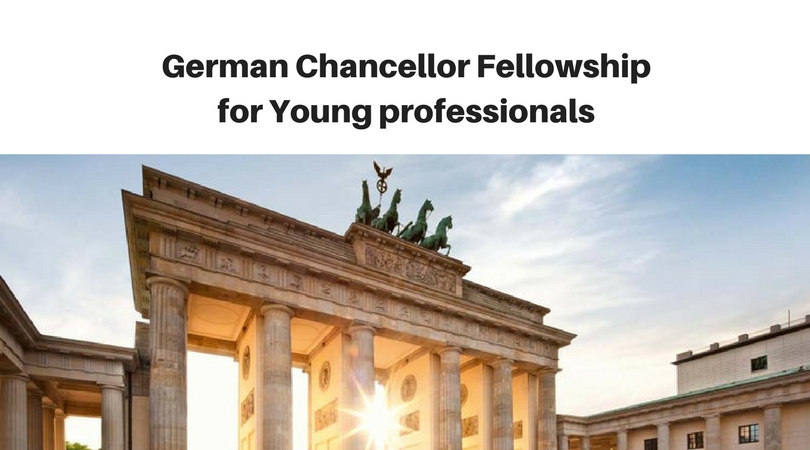 Alexander von Humboldt Foundation's German Chancellor Fellowship 2018 for Young professionals (Fully-funded)
Deadline: September 15, 2018
The Alexander von Humboldt Foundation invites application for the German Chancellor Fellowship Programme 2018. They are searching for the leaders of tomorrow – from Brazil, China, India, Russia, and the USA. The German Chancellor Fellowship offers you an opportunity to take the next career step in Germany – irrespective of your field of work.
The Chancellor of the Federal Republic of Germany is the patron of this fellowship programme. The Foundation grants up to 50 German Chancellor Fellowships annually – up to ten for each country.
About
The Alexander von Humboldt Foundation's German Chancellor Fellowship Programme is targeted at university graduates from the United States, the Russian Federation, the People's Republic of China, Brazil and India who have an international outlook and initial leadership experience. It addresses prospective decision-makers, multipliers and thought leaders from a broad range of professional fields such as politics, public administration and business as well as society and culture.
The fellowships give them the opportunity to spend a year in Germany networking with other prospective leaders from abroad, who are also sponsored by the Humboldt Foundation, and to explore new solutions to the global issues of our times. With this programme Germany once again presents itself as a destination of choice for intercultural dialogue and as a meeting place for the international leaders of tomorrow.
During their stay in Germany, the German Chancellor Fellows usually pursue research-based, selfdeveloped projects in the areas mentioned above at host institutions. They are supervised by hosts in Germany who they select themselves and who have the necessary level of expertise to mentor the respective research topics. Fellows will be able to expand their specialist knowledge and gain new international experience whilst enhancing their intercultural skills and thus enabling them to develop into successful leaders.
After the fellowship has come to an end, they act as intermediaries between their own countries and Germany and continue to be part of the worldwide Humboldt Network in which the alumni of the German Chancellor Fellowship Programme foster particularly close contacts with one another. This has resulted in a steadily growing network of international decision-makers, multipliers and thought leaders.
Benefits
a monthly fellowship of €2,150, €2,450 or €2,750, depending on your qualifications
individual mentoring during your stay in Germany
additional financial support for items such as family members accompanying you, travel expenses or a German language course
a study tour of Germany and a number of events during which you can make contact with other fellows and representatives of German companies and institutions
extensive alumni sponsorship, particularly to help you sustain contact with collaborative partners in Germany during your entire professional career
Eligibility
Send an application, if you
are a university graduate with an international bias from Brazil, China, India, Russia or the USA and have already acquired initial leadership experience
completed your first degree less than 12 years ago
would like to spend a year working on a project you have developed yourself with a host of your choice in Germany
can demonstrate that your project will be of social significance and that you have the potential to build future bridges between Germany and your own country
work in a sector such as politics, economics, the media, administration and culture
Potential applicants who have been in Germany for more than six months immediately prior to the application deadline (15 September) may not apply.
Potential applicants who have already been sponsored by the Humboldt Foundation are not eligible to apply for one of the Foundation's other fellowships but should seek support for a further stay in Germany from the Foundation's Alumni Programme.
Criteria
Applicants are selected according to the following criteria:
previous career and leadership potential
significance of fellowship for further career development
potential to build bridges between home country and Germany
international outlook and future role as an international leader
existing knowledge to help complete the project successfully relevance of the project for the dialogue of modern societies
Application
In order to apply, develop your own project idea and find the host of your choice to mentor you. Once your host has confirmed, you can apply for a fellowship.
Applications should be completed online. The completed application form, including the necessary additional documents, should be submitted online by the application deadline.
Register now and apply online.

For more information, visit German Chancellor Fellowship.