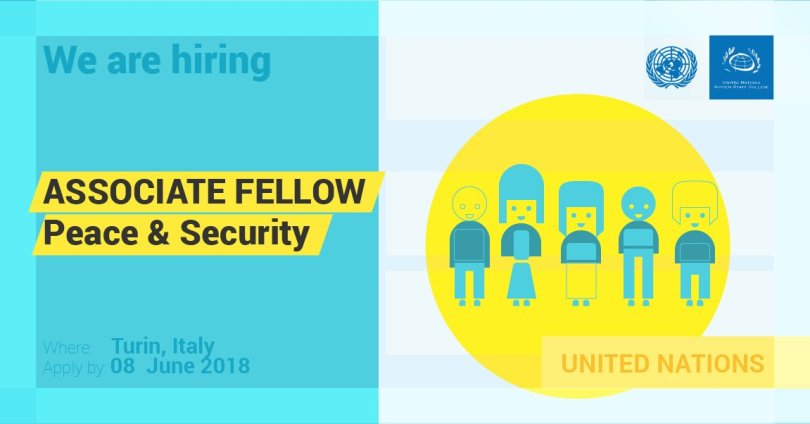 UNSCC Peace & Security Associate Fellow Programme 2018 in Turin, Italy
Deadline: June 8, 2018
Apply for the UNSCC Peace & Security Associate Fellow Programme 2018. The United Nations System Staff College (UNSCC) is an international organization based in Turin, Italy, that provides learning, training and knowledge management activities for the staff of the United Nations.
The peace and security portfolio covers a number of existing learning and training products and is currently being expanded in line with the UNSSC strategic plan 2018-2021. All training and learning activities require numerous administrative and logistic arrangements irrespective of whether they are planned to take place in Turin or elsewhere. The duration of the programme is from July 1, 2018 until December 31, 2018.
Responsibilities
Under the supervision of the Senior Manager, Peace and Security Team, and in close collaboration with the Course Coordinators and Support Staff, specific duties and responsibilities of the Associate Fellow are as follows:
Provide full administrative and logistical support to preparation of training activities including responding to incoming communications, contacts with participants and resource persons, drafting and word processing of reports and communications either on own initiative or on instruction from team members;
Facilitate webinars for the participants in the online courses;
Provide typing and editing of correspondence and documents, training material, supporting documents for training activities and outputs for participants;
Assist in making arrangements for workshops, including preparation of course material, attendance lists and agenda, correspondence with participants and any follow-up action;
Provide liaison between resource persons, participants and the College's services or the selected venue during training activities
Perform other duties as required
Eligibility
Applicants should possess a university degree (Master's degree or equivalent) in Business Administration, Public Administration, or relevant field
Applicants should have at least 2 years of relevant professional experience in administrative related duties preferably within the United Nations context
Applicants should have excellent knowledge of English and any other UN language. Knowledge of Italian is an asset
Other skills include: Good negotiation and communication skills, a task- and result-oriented approach and ability to prioritize tasks and organize work, Good computer skills, Excellent interpersonal skills and ability to establish and maintain effective partnerships and working relations in a multi-cultural, multi-ethnic environment with sensitivity and respect for diversity, including gender balance.
Application
The application (in English) should include the following:
A duly completed, updated and signed P11 form
A motivation letter elaborating in a concise style why you consider yourself qualified for this position.
The application should be submitted by e-mail to [email protected] with a subject title of "Application for Associate Fellow 002".
For more information, visit UNSCC Peace & Security Associate Fellow Programme.