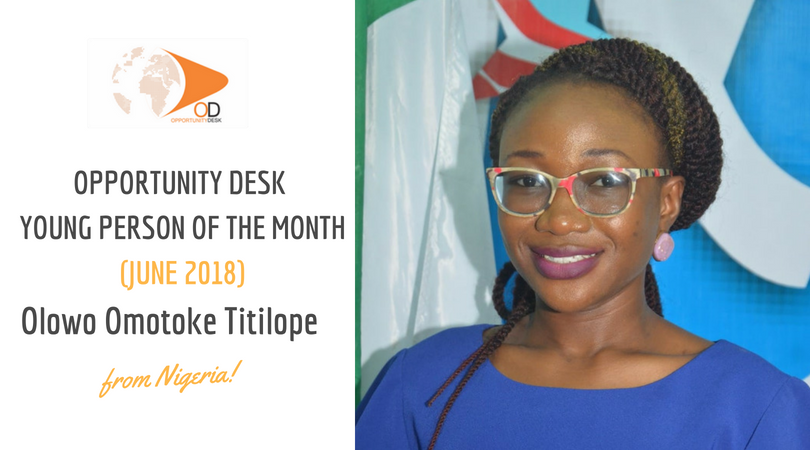 Olowo Omotoke Titilope from Nigeria is OD Young Person of the Month for June 2018!
Welcome to June!
Our Young Person of the Month is Olowo Omotoke Titilope from Nigeria! Olowo Omotoke is the founder of The Autism Awareness Place, which focuses on campaign, advocacy and teachers' training for inclusion of children with disabilities especially children on the Autism Spectrum Disorder. She holds a Bachelor's Degree in Guidance and Counselling and a National Certificate in Education. She is a YALI RLC Fellow, an Ashoka Changemaker and 2018 Mandela Washington Fellow. Olowo Omotoke is the OD Impact Challenge 2017 third place winner.
Read her story below and be inspired!
OLOWO OMOTOKE TITILOPE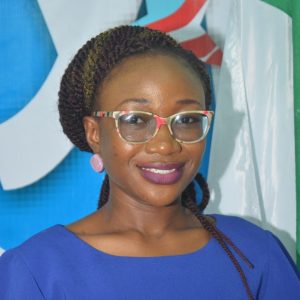 Olowo Omotoke Titilope has over five years of progressive experience in education, community service, volunteering and advocacy for children living with disabilities. She is a special needs educator and her focus is on helping children with Autism, ADHD in communication and social skills. She is passionate and committed about raising awareness for children with disabilities, inclusion and community service.
Her belief that every child can learn and each child counts irrespective of their disability or socio-economic background, led her to start The Autism Awareness Place (TAAP), in 2017 where she and her team cater for children with disabilities through therapy and creative learning and teacher's training, especially for children on the Autism Spectrum Disorder. The ill treatment and stigmatization people living with disabilities have to face on a daily basis couple with the fact that one of her friends is physically challenged further fuels her passion. Her inspiration comes from the happiness she sees on the faces of parents after each session with them and the fact that she can make a difference in her community.
Her Community Engagements
Omotoke has facilitated training on creative learning for children with cancer in LUTH and children at Modupe Cole Children's home, and has organized seminars for over 70 teachers in five different schools in 2017 on how to teach and train children with disabilities. Another 200 people were trained virtually on how to support children living with Autism Spectrum Disorder.
The Autism Awareness Place (TAAP), reached over 1000 people in Oworonshoki Community through Our Walk Aware Autism to raise awareness about Autism, teacher's training and secondary school students' outreach. In future, TAAP hopes to work with schools on how to adequately mainstream children with disabilities with proper follow-up, grass roots campaign and awareness, as awareness creates acceptance.
One of the major setbacks Olowo Omotoke has experienced was when they had planned to host a program in a school for teachers but was forced to postpone due to inadequate communication. They however pushed through with the program after re-arranging, re-strategizing and adequate planning.
Her Advice to the Youth
It is better to 'Do It Afraid' than to do nothing. It won't be easy at the beginning and there will always be those who think you can do it or who don't believe in you but you have everything to proof to yourself that you are strong and brave and you can do anything you put your mind to. Like my mentor will say, "Just start and keep shattering glasses."
You can connect with Olowo Omotoke on Facebook! and Instagram!
Find out more about The Autism Awareness Place.
——————————————————————————————————————————
Who will be the Next Young Person of the Month?
You can be the next Opportunity Desk Young Person of the Month! All you have to do is get a friend to recommend your work or fill out the nomination form here.  We want to use the platform to recognize and celebrate the efforts of amazing young people around the world. O! And you must be an active Opportunity Desk member, either as a fan, reader or subscriber!
Don't miss any updates in the future.
Join Opportunity Desk on 140k+ Facebook , 19.1k+ Twitter, 4.2k+ Instagram , 67k+ Group or join 41k+ Subscribers via Email below!