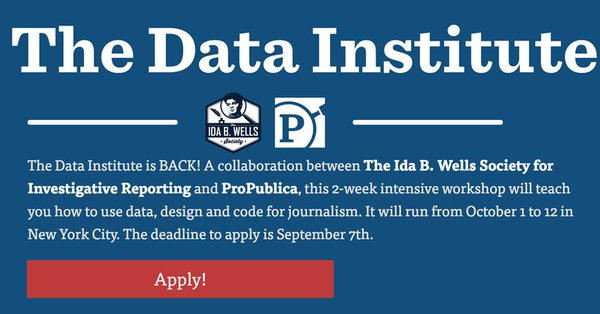 Data Institute 2018 Intensive Workshop in New York City (Funded)
Deadline: September 7, 2018
Are you a journalist of color interested in coding, design and data? Applications are now open for the Data Institute. A collaboration between The Ida B. Wells Society for Investigative Reporting and ProPublica, this 2-week intensive workshop will teach you how to use data, design and code for journalism. It will run from October 1 to 12 in New York City.
The Data Institute will run all day on weekdays between Oct 1 to 12. There will also be assignments and project work that will likely occupy a good portion of evenings and weekends. They're going to pack a lot of information into these two weeks, so applicants must be able to dedicate the entire time to the program. If this poses a financial burden that would make you unable to attend the workshop, ProPublica is providing a limited number of stipends, up to $1,000 each.
Content
Over 2 weeks, they'll cover the basics of brainstorming, reporting, designing and building interactive graphics and data-driven news applications. By the end of the course you should be able to:
Data Journalism

Conduct data research and evaluate the reliability of your data.
Clean data and analyze data sets for interesting trends and outliers.
Bulletproof data against common pitfalls and inconsistencies.
Perform the most commonly used statistical techniques in journalism.

Design

Sketch and prototype multiple designs for a single project and evaluate the best approach.
Learn how to use color, typography and layout.
Understand how to test designs with real-world users and to incorporate feedback.
Create clear and clean visualizations to help readers understand complex information.

Programming

Understand basic programming concepts.
Create your own website from scratch, using HTML/CSS and Javascript.
Scrape a website, using either Ruby or Python.
Know how to continue learning on your own.
The workshop will be project-centered. You will work on an interactive data journalism project — with real data — from beginning to end.
Benefits
The Data Institute is completely free to attend. They will provide lodging and cover roundtrip travel costs to New York City. Once here, students will receive prepaid metrocards to cover travel costs to and from our offices. We'll also provide breakfast and lunch every day of the Institute.
Additionally, we are offering a limited number of need-based stipends to help those who may otherwise not be able to attend. Requests for stipends are part of the application.
Eligibility
The Data Institute is only open to U.S. residents.
If you're a journalism student or journalist currently residing in the United States, and passionate about learning how to use data, design and code to help tell stories, this workshop is for you. You don't need to have any previous experience, but they want to see that you've demonstrated curiosity about telling stories with data.
All workshop students will need to bring their own laptop, which must be able to install software like R Studio. This means that Chromebooks and iPads won't work. They'll provide other materials, including links to where you can get the software we'll be using for free.
You must be an Ida B. Wells Society member to apply. Membership is free and you can sign up here.
Application
Questions? Check the FAQ or email [email protected].
For more information, visit Data Institute 2018.