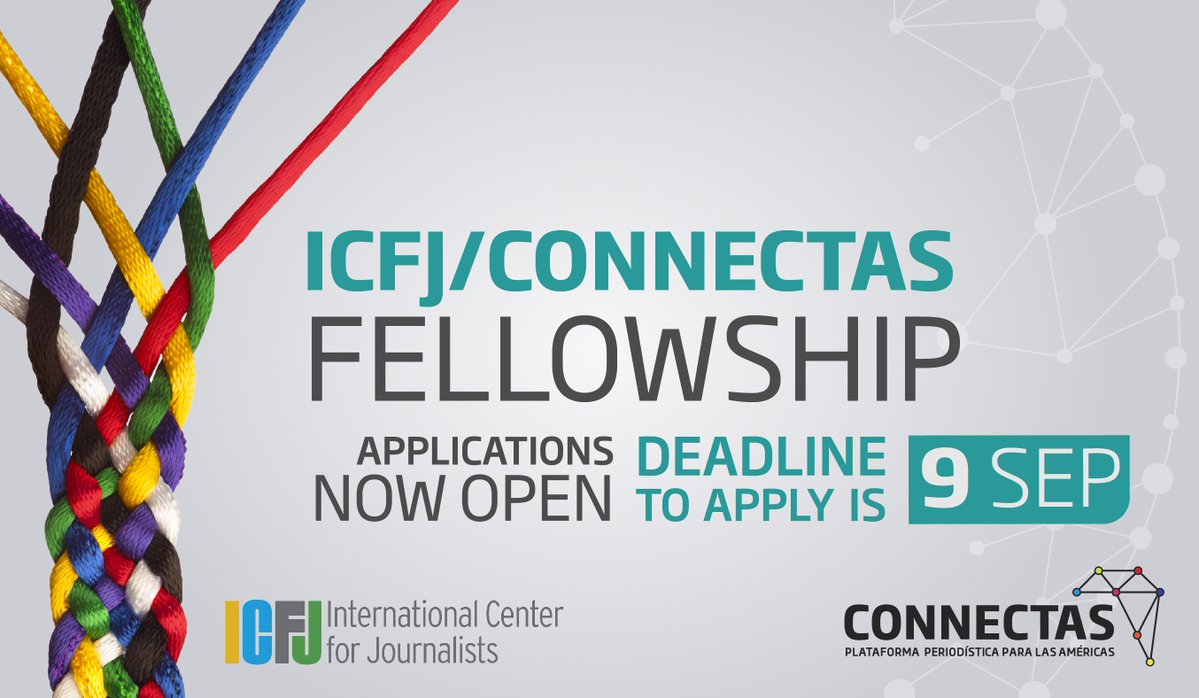 ICFJ/CONNECTAS Fellowship for Journalists in the Americas
Deadline: September 9, 2018
Applications for the ICFJ/CONNECTAS Fellowship are open. Fellows will produce in-depth reports related to an issue of public interest – like human rights, corruption or violence:
Under the Investigative Reporting Initiative in the Americas (IRIA) project, ICFJ, in partnership with CONNECTAS, invites experienced investigative journalists to apply for this new Fellowship opportunity. IRIA aims to encourage and strengthen independent and quality journalism in the region by offering support to investigative journalists since 2013.
Benefits
If you are selected you will
Receive a stipend of $3,000 for the entire duration of the Fellowship;
Work on one in-depth reporting project related to an issue of public interest, such as human rights, corruption or violence;
Have the opportunity to be connected to an ICFJ/CONNECTAS mentor;
Have the opportunity to receive advice about security protocols in high-risk cases;
Be required to provide 12 hours of their services as part of their fellowship to support other ConnectasHub members working on investigations;
After completion of Fellowship, you will become a member of the CONNECTASHub community;
Publish your piece within five months from the start of the Fellowship;
Cooperate with the re-publication and distribution terms of the project.
Eligibility
At this time, the Fellowship is open to journalists working in the following countries: Antigua and Barbuda, Barbados, Belize, Bolivia, Dominica, Ecuador, El Salvador, Grenada, Guatemala, Guyana, Honduras, Jamaica, the Bahamas, Mexico, Nicaragua, Panama, Paraguay, Peru, Dominican Republic, Santa Lucia, St. Kitts and Nevis, Saint Vincent and the Grenadines, Suriname, Trinidad and Tobago and Venezuela.
Currently live in one of the target countries listed above;
Have a minimum of five (5) years of investigative experience;
Provide a minimum of three (3) in-depth investigative stories published within the last two (2) years;
Submit a detailed budget, investigation worksheet, and timeline;
Provide two professional references;
Submit a letter of support from a news outlet interested in publishing your piece(s);
It is not a requirement to be a member of the CONNECTASHub but applications from CONNECTASHub members are encouraged;
Application
For more information, visit ICFJ/CONNECTAS Fellowship.