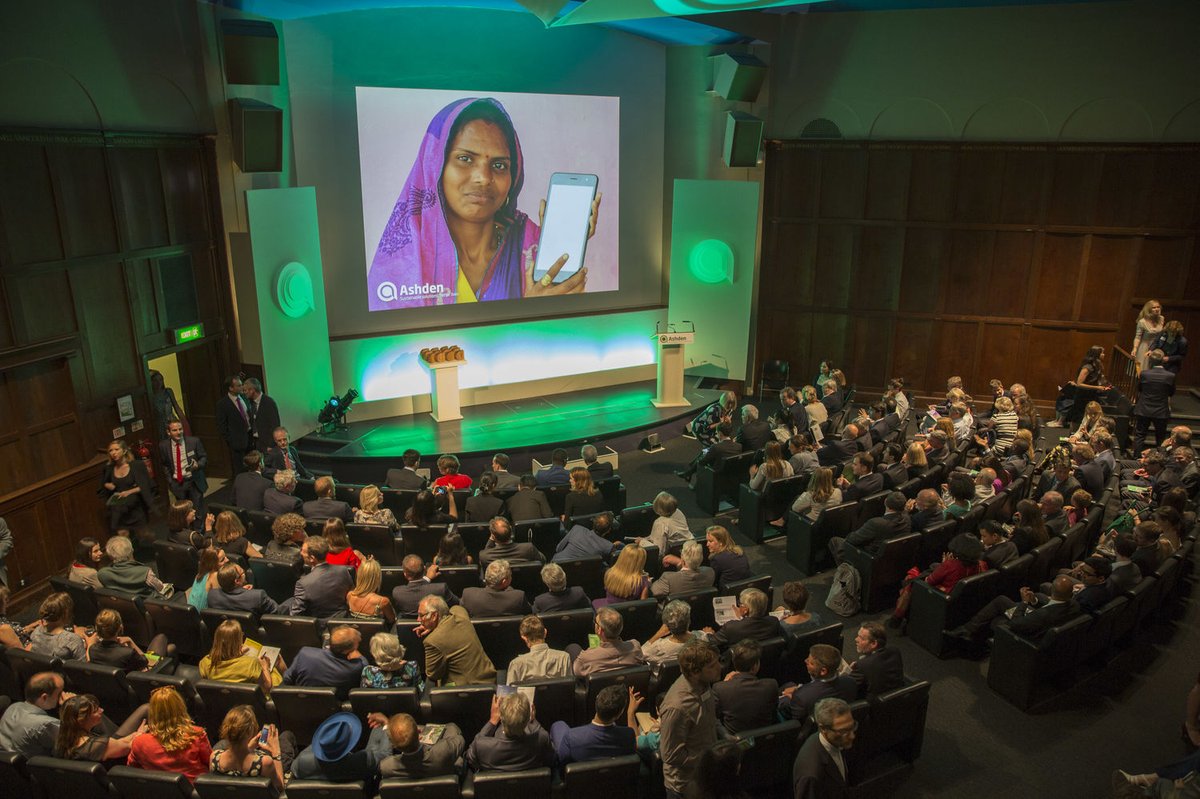 International Ashden Awards 2019 for Sustainable Energy Leaders (Win up to £20,000 and a trip to London)
Deadline: November 6, 2018
Applications for the Ashden Awards 2019 are now open. The Ashden Awards reward innovative enterprises and programmes that deliver, or play a key part in enabling the delivery of sustainable energy systems and through this bring social, economic and environmental benefits.
On 13 June 2019, 10 winners from around the world will receive a prize fund and global recognition for their achievements in increasing access to sustainable energy, promoting sustainable travel and helping build a low-carbon future.
Benefits
Award of up to £20,000
National and international media exposure
Tailored support to develop your work even further
Media materials to help you tell your story
As an Ashden Award winner, you will:
Travel to London at Ashden's expense to take part in the Awards Week events between 10 and 14 June (12-13 June for UK-based applicants). Winning an Ashden Award is contingent on taking part in the Awards Week activities.
Receive a visit from their video producer and in some cases a photographer.
Be expected to participate in media interviews that they may be able to arrange.
Agree with Ashden what you will spend the prize fund on and any business support you may receive.
Provide monitoring data about the progress of your work after one year, two years and three years.
You will be invited to join their global alumni network of over 200 past winners, which creates opportunities for learning and collaboration with other winners.
Eligibility
Businesses, NGOs, government organisations, and social enterprises (both for-profit and not-forprofit, including community groups) are all eligible.
Categories
For: International Ashden Award for Clean Cooking, International Ashden Award for Financial or Business Model Innovation, International Ashden Award for Powering Business, International Ashden Award for Sustainable Mobility, International Ashden Award for Sustainable Energy & Healthcare, International Ashden Award for Sustainable Cities and Buildings

The work must be delivered in at least one of the UN's developing regions of Africa, Caribbean, Central America, South America, Asia (excluding Japan) and Oceania (excluding Australia and New Zealand) and can be in rural or urban areas.
High-income countries in these regions, as defined by the World Bank, are not eligible to apply.
See here for a list of eligible countries.*

International Ashden Award for Cooling for People The work submitted must be delivering benefits in one or more of the following countries:

Algeria, Angola, Argentina, Bangladesh, Benin, Brazil, Burkina Faso, Cambodia, Cameroon, Chad, China, Republic of the Congo, Cote'd Ivoire, Djibouti, Dominican Republic, Egypt, Republic of the Gambia, Ghana, Guinea, Guinea-Bissau, Indonesia, Lao PDR, Liberia, Malawi, Mali, Mauritania, Morocco, Mozambique, Myanmar, Namibia, Niger, Nigeria, Papua New Guinea, Paraguay, Peru, Philippines, Senegal, Somalia, South Sudan, Sri Lanka, Sudan, Swaziland, Thailand, Timor-Leste, Togo, Uganda, Vietnam, Yemen.*

Impax Ashden Award for Energy Innovation, UK Ashden Award for Sustainable Buildings, UK Ashden Award for Clean Air in Towns and Cities

Applicants for these three Awards must submit either:

Work that is being carried out in the UK. The applicant may be headquartered outside the UK.
For the Energy Innovation and Clean Air Awards, they will also consider work that is being carried out in Europe, that the applicant desires to bring to the UK market or is willing to see replicated in the UK. In these cases, the purpose of the Award would be to help the applicant raise their profile in the UK and bring their work here, and the prize would need to be spent in support of this goal. Please note that the UK Sustainable buildings award is only open to work that is being carried out in the UK (not Europe).
Criteria
In 2019 they will be awarding work that fits into the following categories and also meets the key criteria listed below. When completing your application please indicate the specific category/categories you feel are most relevant to your work. They will consider your application in categories other than the ones you have indicated if they feel they fit your work more closely.
Sustainable Cities and Buildings: Organisations working in the built environment to rapidly decarbonise urban buildings and districts, including retrofitting existing buildings, as well as the design and construction of new buildings
Sustainable Mobility: Innovative enterprises or programmes that are improving access to sustainable transport and mobility services for those who currently have inadequate access, and having a measurable impact on greenhouse gas emissions, air pollution or congestion
Powering Business: They are looking for enterprises or programmes providing and/or using sustainable energy or energy efficiency in the provision of goods and services to produce income or value
Clean Cooking: They are seeking organisations accelerating the uptake of cleaner and more efficient cooking solutions which reduce indoor air pollution, improve health and protect the environment
Sustainable Energy & Healthcare: They are looking for organisations providing and/or using sustainable forms of energy to support the provision of healthcare services, including solutions for mobile, emergency and humanitarian contexts, cold-chain and other eco-system needs
Cooling for People: They are looking for organisations that are delivering work that alleviates heat stress for those spending time outdoors in hot climates, whether for work or while travelling
Financial or Business Model Innovation: They are looking for organisations or programmes improving access to energy through innovations in financial mechanisms and business models
Application
For more information, visit Ashden Awards.