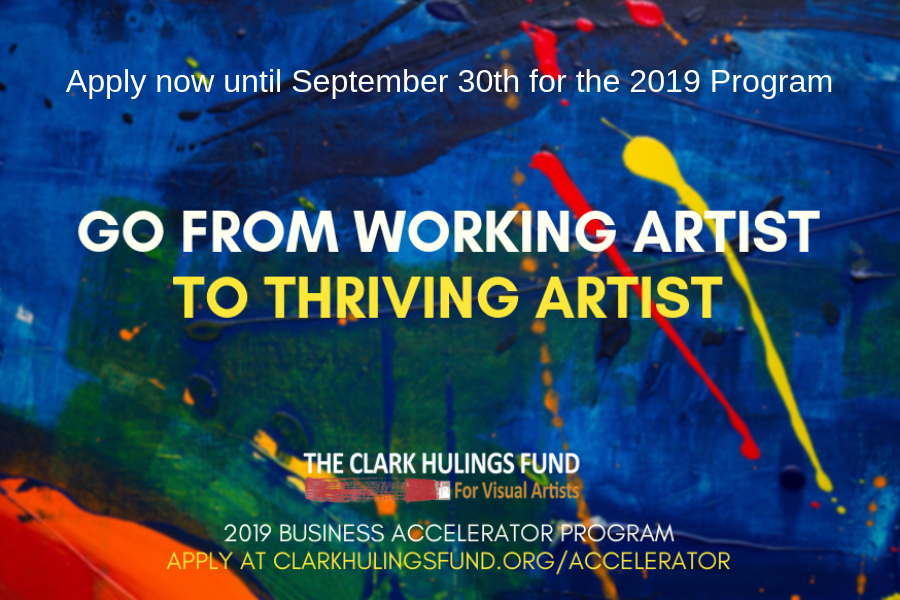 Clark Hulings Fund for Visual Artists Art-Business Accelerator Program 2019 (Fully-funded)
Deadline: September 30, 2018
Application are invited for the Clark Hulings Fund (CHF) for Visual Artists Art-Business Accelerator Program 2019. The CHF Art-Business Accelerator is a yearlong virtual course of business study for visual artists that's designed to impart the necessary business training to succeed as entrepreneurs and make a complete living through the creation of their art.
Fellows in the program receive customized business training, publicity, network-building opportunities, sales assistance, and one-on-one support to boost their careers and help make their businesses self-sustaining. The educational program consists of broad strategic workshops and labs delivered by remote technology (a laptop or desktop computer is required!), and provides participants with practical knowledge that's actionable in the real world, including information about how to develop a business strategy, build a compelling brand narrative, find buyers for their art, negotiate contracts, handle copyrights, communicate more effectively, and manage their finances and taxes.
Each workshop is led by an expert in the pertinent subject matter, and the labs are deep dives that include extensive time for Q&A, allowing our Fellows to obtain feedback on their specific questions and hear the perspectives of their peers.
Benefits
Business Training: First-year Fellows complete an intensive online business-education program that helps these working artists plan pivotal business projects, create a brand narrative, develop an Investment-Grade Proposal, and acquire a skill set that's designed to serve them throughout their careers
Customized Learning: Interactive online workshops, labs, electives, and 1:1 consultations provide for a high-degree of individual learner direction. All are designed by business-education experts, in collaboration with working artists, and led by art-industry professionals and business leaders.
PR & Sales Promotion: Fellows receive year-long promotion for their work and events through all of CHF's marketing and PR channels, including a professionally produced web interview and/or media broadcast, as well as customized opportunities, such as event passes and introductions to art-industry experts. CHF also promotes and sells art by the Fellows.
Advanced Fellowship: CHF offers advanced fellowships to selected first-year Fellows, to deepen the scope of their work. This includes honing their skills and viable business objectives, creating investment-grade business plans for entrepreneurial projects, maintaining project accountability, and help with capitalizing their plans.
Eligibility
Professional painters, sculptors, and artists working on paper who:
Have had their work exhibited and/or published professionally
Are pursuing specific opportunities or projects for which business support from CHF would make a substantive difference
Are United States citizens or permanent residents
Have not previously been awarded a fellowship or grant from CHF
Already earn or want to earn their living from the sale of their artwork
Application
For more information, visit CHF Art-Business Accelerator.