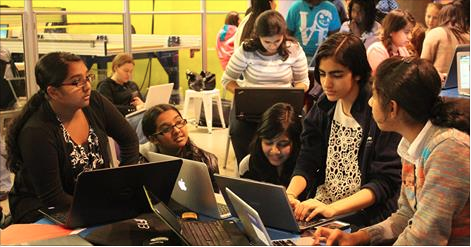 Technovation Challenge 2019 for Girls Worldwide ($10,000 prize + trip to San Francisco)
Deadline: March 20, 2019
Calling all innovators: the Technovation Challenge 2019 is now open. Every year, Technovation invites teams of girls from all over the world to learn and apply the skills needed to solve real-world problems through technology.
Technovation offers girls around the world the opportunity to learn the necessary skills to become tech entrepreneurs and leaders. Nearly 20,000 girls around the world registered to participate in Technovation 2018, building apps and starting businesses that solve problems in their communities. The 2018 Gold Scholarship winners were Team Cantavits, from India, for their app Eedo, developed to help address improper e-waste disposal.
Are you ready to change the world through technology? Are you curious, creative, and determined? Do you have big ideas and the courage to explore them? This competition is for you.
About
Any girl or young woman (ages 10-18) interested in Technovation is eligible to compete, as long as she creates or joins a team on our online platform, has a signed parental consent form (which includes a photo waiver), and completes a pre-program survey.
You will join a team to create, build, and sell an app that addresses a problem in your community – or support a team that does.
Find the role that makes the most sense for you – student, mentor, ambassador or judge – and then sign up! They'll help you figure out the rest.
Cost and Benefits
The Technovation curriculum is FREE. All you need is up to five middle school or high school girls, a safe place to meet, a laptop with internet. Teams may purchase smartphones to test the apps they create, but this can also be done in a limited way through a web-based phone emulator on App Inventor.
Eligibility
To be eligible to participate in Technovation as a student, you must be between the ages of 10 to 18 as of August 1, 2019 and  identify as female.
To be fully registered, you must form or join a team. Teams can range in size from 1-5 girls. No more than 5 girls are allowed to  join a team. You can only join one team.
Your team's division – Junior or Senior – depends on the age of all team members.
Junior Division: Team members are between 10-14 years old as of August 1, 2019
Senior Division: Team members are between 15-18 years old as of August 1, 2019
STUDENTS
In order to participate, all students must be between the ages of 10 to 18 as of August 1, 2019.
All students must identify as female. No males can enter the competition.
Teams are composed of 1 to 5 students. No more than 5 students are allowed to join a team.
Students can only join 1 team.
Divisions are based on the age of the oldest student on the team.
MENTORS
Note: These are the general rules for Technovation mentors. Please check with your local Regional Ambassador if there any rules that are specific to your region.
Mentors must be over the age of 18, unless special permission is granted from Technovation.
Mentors can be Technovation alumni.
Mentors can join more than one team.
In order to submit, mentors will need to complete their profile which includes:

Consent form
Background Check (if applicable)
Bio completed

Mentors/adults cannot write/produce any part of the submission for the students. This includes writing the code, writing the business plan, or producing the pitch video/demo video.
Mentors cannot take credit for students' work, use students' work to their advantage, or  copy/reproduce ideas without the explicit permission of all team members.
Mentors may be allowed to become virtual judges but will not be allowed to judge submissions from their region.
Mentors cannot receive any part of the student's prize money if their team wins. It is intended for students only.
Students cannot ask mentors to code their app for them, write their business plan, or produce their pitch/demo video. All such submissions will be ineligible for the competition.
Key Dates
Registration Opens: October 1, 2018
Official Season Launch: January 7, 2019
Registration Deadline: March 20, 2019
Submission Deadline: April 23, 2019
World Pitch: August 2019
How to Register:
Register by creating an account on my.technovationchallenge.org. Every individual student/mentor needs to register in order to join a team and submit.
You need an email address to register an account on my.technovationchallenge.org. Each account requires a unique email address.
Steps to register:
Click on Sign-up
Enter the email and password and age. Once you click submit, it will bring you to a page where you will be able to see your STUDENT or MENTOR profile prompt based on your age.
One you confirm your location, you will be registered
This will take you to your dashboard where you will have a list of items to get done before you can join a team as either a student or a mentor.
For more information, visit Technovation Challenge.