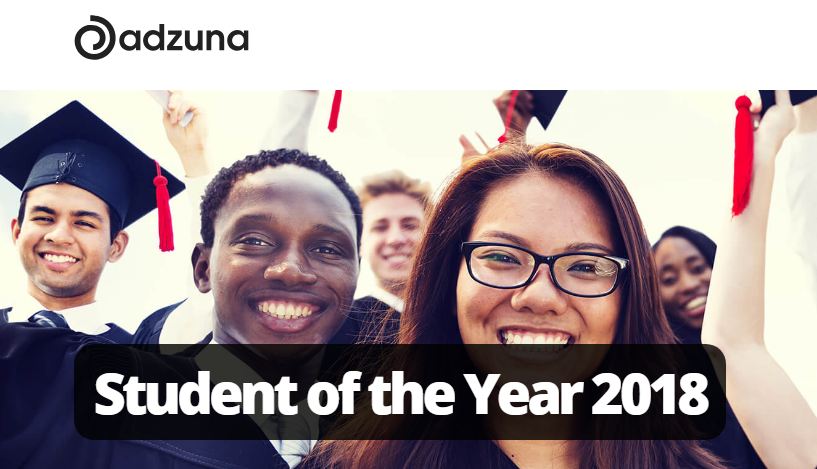 Adzuna Student of the Year Award 2018 (£3,500 prize)
Deadline: December 31, 2018
Applications are invited for the Adzuna Student of the Year Award 2018. Adzunna is on the hunt for Britain's top student and they are offering some great prizes for one lucky winner.
Adzuna has put together a package of prizes to help you on your way to a dream career. As well as a cash prize and the chance to gain work experience at a top company, you'll receive 1 to 1 career coaching, and the chance to learn new skills. So if you want to pay off some of your student loans, update your laptop, and buy a new interview outfit, you're in the right place.
Prizes
The winner of Student of the Year 2018 will receive an amazing cash prize of £3,500. It's yours to spend on whatever you want, whether that's an interview outfit for the perfect first impression, paying off some of your student loans, or even testing out a business idea
In addition to a bucket load of cash, you'll be given the chance to do an internship at a top company
The 2018 winner will receive a 1 to 1 mentoring session and CV clinic to help you take the next step – or leap – in your career
On top of that they'll help you top up your skills with up to £200 to spend on courses of your choice at a range of providers including Udemy
Eligibility
The competition is limited to specific countries and entries may only be made from university students or graduates from the following countries – UK, France, Russia, Brazil, Canada, USA, South Africa, Italy, Netherlands, India, Australia and New Zealand.
Application
To enter the competition, write a brilliant cover letter for your dream job. You can apply for yourself or nominate a friend.
For more information, visit Adzuna Student of the Year Award.