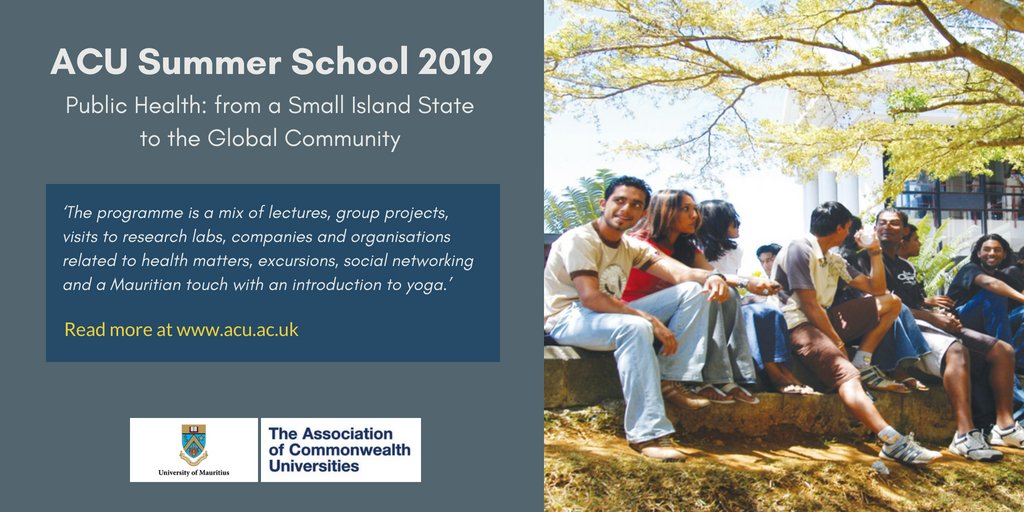 Association of Commonwealth Universities (ACU) Summer School 2019 (Bursaries Available)
Deadline: January 13, 2019
Applications are invited for the Association of Commonwealth Universities (ACU) Summer School 2019. Join the ACU Summer School for a week of expert lectures by local and international speakers, social events, engaging and challenging group project work, and field trips to key locations related to public health.
Developed by senior University of Mauritius subject specialists, the program is set to broaden your knowledge, develop your skills, provide opportunities for networking and much more. On top of all this, you will have the chance to immerse yourself in Mauritian culture, including a full-day excursion to heritage sites and beauty spots, and the chance to attend the opening ceremony of the 2019 Indian Ocean Island Games. The Summer School will hold at the University of Mauritius from July 14-22, 2019.
Funding
A limited number of bursaries are available for students from member universities. Bursaries cover return flights from your home country, plus full summer school participation, including field trips, hotel accommodation, most meals and airport pick-ups. However, bursaries do not include the cost of visas and vaccinations.
Eligibility
Open to both current postgraduate (Master's and PhD) and final-year undergraduate students at both ACU member universities and non-member universities in Commonwealth countries;
Students who have previously attended an ACU Summer School are not eligible to apply;
You should only apply for a bursary if you:

Are a student at an ACU member university
Would otherwise be unable to attend the Summer School for financial reasons
Have never previously travelled outside your home region
Application
In order to apply for a bursary complete the standard application form, and provide responses to the following questions:
Explain how your academic studies and/or interests, achievements, work experience and volunteering experience fit with the theme of the Summer School (150-250 words)
Describe your motivation for wishing to participate in the Summer School and both what you will contribute to and gain from the event (150-250 words)
Briefly describe one public health challenge in your country. How could the subject that you are studying contribute to addressing this? (150-250 words)
Describe how you plan to share the knowledge and experience gained at the Summer School with your university and community after the event. Give at least one specific example (150-250 words)
As part of the application, you are required to submit an academic reference from a lecturer / supervisor at your current university of study who knows your recent academic work well. This must be signed and submitted on official university headed paper – it must clearly reference your suitability to attend the Summer School.
For more information, visit ACU Summer School.