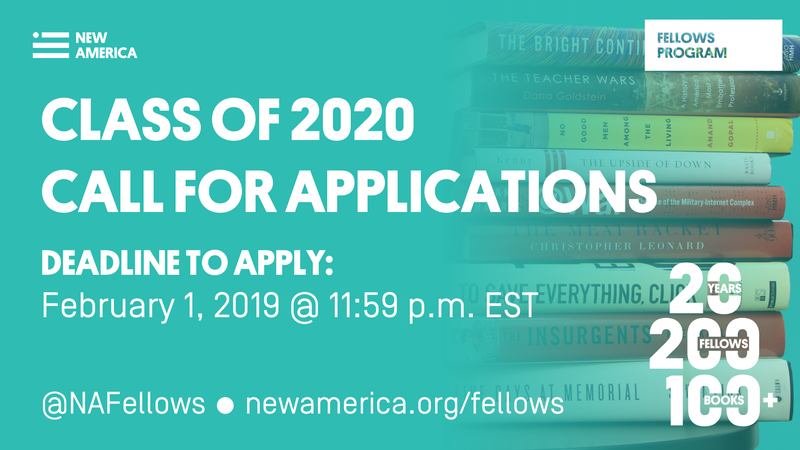 New America National Fellows Program – Class of 2020 (Stipend available)
Deadline: February 1, 2019
Applications are open for the New America National Fellows Program – Class of 2020. The program is for thinkers who generate big, bold ideas that have an impact and spark new conversations about the most pressing issues of our day.
The Fellows Program aims to support National Fellows in three primary areas: provide funding to support talented individuals to pursue ambitious endeavors; build a community grounded in cohort gatherings that take place throughout the year; and provide access to platforms and partners that can support their work.
Stipend
Stipends generally fall into the following levels: $15,000-$30,000. The mix of stipends offered each class varies widely depending on the type of applicants they take on and the funding procured for that year. There is no need for candidates to address stipends, budgets, etc. in their proposal—you should use the space in your "Statement of Interest" to pitch your idea.
While you will officially become a National Fellow in September, 2019, stipends will be paid in eight monthly installments starting in January of 2020 through August, 2020 (consolidated to be paid during the 2020 calendar year).
Eligibility
Open to thinkers—journalists, scholars, filmmakers, and public policy analysts—who generate big, bold ideas that have an impact and spark new conversations about the most pressing issues of our day.
Application
There are two phases to the application process:
Stage 1: All applications must be completed and submitted online here. The Fellows Program staff review all of the applications from February to April. This first review winnows the entire applicant pool down to 40 to 50 finalists.
Stage 2: All candidates will be made aware of the status of their application in May, and finalists will be asked to schedule interviews with the program staff at that time. Once they determine the finalists, they send all of the applications for review by the Selection Committee, which is comprised of New America's President, Fellows Program staff, current and former New America National Fellows, and other issue experts in New America's network. Applications are private—they ask anyone involved in the selection process not to share or discuss any of the candidates or materials with outsiders.
Download the Class of 2020 application instructions before you begin your application.
For more information, visit New America National Fellows Program.