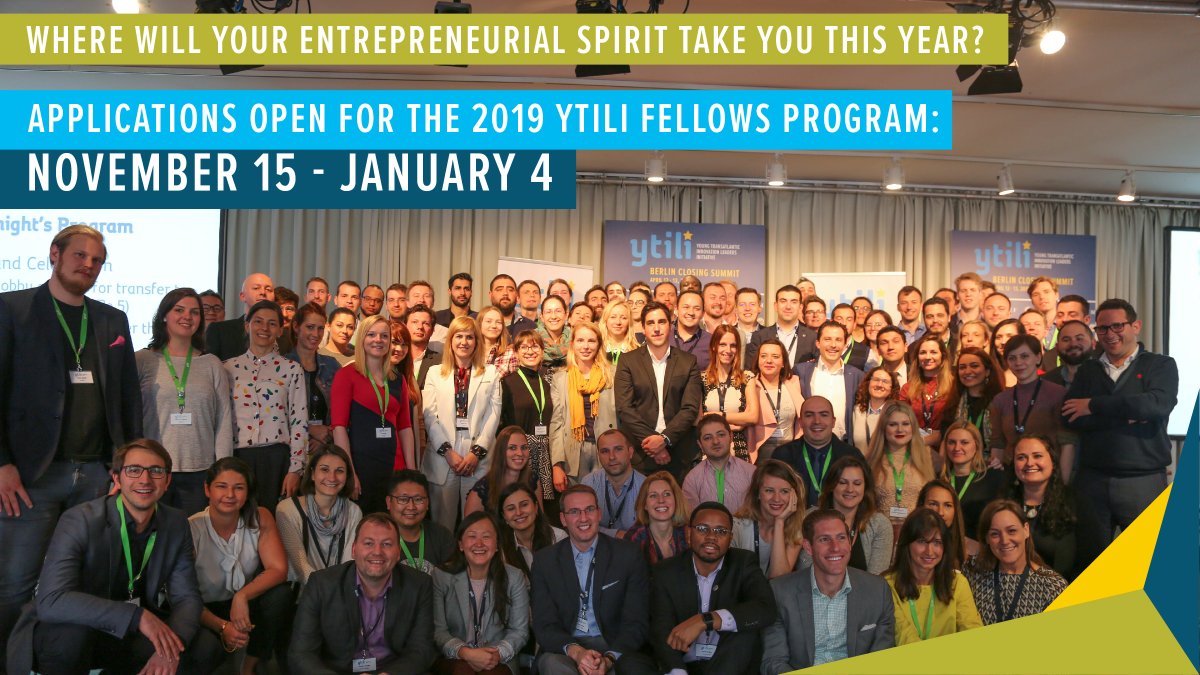 Young Transatlantic Innovation Leaders Initiative Fellowship Program 2019 for Europeans (Fully-funded to USA)
Deadline: January 4, 2019
Applications are open for Young Transatlantic Innovation Leaders Initiative (YTILI) Fellowship 2019. The fellowship aims to empower young European entrepreneurs and innovators with the tools, networks, and resources they need to grow their enterprises and contribute more fully to economic development and job creation, security, and good governance in the region. YTILI is also a vehicle for building a transatlantic network of innovators that can contribute to on an ongoing policy dialogue that strengthens the transatlantic relationship.
Launched in 2016, the Young Transatlantic Innovation Leaders Initiative Fellowship is the flagship program of the Young Transatlantic Innovation Leaders Initiative (YTILI) of the US Department of State and is supported in its implementation by The German Marshall Fund of the United States (GMF).
About
In 2019, the YTILI Fellowship will engage young European entrepreneurs in a series of professional development and leadership activities that are designed to support the growth and development of commercial and social business ventures in their home communities.
The YTILI Fellowship year will commence on April 1, 2019 and conclude on October 31, 2019. The cohort of fellows will engage in a robust program of in-person and virtual engagement during this time, including travel to the United States, which is the centerpiece of the fellowship experience. The full 2019 YTILI cohort will be connected virtually in pre-departure activities, an online platform, and at the opening summit in The Netherlands. Additional pre-departure and post-fellowship activities may be offered by individual U.S. embassies and consulates in the fellows' current countries of residence.
The following section outlines the main elements of the YTILI fellowship administered by GMF and its partners.
Orientation Webinar: All fellows will be required to participate in an orientation webinar to review the expectations of the program, launch the online platform, and begin the process of building a unified YTILI cohort. (Online; April 2019)
Opening European Summit: From June 1-6, 2019, YTILI Fellows will convene in Europe for an Opening Summit where they will meet their U.S. mentor teams and plan for their fellowship experience. Programming will also include additional professional development, networking, and peer-to-peer learning. U.S. and European experts in entrepreneurship and innovation will participate in the summit. The summit will be an opportunity for the fellows to prepare for the U.S. immersive experience, set goals for their fellowship year, and network across the full cohort of fellows. Departures will be scheduled for June 6. Additional details on the agenda will be shared throughout the fellowship year. (The Netherlands; June 1-6, 2019)
One-Week Immersive U.S. Experience: Fellows will be sent to selected U.S. cities with established or emerging entrepreneurial ecosystems for a one-week (7 business day) experience. During this period, fellows are expected to: (1) participate in activities outlined by the local mentor teams, which will vary by city, but may include individual appointments and/or events set up by the fellow, business advising with mentors, and group cultural activities; (2) explore the entrepreneurial ecosystem of the U.S. city to understand the policy context, institutional and financial landscape, and local networks that support innovation; (3) complete a revised pitch presentation and reflections of U.S. experience blog post. (September 7-14, 2019)
Washington, DC, Program: Fellows will conclude their experience in the United States with a program in Washington, DC. This concluding program will focus on three elements: (1) building the YTILI cohort and peer learning exchange; (2) networking with top U.S. government officials, as well as, global public, private, and non-profit leaders; (3) engaging in a transatlantic dialogue around issues of entrepreneurship and innovation. (Washington, DC; September 15-18, 2019)
Online Platform: As part of the fellowship experience, GMF and U.S. Department of State will offer an online platform for internal exchange and knowledge sharing. The platform will also provide an opportunity for additional training and skills development that complement the U.S. experience. (Online; Fellowship Year)
Additional Activities: Fellows and a mentor may jointly apply for a Transatlantic Dialogue (TAD) mini-grant to support travel and exchange after the U.S. experience in the fellow's home city. A limit number of TAD and other programs offered by U.S. missions abroad (conferences, alumni events and regional programs) may also be available to fellows in good standing. Additional information on these activities will be provided at the start of the program. (Various; Fellowship Year)
Benefits
Gain professional experience, skills, and connections valuable to enhancing  applicant's business or social venture;
Connect with a dynamic group of experts and mentors in the United States and Europe;
Expand applicant's professional network and develop relationships with peers and counterparts on both sides of the Atlantic;
Explore the policy context, financial landscape, and networks of U.S. entrepreneurial ecosystems;
Join a growing network of dynamic European entrepreneurs committed to enhancing the transatlantic relationship and contributing to the growth of entrepreneurial ecosystems in their home communities.
Eligibility
To be eligible candidates must meet the following criteria:
Are between the ages of 24 and 35 on November 15, 2018.
Currently reside in one of the participating countries: Albania, Armenia, Austria, Azerbaijan, Belarus, Belgium, Bosnia and Herzegovina, Bulgaria, Croatia, Cyprus, Czech Republic, Denmark, Estonia, Finland, France, Georgia, Germany, Greece, Hungary, Iceland, Ireland, Italy, Kosovo, Latvia, Lithuania, Luxembourg, Macedonia, Malta, Moldova, Montenegro, Netherlands, Norway, Poland, Portugal, Romania, Russia, Serbia, Slovakia, Slovenia, Spain, Sweden, Switzerland, Turkey, Ukraine, United Kingdom.
Are eligible to receive a U.S. J-1 visa.
Have at least two (2) years of entrepreneurial/leadership experience with a startup business or social venture.
Are not a U.S. citizen or permanent resident of the United States.
Are not a U.S. government employee.
Are proficient in reading, writing and speaking English
Please note: Fellows are not allowed to have dependents (including spouses and children) accompany them during the fellowship, including the U.S. experience and the European Summit.
Application
For more information, visit YTILI Fellowship.