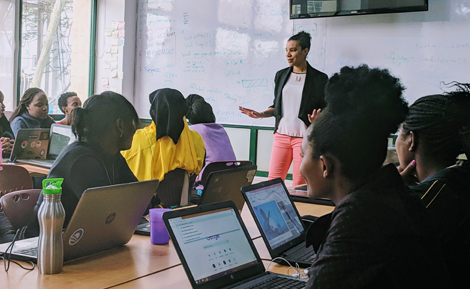 AkiraChix codeHive Technical Training Program 2019 for Young Women in Kenya (fully funded)
Deadline: Janaury 11, 2019
AkiraChix codeHive Program call of 2019 is now open for applications. codeHive is one year fully funded hands-on technical training program by AkiraChix that provides an education and economic opportunity to young women between the age of 19-24 from socio-economically disadvantaged backgrounds. These young women are those that have completed high school but due to financial constraints are unable to further their education.
The program aims to develop capacity and skills in computer literacy, software development (for both mobile and web applications), hardware & product design, graphic design, entrepreneurship, life skills, communication skills, and professional development. The codeHive program, offers young girls a pathway to upskill and or reskill, as well as connect them to the demands of the current market demands.
About
AkiraChix is a center for excellence and believes that access to education and training is of paramount importance for young women to support them in moving out of the vicious cycle of low-skills, low-productivity, and low-wage employment and as a pathway to bridging the gender gap in Information & Technology industry.
One goal of AkiraChix is to help you develop as a unique individual—to be educated as a whole person, intellectually, emotionally, socially and ethically. Your development and learning as an individual occur, in part, when you engage in relationships with others and in activities that optimally challenge you. To enhance your growth and learning, become actively involved in the life of the AkiraChix community, engage your fellow students, faculty, staff, and AkiraChix various communities of interests and form relationships that both challenge and support your growth.
Your journey of individual development does not occur in isolation; it takes place within a dynamic learning community. As a diverse institution AkiraChix attempts to balance its needs—to foster freedom for individual growth, to support its various communities of interests, and to fulfill its broader teaching and skills development mission.
Funding
Every young woman admitted to the codeHive program receives financial assistants that allow them to go through the program. The cost of tuition per student is  $5100 , this covers:
One year tuition-free, accommodation, extracurricular activities, meals, transportation, and personal amenities.
Training facilities including high-speed internet, biometric security control, and recreational centers.
Access to health care, including group medical insurance.
Access to technology hubs and maker spaces in Nairobi for tech events and prototyping respectively.
Access to a selected pool of mentors, who will advise on careers and personal growth. "Women in Tech Role models".
Access to 6 months incubation after the one-year codeHive program dedicated to finding and securing employment for codeHive graduates as well as business mentoring and incubation for early-stage startups.
Eligibility
To be eligible applicants must:
Have a minimum grade of C-
Between the age of 19 – 24
Completed high school no later than 2017
Fluent in English
Interested in Technology or using Technology to bring change to communities
Available full time from Jan -Dec 2019, and expected to stay on campus for the duration of the program.
Demonstrate leadership i.e be able to demonstrate your involvement in leadership activities either at home, school, church, and community
Committed to service
Be a changemaker
Application
For more information, visit AkiraChix codeHive.