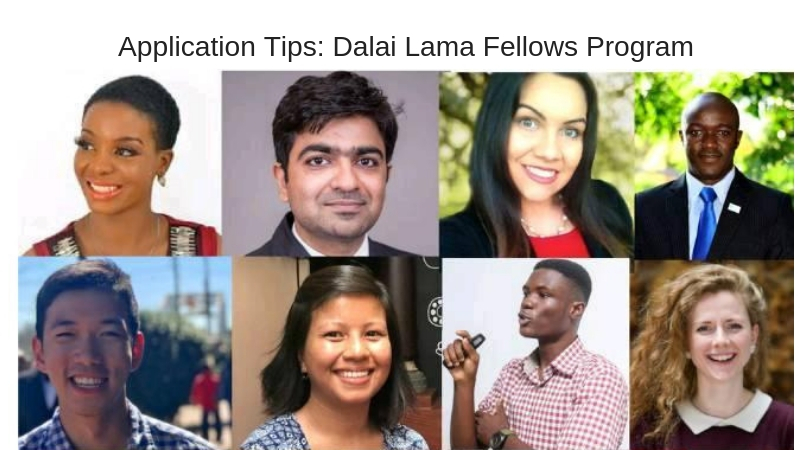 Tips for applying to the Dalai Lama Fellowship Program for Emerging Leaders – Alumni share Experiences!
Are you a young person interested in developing your leadership skills through a long-term mentorship program? If yes, then the Dalai Lama Fellows Program is for you. The Dalai Lama Fellows (DLF) experience is an immersive, year-long commitment that mentors each Fellow through a leadership curriculum inspired by exemplary leaders like the Dalai Lama. Past fellows, Fashoranti Damilola and Roseline Adewuyi would like to share tips on applying for the Dalai Lama Fellowship programme which they have been part of.
The Fellowship offers emerging leaders a rigorous, interdisciplinary program on ways to be a different kind of leader, a leader that connects and cares for self, extends genuine compassion to others, and works for our common humanity. Fellows cultivate practices in mind training for increasing self-awareness, self-care and resilience, for connecting with others and working across differences, and in building solutions for generations to come.
Highlight of Their Experiences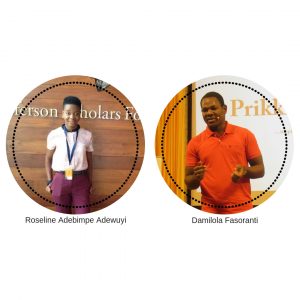 Damilola Fasoranti is an award-winning social entrepreneurs in Nigeria that co-creates grassroots innovation hubs (makerspaces) that helps any community children and youth to turn their knowledge, skills and talents into social solutions.
Roseline Adebimpe Adewuyi is a postgraduate student at the University of Ibadan, Nigeria. She is passionate about gender advocacy and education. She has always been zealous about the betterment of the female gender and inclusive education for the girl child through a couple of Non Governmental Organizations with similar visions in the country.
Roseline : The Dalai Lama fellowship program is a program that really made me understand leadership at a deeper level. It also made me to understand the importance of self-care, being thoughtful and mindful as a leader, being aware of one's inner values and a lot more.

With the hustling and bustling of the world, the importance of meditation was reinforced in me. During the program, we have access to online learning platform where we get to learn different topics (ranging from emotional intelligence to understanding biases, to bolster our personal leadership journey. Till now, it has really helped me to understand myself better in my leadership journey. You can read more on my experience here.
Advice to Applicants
Important Note: Before you start your application, please take out time to read and fully understand what the Dalai Lama Fellowship is all about. Check to see if you qualify to apply (for example, read the eligibility criteria, etc.).
Always remember to keep within the word or time limits for each question. Be clear in your responses, go straight to the point and avoid making unnecessary repetitions.
The Dalai Lama Fellowship Application is divided into 2 stages:
Stage 1: General Application
Stage 2: Skype Interview
STAGE 1
You will be asked to fill out a form which contains more of your personal background details, some essay questions, your resume/CV, one recommendation letter and a video.
What is your larger vision for social change? How does your project fit into this vision?  What is the mission of the project? What would be the some ideal outcomes, both in the short-term and the long-term? (Maximum 350 Words)
You are aware that there are diverse problems in your immediate community so you have to choose the one you are really passionate about. It is also advisable that you choose what resonates with the aim and objectives of the Dalai Lama fellowship program (of which you will commit to implementing for the year).
You will then buttress your points on why this is an issue all over the world by using statistics. Thereafter, you will come up with your own vision from the issue/problem you have identified. Then, you will explain clearly how your proposed project will help in easing this problem that you have stated. Here, we are talking about proposed solutions to the problems you mentioned. You will have to be convincing on how your project fits into your vision.
State the mission which is more like the "how" of the project and what you hope to achieve. Go ahead and explain how this is a need in the world then streamline it to the need in your community. You will also explain the outcomes which is more like the changes you hope to see or that your projects will bring in the next 5 years and long term goals which is beyond 5 years. Be sure to clearly explain each part of the questions above in a paragraph.
How have you developed knowledge and experience around the community and the issue that your project is focused on? What is your relationship to this community, how long have you worked with the community members, and what do you know about the issue as it relates to this community? (Maximun 350 Words)
For this fellowship program, note that it is expected that you know and you live or most likely have lived in the community where you want to implement your proposed project.
It is important to mention the name of the community, for example – (For Damilola), Afon Community, Asa Local Government, Kwara State, Nigeria was my proposed location of implementation. (For Roseline), Akinyele Local Government, Ibadan, Nigeria.
You have to show that you have developed knowledge and experience on the project by clearly stating your observations of the problems in your community. It is expected that you should be sure that your proposed project is a need in your community and you should be able to practically tell how you discovered that need.
You must have a prior relationship to this community, perhaps your state of origin of state or residence.
For instance in my case (Damilola), I have been working and living in that community for more than 1 year (and had worked in a neighbouring community a few years before applying). For Roseline, it was her state of origin and she has been living there for the past one year before she applied for the program.
You need to show at this stage that you are really acquainted with this community and have possibly in the past have contact with the community dwellers. The DLF understands the importance of stakeholders so they want you to show that you know the community well enough and can easily have access to stakeholders that will be instrumental to the success of your project. This can be shown by stating how you have worked with them in the past on one project or the other.
Please describe your intention for wanting to be a Dalai Lama Fellow. What draws you to our curriculum and to our community?  What do you hope to contribute to our global community? What qualities and skills are you looking to cultivate and why? (Please be specific and personal in your response) (Maximum 350 Words)
Here, you have to succinctly express yourself on why you want to be a Dalai Lama fellow. We sometimes do have different intentions.
Let this be channelled towards how the program will help you scale up your social project. For instance, for Roseline, it was basically improved knowledge on what she does and how she will be a better implementer of her projects when she is back to her country. Also, how meeting other leaders from different parts of the world will help in understanding differences better.
Again, it is important for you to read up on the fellowship program(even on their social media platforms) to know what it really entails and why you feel your personal leadership cravings aligns with the curriculum of the Dalai Lama fellowship.
At this stage, you might do homework on the program and testimonies of past participants to know more about the program. The hand, heart and head curriculum should also be understood in order for you to weave your answers around that. You could then explain what you hope to achieve in your global community.
Here, you have to be specific and personal in your response, you have to highlight skills that you believe you will cultivate during the leadership program in alignment with your personal leadership experience.
Some vague responses won't fly. If you can share the stage in which you are in your personal growth and how you feel the program can specifically help you become better, then share that.
You will be asked to tell a life story on any theme.
The question is "Describe a time when someone challenged your values or core beliefs and made you think differently about them. How did you respond? How did this experience help you to grow as a leader ' (Maximum 3 minutes).
We all have different stories, this is a time to reflect well on how your life journey has been and experiences that stood out for you that capture this question.
You own your story and you know how best to tell it. Be confident and share your story like you are speaking to a friend (at the same time, be professional about it)
Tell your story convincingly and make sure it answers each question asked above.
At this stage, you have to prepare well as you will have to reaffirm what you wrote in your essays. Ensure you bring your storytelling skills into practice here because you will be told to talk about some aspects of your life journey.
The best to do at the stage is to be truthful and sincere with your responses. Speak from the heart, you don't need to cram anything to successfully scale through this stage.
Nonetheless, you have to understand interview dynamics and be prepared. For Roseline, this was one of the most engaging interview she has had in her life and she must admit some questions were really intellectually deep and one just has to ponder on deeply enough to be able to answer them.
You also have to prepare well to understand the dynamics of this program particularly what head, hand and heart curriculum is all about. You have to convince the interviewer that you are outstanding enough to represent your country.
Then possibly you might be given an excerpt from a book to read before the interview. Do well to understand thoroughly enough before the interview. If it helps, you can discuss the book with someone around you to gain a better understanding.
Likewise before the interview, you might be asked to work on a project timeline (to share your project plans and outcomes) before that day, do well to work on that as well.
If you live in a region with unstable internet and power, it is advisable to check in to a location with a stronger internet and fully charged device so as to have a smooth interview.
Click here to apply for the Dalai Lama Fellows Program.
For more articles, visit OD Blog.