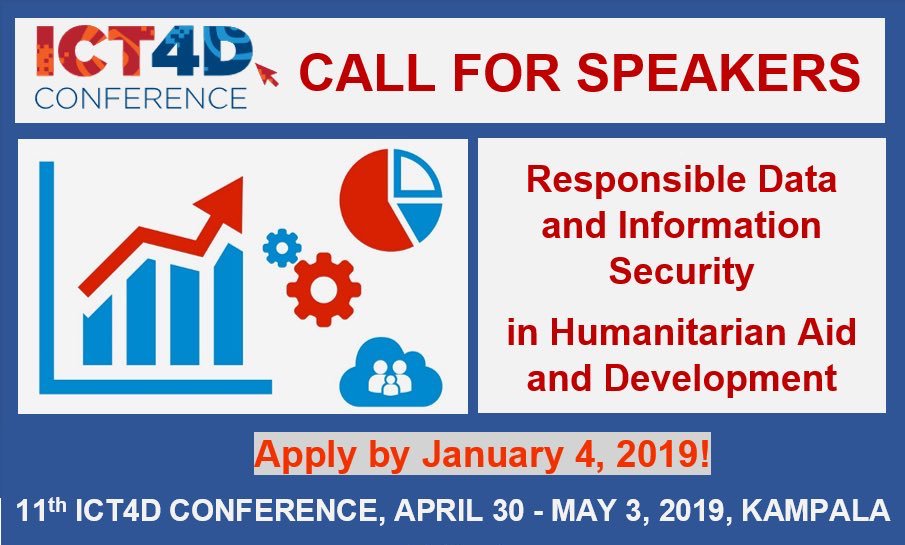 Apply to Speak on Responsible Data and Information Security at the 11th ICT4D Conference 2019 (Scholarships Available)
Deadline: January 4, 2019
Apply to Speak at the 11th ICT4D Conference in Kampala, Uganda from April 30 to May 2, 2019. The limited call for speakers for sessions will focus on Responsible Data and Information Security in the humanitarian and development sectors.
Please view the tabs below for more details and suggestions of other areas of interest for 2019.
Responsible Data and Information Security

Agriculture

Digital Diversity (Gender & Disability)

Digital Financial Inclusion

Education and Digital Literacy/Youth Engagement

Health and Nutrition

Humanitarian Response and Resilience

Supply Chain

Water Security: WASH and Water Resource Management

Digital Development in Uganda
Scholarships
A limited number of scholarship awards are available to applicants to speak.
These awards are primarily open to applicants from Local NGOs, NFPs or social enterprises or organizations headquartered in global south regions as defined by the World Bank. Awards are made by the ICT4D Conference Scholarship Committee and are based on criteria including a demonstration of excellence in ICT4D and economic need.  You may opt to apply for a scholarship in your application to speak.
They particularly encourage applicants in the youth category to apply. You will be asked to write a short essay outlining why you require a scholarship. Closing date for scholarship applications is January 4 2019.
Eligibility
Speakers are selected with reference to the following criteria:
Exceptional innovation in ICT4D
Credibility and experience of the presenter and/or organization
Clarity of the submitted abstract
Relevance of abstract to conference themes
Verifiable results and impact of the program/project
Extent to which the program/project is replicable and scalable
Diversity of speaker or program beneficiary: this includes and but is not limited to gender, age, ethnicity, previous participation as a speaker, region speaker is based
Selection Process for Conference Track Sessions:
Speaking is a great way to share your experience in implementing ICT4D solutions, stimulate discussion about the challenges and best practices surrounding their use, and introduce people to new ways of doing relief and development work.
The ICT4D Conference Organizing Committee is working to achieve greater transparency and diversity at all levels of conference management.
Speakers for conference track sessions are selected on a competitive basis by the ICT4D Conference team and its partners
Once you start your application you will  have the option to save your form and complete it at a later date via a link which will be emailed to you.
They will use the information you provide in the application to help us review and select presentations. We need to collect contact details and other information from you in order to process your application, inform you of the results and keep you updated with important logistical details related to participation in the ICT4D Conference. We will also ask you if you wish to opt-in to receive further updates and developments related to the ICT4D Conference and other events. You may unsubscribe from this at any time.
They particularly welcome applications from women, youth and people with disabilities.
Application
For more information, visit 11th ICT4D Conference.