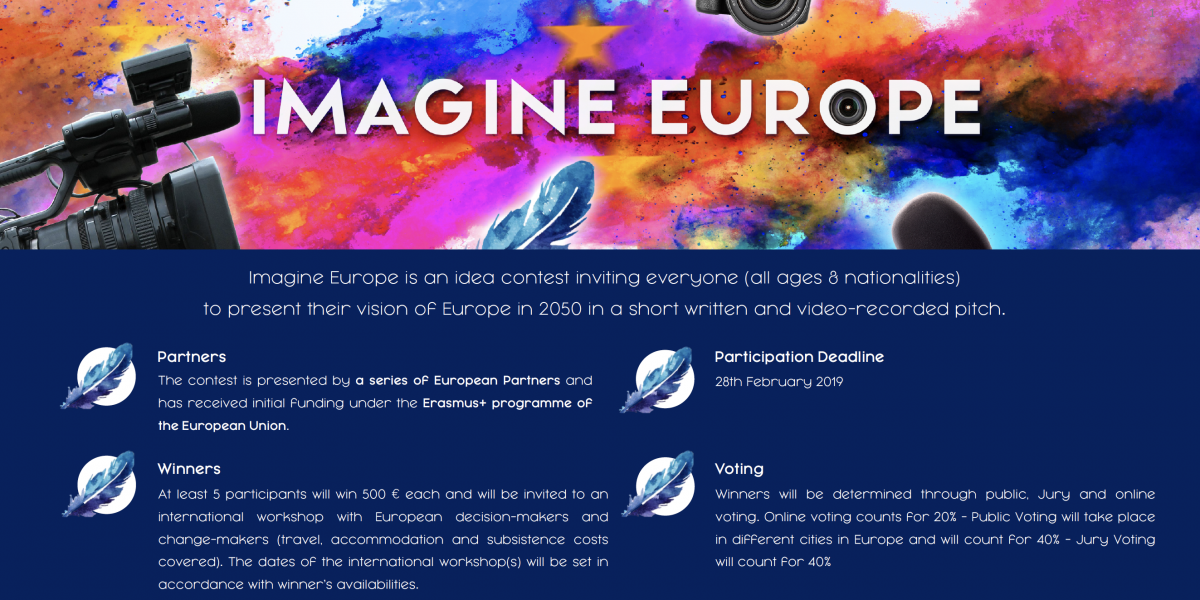 Imagine Europe Idea Contest 2019 (Win €500 prize)
Deadline: February 28, 2019
Submit entries for the Imagine Europe Idea Contest 2019. Imagine Europe is an idea contest inviting everyone to present their vision of Europe in 2050 in a short written and video-recorded pitch. Entrants are encourage to reflect on possible solutions to issues of high concern to Europe and the world community.
Imagine Europe aims to:
Contribute to the strengthening of the European public sphere which can help to protect and foster our common good;
Strengthen the link between citizens and decision-making structures;
Foster young people's interest in the debates at the European Parliament;
Motivate participants to strengthen their awareness of important social achievements by their predecessors and to become familiar with important European and world literature;
Give young people the opportunity to practice their writing, rhetorical and presentation skills.
Prize
At least 5 participants will win €500 each;
They will also be invited to an international workshop with European decision-makers and change-makers (travel, accommodation and subsistence costs covered). The dates of the international workshop(s) will be set in accordance with winner's availability. Winners will be determined through public, Jury and online voting.
Eligibility
Participation is open for everybody worldwide;
There are no age limits;
Participants declare that the work submitted does not infringe any third party's rights such as copyrights, patents, trademarks, trade secrets including musical composition or performance rights, video rights or image rights;
Participants declare that all visible participants in the video have acknowledged the present terms and conditions and consented to the video being displayed and broadcasted publicly. In case minors are visible, their parents must have acknowledged the present terms and conditions and agreed to their children appearing in the video.
Application
Write a pitch of up to 500 words on the topic "My vision of Europe in 2050"

Take a look at the Tips & Tricks section before you start!
Your speech may be in any language. In case your chosen language is not English, please provide subtitles in your video or ask for help

Record your pitch in video-format. You may decide to either appear yourself in front of the camera, ask another person to perform your pitch, or have your pitch delivered as a voiceover and use other video footage to illustrate your ideas. Your video may be max. 3 min. in length.
Submit your written & recorded pitch here.
In case you added subtitles to your video, please send us one version with sub-titles and one without!
For more information, visit Imagine Europe Idea Contest.