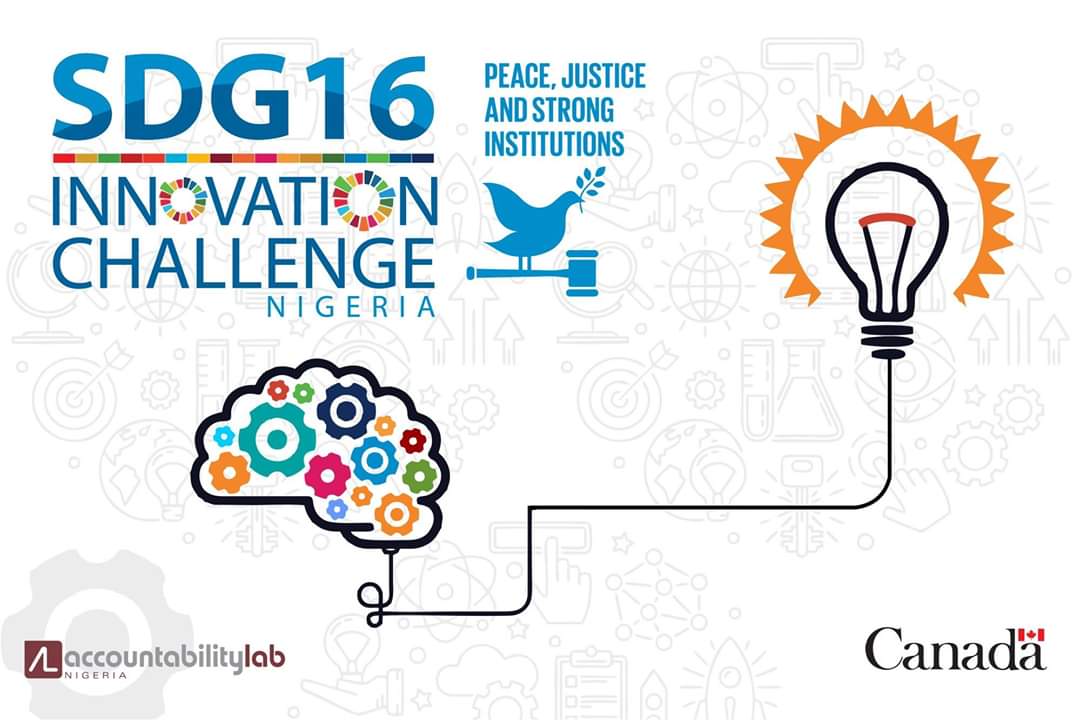 Accountability Lab Nigeria/Canadian Embassy SDG 16 Innovation Challenge 2019
Deadline: January 15, 2019
The SDG 16 Innovation Challenge 2019 is now open. The SDG 16 innovation challenge is an initiative to find creative solutions for SDG 16 on justice. The competition supports young men and women ages 15 – 35 years to develop ideas, build skills and connect with others working towards a shared goal of strengthening accountability, the rule of law and access to justice for Nigerians.
The SDG 16 Innovation Challenge is hosted by the Accountability Lab Nigeria and the Canadian Embassy. The SDG16 Innovation Competition supports young people to design solutions for participation, justice and accountability in Nigeria.
Thematic Areas
The SDG 16 innovation competition focuses on seven thematic areas (or research questions). The program design is focused on human-centered activities which will focus on engaging participants actively to foster a more holistic understanding of issues around accountability, rule of law and access to justice.
Each focus group will focus on a specific problem area:
How can we make sure the most vulnerable people in Nigeria are included in the process of development?
How can we re-design the justice system to serve the poor?
How can we rethink citizen feedback mechanisms to improve service delivery?
How can young people enhance corporate and government accountability?
How can we increase women's participation in governance?
How can we make sure everyone is included in conversations about the future of Nigeria?
How can we support the voices of women in the rule of law?
The top 40 ideas will be invited to a 3 day workshop in Abuja and Lagos respectively to further refine their concepts. The culmination of the campaign will be a pitch competition in front of a panel of judges, from which we will chose 2 winning ideas.
The winners will be eligible to further develop their ideas within Accountability Lab incubator; and possible financing from external partners.
Eligibility
Open to young men and women ages 15 – 35 years
Application
For more information, visit Accountability Lab.