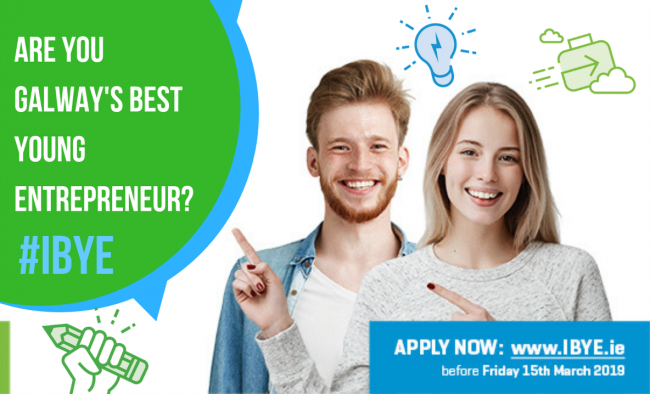 Ireland's Best Young Entrepreneurs Competition 2019 (Up to €2 Million Investment Fund)
Deadline: March 15, 2019
Applications are open for the Ireland's Best Young Entrepreneurs Competition 2019. IBYE is a programme run by the 31 Local Enterprise Offices (LEOs) with the support of the Department of Enterprise and Innovation and Enterprise Ireland. The competition is open to people with an innovative business idea, new start-up or established business.
Now in its 5th year, IBYE has an investment fund of up to €2million. IBYE is a nationwide competition, run across three categories: Best Business Idea, Best Start-Up Business and Best Established Business. Up to 450 young entrepreneurs will be invited by the LEOs to attend free regional 'Entrepreneur Bootcamps' later in the year to help them develop their business and new venture ideas.
Funding
With an IBYE investment fund of €50,000 each, every LEO will award up to six investments to three category winners and three runners-up at county level;
The local winners in the Best Start-Up and Best Established Business categories at county level will receive investments of up to €15,000 each and the two runners-up will each receive up to €5,000;
An Investment Fund of a further €100,000 is available for the winners of the IBYE National Final.
Eligibility
Applicants should be aged between 18 (at date of application) and 35 (at December 31, 2019). Applicants aged under 18 at closing date for applications are not eligible to apply;
The applicant must be the main promoter and owner of the business i.e. the applicant must have started or acquired the business and currently have the lead role in the business and a significant shareholding/ownership in the business;
Re: Trading Income for applicants in the Best Business Idea Category. LEOs need to cross check applications before the County Finals judging. If income has been generated before the closing date for applications, then the applicant should be reallocated to the Start-Up category;
The competition is based around the "entrepreneur", not the company and therefore only the person named on the application can compete and proceed through the competition. Only the person named on the application can participate in Enterprise Day, Bootcamp, present at County, Regional or National finals, participate in PR opportunities and participate in the Google Training Day. No substitutions are allowed;
Eligibility for the Best-Established category starts from the closing date for applications i.e. March 15, 2019. Based on that date, Established Businesses are companies established before September 15, 2017 and Start-Ups are companies started after that date;
Applicants must own, control and manage their business Intellectual Property where applicable;
Not for profit and social entrepreneurship applicants must operate on a commercial basis;
Applicants for Best New Idea that don't have a permanent business address must enter the competition in the county which is their home address;
Applicants for Best Start-Up and Best-Established categories must enter the competition in the county in which their business is located;
Previous 1st Place winners of IBYE at County or National level are excluded from applying in the same category in any County;
Applicants must be eligible to own, manage and operate a business in Ireland at the time of application;
Applicants from overseas are eligible to apply. Overseas applicants must identify which LEO they wish to be associated with and the applicant must be in a position to engage with the LEO in relation to evaluating their competition entry (e.g. site visit / skype interview) and be eligible to own and operate a business in Ireland at the time of application;
Applicants must submit an online application and optional video by the closing date of March 15, 2019;
Applicants can only enter the competition under one category-one project submission per applicant only.
Application
For more information, visit Ireland's Best Young Entrepreneurs.