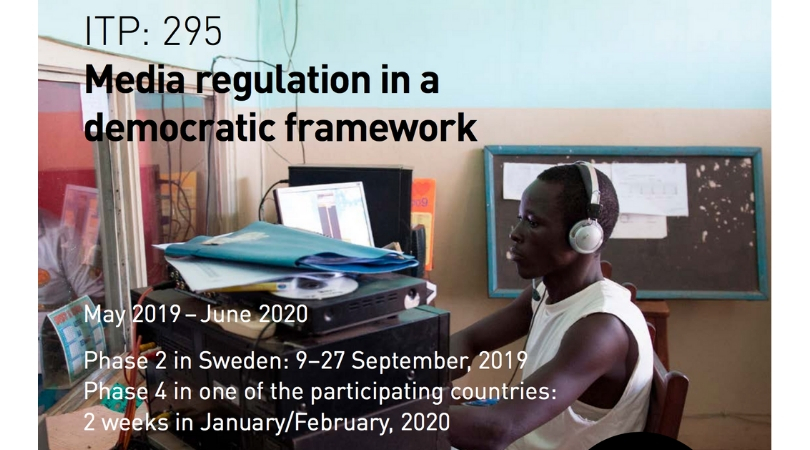 Sida International Training Programme on Self-regulation of Media 2019 for Africa (Fully-funded to Sweden)
Deadline: March 1, 2019
The Swedish International Development Cooperation Agency (Sida) is accepting applications for the 2019 International Training Programme (ITP) on Self-regulation of Media. The overall objective of this programme is that the participants and their organisations should contribute to the promotion and protection of the institutional frameworks which govern self-regulation of the media sector.
This ITP will contribute to the development of self-regulatory frameworks for the media sector, strengthening the institutional and organisational capacities among relevant media sector stakeholders and contributing to national reform and change processes.  Sida has commissioned NIRAS Sweden AB to organise this ITP in cooperation with International Media Support (IMS), FOJO Media Institute/Linnaeus University and Global Reporting Sweden AB.
About
This programme is more than training of individuals. It is a full-scale capacity building programme aiming at actual change towards a more efficient and sustainable planning and implementation of self-regulation of the media.
At the start of the programme each participant will, in close cooperation with colleagues and supervisors, identify an idea that can contribute to the achievement of both the programme objective and the organisation's own strategies and long-term goals, as well as transformation process on a national level. Based on this idea, a Transformation Project will evolve as the participants are provided with new knowledge, networks and experiences during the course of the process.
The participants work together in country-teams, supported by a national facilitator in each country, assisted by international experts (thematic mentors). This support will be continuous throughout the five phases of the programme.
Benefits
At the end of the training programme the participating individuals and organisations shall have obtained:
Increased knowledge about media and freedom of expression in relation to media policy, journalism and self-regulation of the media sector.
Extended professional national and international networks.
Increased awareness of human rights, gender equality and security for journalists and other media actors.
Increased knowledge and capacity to initiate a structured, long term transformation work within and outside the respective organisations.
Costs
Sida will cover the costs for programme fee, literature, accommodation, meals, health insurance, and international travel to the scheduled courses.
Participants and/or their employers are responsible for any other costs such as:

personal expenses
visa fees
domestic travel – in connection to international travel and to meetings in phases 1, 3 and 5
any local airport taxes and departure fees or such
any costs for programme work taking place at the home organisation
Eligibility
The programme targets individuals that in different ways can promote standards of self-regulation of the media sector in the respective countries.
The programme management will identify strategically important participants from the media sector, such as media councils, judicial institutions, independent freedom of speech organisations, policy institutions, relevant ministries, parliamentary committees and independent media outlets.
Despite the focus on individuals, the programme is primarily targeting organisations and efforts will be made to establish long-term relationships with the key organisations involved. Such collaborative organisations should be willing to commit themselves to participation over several years and be ready to cooperate with other organisations in the programme, even though they may have different opinions on self-regulatory frameworks. Capacity and interest to drive change processes to achieve long-term goals is a prerequisite to become a collaborative organisation.
Applicants to the programme should:
hold a key position in their organisation, with influence on a strategic level
have the engagement and power to initiate and drive change processes
have high proficiency in English
hold a relevant academic degree
be available and motivated for active participation through the whole training programme
They strive to obtain a gender balance in the programme, organisations are strongly recommended to nominate female candidates.
Eligible Countries: Kenya, Tanzania, Uganda, Zambia and Zimbabwe
Application
Participants can be nominated by government, media and civil society organisations. Reaching out to a critical mass of stakeholders in each country will be particularly important for institutional change and thus long-term impact.
The application should be written on the special form attached and include a recent photo.
Make sure your application is complete, correct and readable.
A candidate has to be nominated by his/her organisation and the application must be signed by an authorized director/ manager.
A scanned copy of the application should be submitted by e-mail to [email protected]
If a scanned copy is not possible, the original application shall be submitted to the nearest Swedish embassy/consulate.
For more information, visit Sida International Training.