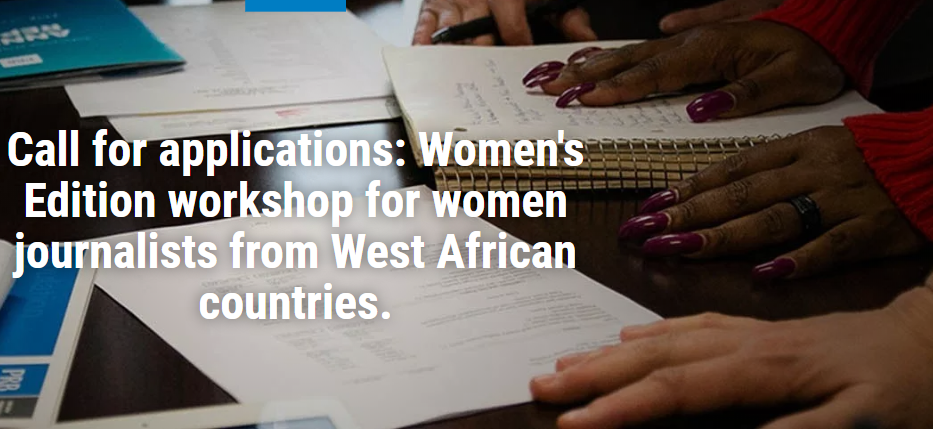 Population Reference Bureau Women's Edition Workshop 2019 for Journalists from West Africa (Fully-funded)
Deadline: April 19, 2019
The Population Reference Bureau (PRB) is calling for applications for its 2019 Women's Edition Training Program in West Africa. "Women's Edition" brings together high-profile women journalists-editors, heads of desks, and journalists-for week-long seminars on topics related to reproductive health, population and development issues.
The seminar will be held in Dakar, Senegal in June 2019 and will focus on the commitment of religious leaders in the West African region to promote reproductive health and the well-being of women and families. The Women's Edition Workshop offers a unique opportunity to be part of an international network of experienced women journalists who are interested in health and development. The PRB will select 12 women journalists from across West Africa to attend the Dakar seminar.
During the seminar, journalists will participate in sessions with experts in health and development; they will also participate in editorial meetings to develop strategies to cover these issues to better contribute to advocacy. Site visits are also on the agenda of this regional meeting. The participants selected at the end of this first workshop will have the opportunity to be invited, in 2020, to a second seminar on a different theme of reproductive health. They will have access to grants for in-depth reporting on reproductive health.
Cost
The PRB will cover all seminar expenses, including travel, accommodation and food.
Eligibility
Open to experienced female journalists who:
Work in a country in West Africa.
Have an influential position – editor, journalist or producer – in a leading organization such as national and regional newspapers, radio and radio stations. Self-employed women and bloggers can apply but must provide a letter of support from a media outlet stating that their work will be published or broadcast.
Demonstrate a strong interest in health, development and population issues and a commitment to cover these topics.
Communicate easily and effectively in French for the workshop, although they can write or broadcast in any other language.
Application
For your application, you will need to provide:
Contact information.
Your current CV
A declaration of interest.
A brief account of an important topic on reproductive health in your country. The subject is your choice and will simply serve to demonstrate your knowledge of reproductive health.
Two copies of two of your best journalistic productions.
Two references.
A letter of support from your leader.
For more information, visit Women's Edition Workshop.