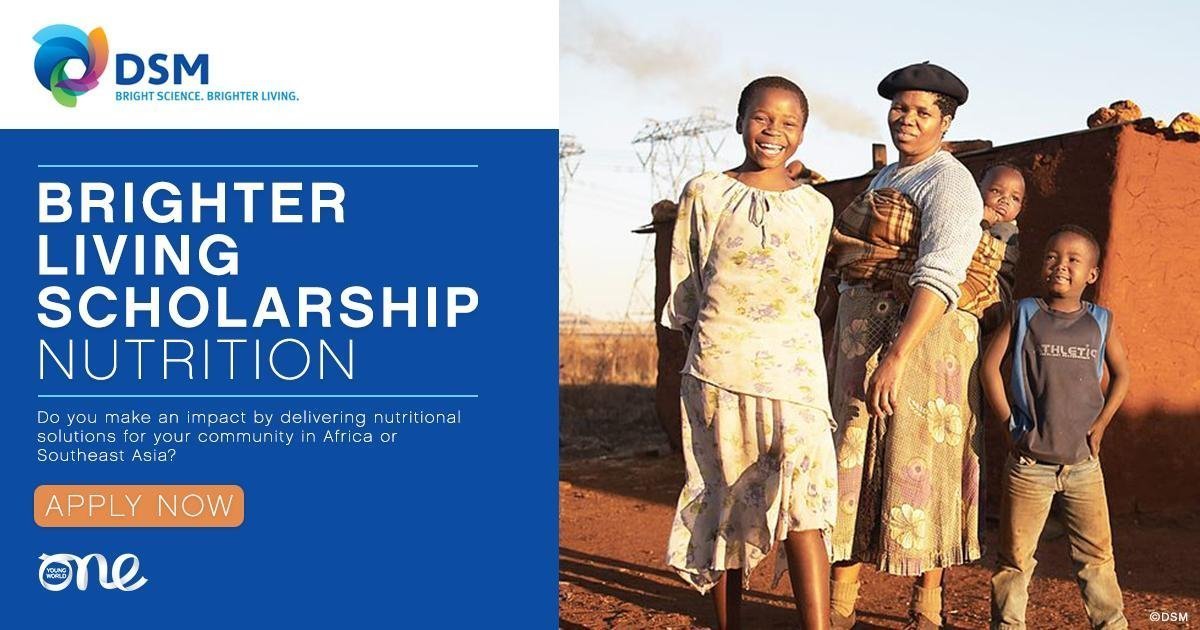 DSM: Brighter Living Scholarship to attend the One Young Summit 2019 in London (Fully-funded)
Deadline: May 15, 2019
Applications are open for the DSM: Brighter Living Scholarship to attend the One Young Summit 2019 in London. With the Brighter Living Scholarship DSM will offer 3 scholarships to young entrepreneurs in the field of nutrition for the One Young World Conference 2019 in London.
In line with DSM's purpose-led performance-driven strategy, this scholarship seeks to support young leaders and entrepreneurs who are making a nutritional impact locally with their start-ups, companies, or job in the field of Safe Nutritious Food Processing. This goes hand in hand with addressing inclusive economic development in emerging markets. This is part of DSM's ambition to safeguard the future of ensuring nutritious and healthy diets for all within planetary boundaries.
Scholarship
Access to the One Young World Summit 2019 in London, United Kingdom
The cost of travel to and from London (economy flights only)
Hotel accommodation on a shared basis from 21-25 October inclusive
Catering which includes breakfast, lunch and dinner, during these days
Transport between the Summit accommodation and the Summit venue
Summit hand-outs and support materials
Participation in DSM's internal on-boarding program, both online and face to face prior to the Summit, which includes mentorship with DSM senior experts
If you are selected, you are invited by DSM to participate in a pre-program at the DSM headquarters in the Netherlands. Please note that the pre-program will run from Saturday 19 until Tuesday 22 October. Furthermore, you will have a debriefing day after the summit on Saturday 26 of October.
Eligibility
The scholarship seeks candidates who have entrepreneurial skills for making a positive impact by accelerating the availability and affordability of safe and healthy local nutritious products, and making them more aspirational. The ideal candidate will:
Have 3-5 years experience in a business, and preferably starting or running their own business.
Have experience working in the area of food processing with a focus of health and nutrition.
Understand the importance of nutrition.
Be entrepreneurial.
Be able to shape opinions.
Possess commercial insight in key geographic markets.
Be a national of one of the countries listed below and work in one of the countries listed: Kenya, Nigeria, Egypt, Tanzania, Zambia, Ghana, India, Bangladesh.
Be aged 18 – 30.
Application
For more information, visit DSM: Brighter Living Scholarship.