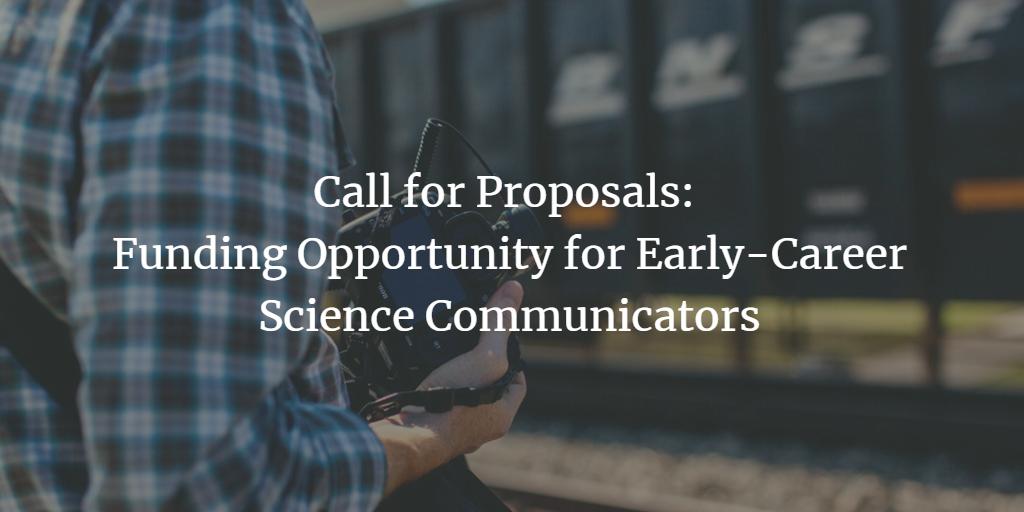 APN Funding Opportunity 2019 for Early-Career Science Communicators in Asia-Pacific region
Deadline: August 16, 2019
The Asia-Pacific Network for Global Change Research (APN) Funding Opportunity 2019 for Early-Career Science Communicators is open. To promote effective communication of scientific findings to policymakers and a wider audience in a variety of real-world contexts, APN is launching this new grant opportunity to support the growth of a new generation of science communicators in the Asia-Pacific region.
APN invites proposals from motivated researchers, journalists, and science writers to develop impactful, creative and policy-oriented publications based on the resources available or referenced on the APN e-Library. It is expected that this grant will enable the further synthesizing, packaging and dissemination of such information for better-informed policy development while fostering a new generation of science communicators in the Asia-Pacific region.
About the Grant
The main objectives of this new grant opportunity are to (1) promote collaboration between journalists or media practitioners and scientists/researchers and (2) disseminate scientific outputs in the form of non-scientific materials.
The grant is available to individuals with a strong interest in developing innovative and impactful electronic publications (printed format may also be considered depending on the intended readership) that will help countries move towards a sustainable and resilient future by informing policymakers of the available knowledge and best practices generated from APN-funded projects. Examples of said publications can be found in Section 4.
Up to USD 5,000 is available per project to cover expenses associated with the production of publications in print or digital format. The following costs may be claimed:
Communication cost
Native English editing
Licensing for graphics
Design, layout and digital production
Printing cost, if appropriate to the intended audience
Outreach activities
Eligibility
The applicant must fulfill the following:
A national of an APN member country;
An early-career researcher, a journalist, or a science writer, who have less than ten years' experience working in relevant fields, preferably with a proven track record in communicating scientific research;
Become the author of the proposed publication, and be the lead author, if the proposed publication is to be developed by multiple authors;
Demonstrated writing skills and ability to produce high quality written materials in English that can be readily interpreted by the non-science community.
APN project leaders or collaborators may apply for this grant. However, the publication must be based on one or more APN projects, and must not be limited to the projects that they have conducted (see Section 3 and Section 4 for details). Former participants of an APN-funded activity or project are also eligible and are encouraged to apply, assuming they meet the basic criteria.
The proposal must fulfill the following:
Derived from a systematic review of one or more APN-funded project outputs available on the APN E-Library at apn-gcr.org/resources;
Involved a researcher with a background in the subject matter of the projects being analyzed if the proponent is a journalist.
Developed to target the policymaker community and the non-science community as its readership;
Written in English or both in English and the applicant's national language;
Produced as a digital publication (PDF, eBook, etc.) or a web-based product (web page, data-driven stories, visualizations, etc.); and
Published within one year after the grant is awarded.
Judging Criteria
The publication proposal will be judged in accordance with the following criteria:
Relevance to the themes and topics outlined above.
Appropriateness of the format, content, and structure of the proposed publication.
Feasibility of the publication schedule.
Feasibility and appropriateness of the budget.
Past work of the applicant (published work targeted for the policymaking community would be an advantage).
Recommendation by referees.
Application
Applicants are required to submit:
a completed application form available via communicator grant template;
an initial or partial draft of the proposed publication, if already available;
a draft budget;
a recommendation letter by at least one referee, ideally the supervisor of the applicant; and
a portfolio of past publications developed by the applicant.
All the required documents should be submitted to the APN Secretariat by email to [email protected] by no later than Friday, 16 August 2019.
For more information, visit APN Funding.