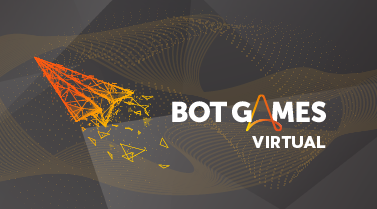 Automation Anywhere's Bot Games Virtual Competition 2019 (Win $10,000 USD)
Deadline: July 21, 2019
Entries are open for the Bot Games Virtual 2019. Participate in the largest RPA competition in the world and increase your skills in bot development. It's a worldwide challenge and everyone (students and non-students) is allowed to participate in this competition.
Participants will submit a pre-developed bot created using Automation Anywhere's Enterprise software. The complexity, comprehensiveness, creativity, resiliency, and reusability of the bot will be judged by Automation Anywhere's expert engineers and the finalists selected will compete in a live competition for the $10,000 grand prize.
About
Convinced that collective intelligence and gamification are great tools for innovation, Automation Anywhere pioneered Bot Games. Bot Games gathers developers, project managers, business process enthusiasts, and bot aficionados from around the world to put their skills to the test and compete in world-class bot building competitions.
Either you want to showcase your bot masterpiece, connect with the world's leading RPA professionals, or win amazing prizes, participate in Automation Anywhere's Bot Games and take part in the Bot Revolution.
The Challenge
Work by yourself, form or join a team with up to 4 people to create or develop a project that's close to your heart. Your idea can have one of the following themes: artificial intelligence, machine learning, security & compliance, business processes, or any other bot that will change the way we work. To participate, submit a pre-developed bot for judging.
Teams will have the opportunity to take part in bi-weekly webinars and receive advice and support to assist in the development of their bot.
Finally, the selected teams will present their project virtually and the winners will be determined.
Prizes
The team from the project that wins first place will receive a check for $10,000 USD
Second place team will receive $5,000 USD
Third place team will receive $3,000 USD
Eligibility
This challenge is open to candidates from all over the world.
Everyone (students and non-students) is allowed to participate in this competition.
Criteria
Bots Will Be Evaluated on 5 Criteria
Complexity 20% – How complex a problem or process does the automation address?
Comprehensiveness 20% – Does the automation comprehensively address the problem it sets to solve?
Creativity 20% – Does the automation use creativity and ingenuity to solve a problem?
Resiliency 20% – Does the automation adapt to changes in an environment or behavior?
Reusability 20% – Is the automation built with reusable modules (metabots)?
Application
Work by yourself or create/join a team (with four people max). Each team must then upload their bot to their participation space before 11:59 PM (PST) on July 21, 2019.
Bots must be submitted using one of the following formats: .dll, .mbot, .atmx, a maximum of ten files can be submitted (30MB). In addition to their bot, teams will also upload a video explaining their solution, up to 4 minutes long and add up to 10 slides of additional information to their project.
After the registration process, the teams will have the chance to attend bi-weekly webinars to ask questions and improve their projects.
After the jury announces the five selected teams in July, the finalists will have the opportunity to pitch their solutions to a group of Automation Anywhere product and innovation experts. The final (also virtually) will take place at the beginning of August, and there will be a chance for participants to see their project come to life and an opportunity to win big prizes.
For more information, visit Bot Games Virtual.