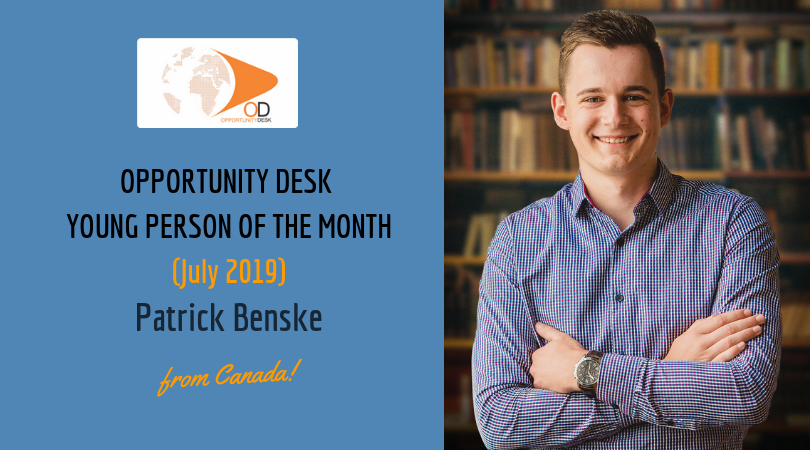 Patrick Benske from Canada is OD Young Person of the Month for July 2019!
Welcome to the second half of 2019!
Our Young Person of the Month is Patrick Benske from Canada! Patrick is the CMO and Co-founder of PlutusX, a financial ecosystem built for people who want to claim their finances and stay in control. He also helps aspiring entrepreneurs to launch their businesses online.
Read his amazing story below and be inspired!
PATRICK BENSKE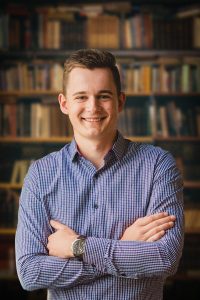 Patrick Benske serves people around the world by taking their personal brand and business to the next level. His expertise ranges from helping YouTubers grow their channels to helping aspiring entrepreneurs launch their businesses online.
Benske is also the CMO and Co-founder of PlutusX which is a new financial ecosystem built for people who want to claim back their finances and stay in control.
Since an early age, he's been very intrigued by the online world and the endless opportunities it has to offer. At the age of 14, he started his first little design venture online where he provided design services to clients online. 
Towards the end of his high school year, Patrick partnered up with a colleague to launch their own design & web agency which they have built up locally to increase their recognition and reputation in the industry. This led them to win numerous accolades and awards. 
Over the years, Patrick has learned how to build a strong personal brand, keep it consistent and establish itself as a leader in the industry. After working with many other entrepreneurs, he was able to figure out how to grow their brands and monetize their expertise. Patrick wakes up every day with a passion to serve the people and spending time with his family.
On His Successes
Benske started his journey young which gave him a big headstart in business. He sold his first business at the age of 19 and has been on a journey to serving people around the world.
As of today, Patrick has impacted over 1 million marketers, designers, and business owners through his intimate knowledge in various spaces such as business, and marketing. Well-known brands and public figures constantly contact Patrick for advice on how to grow their business, some of which are exceeding $100 million in annual revenue.
People tend to call Patrick the "swiss army knife" of life because of his great efforts and knowledge in various spaces and industries that are essential to a lot of brands today. His company Ethos Group plays an important part in today's personality brands because it gives them access to the skills and strategies that he has accumulated over the years from sales, operations, branding, and marketing.
Patrick's achievements have been brought to life by not giving up, and by consistently showing up every day to work on his projects doesn't matter how good or bad things are going. Patrick is proud of his knowledge to help people grow their businesses and better their life through his products and businesses. 
On His Future Plans for His Projects
Patrick still holds true to his mission; to serve and help people around the world. Whether it's in business, marketing or simply life, his purpose is to serve and guide people. All his future plans revolve around this as they get more and more impactful. Patrick strives to make a difference in people's lives and always goes the extra mile to make this happen. 
He plans to launch more businesses and products that will increase his impact on other people in multiple areas of life. He believes everyone should have access to the same tools and resources but it's up to the person to put it to use and execute. His teachings enable you to take your business to the next level and use that income to expand your wealth.
On Obstacles He Overcame
The biggest obstacle he has struggled with, and he thinks a lot of people struggle with too, is the urge to please other people and the fear of falling behind or simply trying to be someone they are not. There are so many influencers out there that people look up to, which he believes, is ruining their own values and beliefs. Which makes them lost.
Patrick urges people to define who they are, what they want to do, what they value and believe in and then rolling with it. He believes it is not healthy to compare ourselves to others because they have their own values and beliefs which most likely don't align with ours. These people we look up to, he says, have done that. Which is why they are able to influence others.
His Words of Advice to the Youth
If there's something you want to do, start doing it. If it's starting a business, take that risk. Especially if you're still young, you can take the risks that will pay you for a lifetime. Your future self will thank you for taking the risks today instead of putting it off. If you are not seeing any failures in your life, it means you're not growing. Start taking risks, fail fast, adapt quickly and you will see results. Don't think about what other people will say or do, define your own values, beliefs, passions and build something around it.
You can connect with Patrick on Instagram!
——————————————————————————————————————————
Who will be the Next Young Person of the Month?
You can be the next Opportunity Desk Young Person of the Month! All you have to do is get a friend to recommend your work or fill out the nomination form here.  We want to use the platform to recognize and celebrate the efforts of amazing young people around the world. O! And you must be an active Opportunity Desk member, either as a fan, reader or subscriber!
Don't miss any updates in the future.
Join Opportunity Desk on Facebook (164k+), Twitter (29k+), Instagram (14.2k+), FB Group 70k+) or join our 71k+ Email Subscribers below!