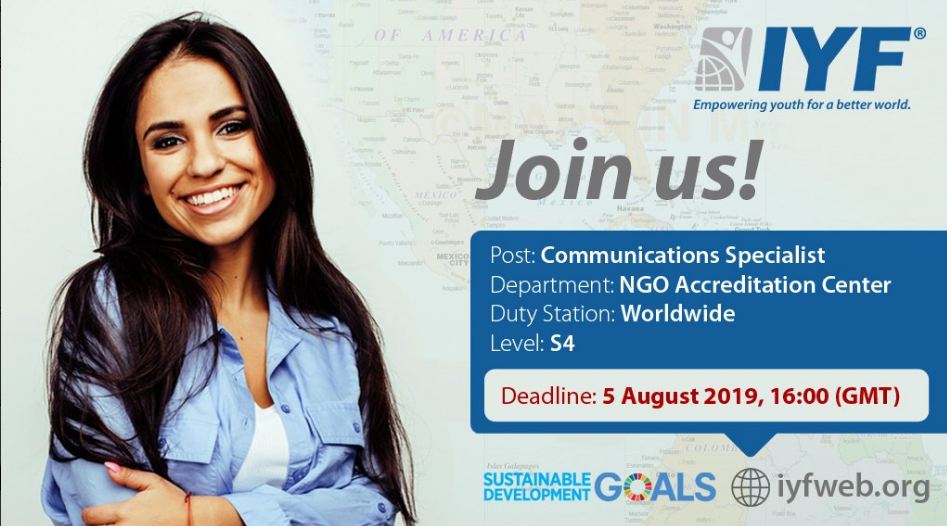 Join the International Youth Federation as a Communications Specialist
Deadline: August 5, 2019
Does making a difference motivate you? Do you want to be part of the global youth movement? Are you passionate about youth empowerment? Are you driven to be a part of a bigger purpose in the service of the young people? Join the International Youth Federation as a Communications Specialist.
The International Youth Federation is an international non-profit youth organizations network governed by the present Statutes and the Swiss Civil Code. It is neutral politically, and non-denominational, aim to empower youth worldwide.
The mission of the IYF NGO Accreditation Center (NAC) is to advance excellence in youth-led organizations worldwide. NAC is governed by the IYF International Relations Commission who serves as the policy-making body in all matters related to the IYF Accreditation programmes.
Under the direct guidance of the Director of NAC, the Communications Specialist is responsible for positioning the center work in priority areas worldwide through mainstream media, multimedia, and social media platforms. He/she is responsible for coordinating effective communications tasks, drafting and editing communication materials, developing and implementing global campaigns in coordination with relevant offices/departments. This vacancy is a voluntary-based position with (4-10 Hours/Week) part-time commitment.
Responsibilities
The Communication Specialist will be responsible for the following:
Contribute to developing and implementing NAC's media communications strategy
Support the center outreach to international media
Communications Support
Marketing Support
Eligibility
Applicants should be highly interested in youth empowerment issues.
Knowledge sharing skills are required;
Experience and results preferred at national level preferred in a communication role, development, communications, blogging, youth issues, sport, women empowerment, youth-led organizations or another relevant field;
Fluency in English with superior drafting skills is essential.
Functional Competencies include
Excellent writing/editing and verbal communication skills
High energy, maturity, and leadership with the ability to serve as a unifying force and to position communications discussions at both the strategic and tactical levels
Sincere commitment to work collaboratively with all constituent groups, including staff, members, volunteers and other supporters
Ability to interact cordially and communicate with a diverse community
Effective oral and written communication skills
Application
For more information, visit IYF.