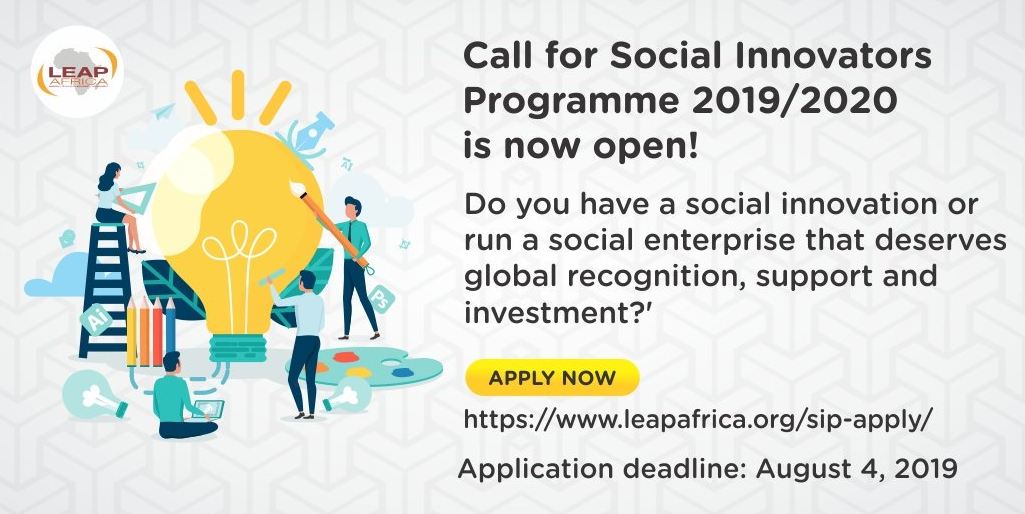 LEAP Africa Social Innovators Programme and Awards 2019/2020 for Social Entrepreneurs
Deadline: August 11, 2019
Do you have a social innovation or run a social enterprise that deserves global recognition, support and investment? Apply now for the LEAP Africa Social Innovators Programme and Awards 2019/2020 for Social Entrepreneurs.
SIPA is a yearly immersive fellowship that empowers and equips young African changemakers with requisite skills and tools for building sustainable enterprises. The 2019/2020 fellowship will begin in November 2019 and run for a period of 12 months till November 2020.
During a programme cycle, 20 social entrepreneurs selected from a pool of applicants, participate in activities outlined for the fellowship year. The initiatives of Fellows cover various aspects of the society, such as Agriculture, Youth Empowerment, Education, Science & Technology, Health, Law, Human Rights, among others. Fellows are empowered through series of training sessions (physical and online), mentorship, provision of local & international funding and partnership opportunities. These activities culminate into an award ceremony where outstanding Fellows are rewarded with seed grants and showcased.
Benefits
The SIP is LEAP's platform to equips, supports and showcases social innovators and entrepreneurs, enabling them build and sustain their social innovations towards national and systems level social change. Therefore, being a member of this prestigious Fellowship, affords you:
The opportunity to be equipped with leadership, management and entrepreneurial skills for personal, organisational and community transformation
The opportunity to build valuable global networks within the social innovation and enterprise space
Access to a support ecosystem of talent, advisory, funding and other resources that will support the growth and sustainability of your innovation
Eligibility
Open to young persons between the ages of 18-35 years, whose ideas and initiatives offer effective solutions to challenges in local communities across Nigeria;
Initiators/co-founders of a social-focused venture/enterprise/Foundation, located in Nigeria;
Applicants must have been involved in operating their venture/enterprise beyond one to three years prior to the commencement of the Fellowship
Initiator/co- founder must be available for the full course of the 12 month period to implement the learnings into sustaining their innovation/enterprise.
Application
For more information, visit LEAP Africa.