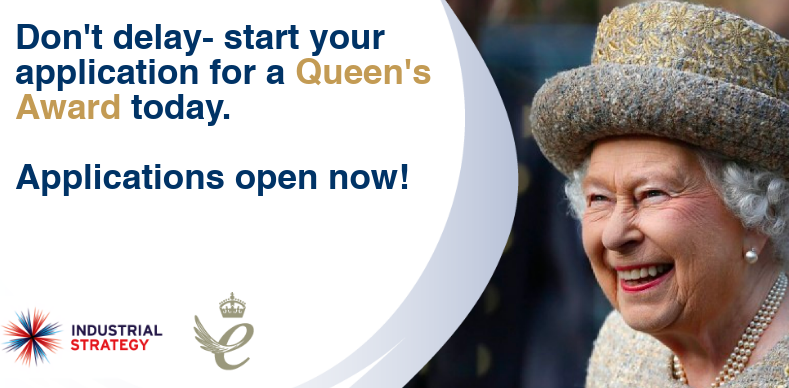 The Queen's Awards for Enterprise in Sustainable Development 2020 for UK Businesses
Deadline: September 10, 2019
Applications for the 2020 Queen's Award in Sustainable Development are now open. His Royal Highness The Prince of Wales has encouraged more businesses to be sustainable and showcase their green credentials under The Queen's Awards for Enterprise. The Queen's Awards for Enterprise are the most prestigious awards for UK businesses, which celebrate Her Majesty The Queen's birthday.
Categories
There are 4 categories for the awards:
Sustainable Development
Promoting Opportunity through social mobility
International Trade
Innovation
Award
Winners will be:
invited to a Royal reception
presented with the award at your company by one of The Queen's representatives, a Lord-Lieutenant
able to fly The Queen's Awards flag at your main office, and use the emblem on your marketing materials (for example, on your packaging, advertisements, stationery and website)
given a Grant of Appointment (an official certificate) and a commemorative crystal trophy
The awards are valid for 5 years.
Winners have reported benefiting from worldwide recognition, increased commercial value, greater press coverage and a boost to staff morale.
Eligibility
To apply for the Queen's Award for Enterprise, your organisation must:
be based in the UK (including the Channel Islands and the Isle of Man)
file its Company Tax Returns with HM Revenue and Customs (HMRC)
be a self-contained enterprise that markets its own products or services and is under its own management
have at least 2 full-time UK employees or part-time equivalents
demonstrate strong corporate social responsibility
Your organisation can be a business or non-profit.
Each of the award categories has additional entry criteria.
To apply for the Sustainable Development award, you must also:
show how you have achieved outstanding sustainable development for more than 2 years
provide evidence of the benefits or positive outcomes of your actions or interventions
Application
The Queen's Awards for Enterprise are free to enter. You can apply for more than one award.
You'll need to:
create an account and register your details
answer questions about your eligibility – this should take less than 15 minutes
submit your application by midday on 10 September 2019
For more information, visit The Queen's Award.