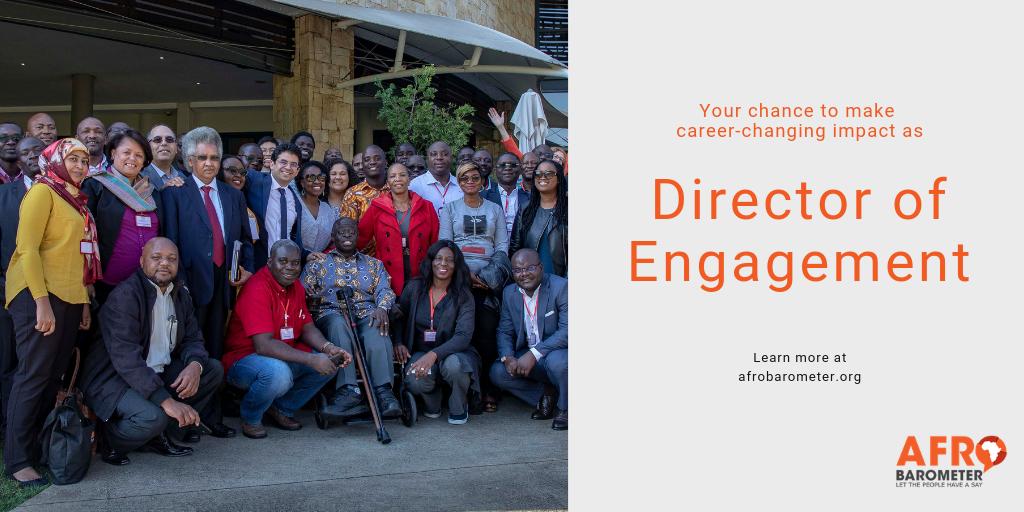 Afrobarometer is hiring a Director of Engagement – Accra, Ghana
Deadline: August 9, 2019
Are you an outstanding fundraising and communications professional? Are you passionate about public policy and development in Africa? Here is an amazing opportunity to work at Afrobarometer. Apply to become the Director of Engagement.
In an increasingly competitive market and a complicated and potentially more challenging political and funding space, this new role will be critical for the success and sustainability of Afrobarometer (AB). The Director of Engagement (DoE), a senior management post reporting directly to the CEO, will have the opportunity to raise the profile, impact and value of this 'global public good' at a critical point in Africa's development.
During a time of both opportunity and change, the DoE will play a pivotal part in applying his or her high-level professional skills, experience, knowledge and networks on behalf of AB to ensure that it has a secure and flourishing future as a valued contributor to African development and economic success. The successful candidate will therefore need to be someone of outstanding capability and a leader in their field, who will command intellectual credibility among funders and philanthropic networks and who will provide vision and leadership for the AB brand.
The DoE will lead AB's Engagement Department, overseeing the resource mobilization (aka fundraising) and communications programs. With the CEO, COO and four other Directors, the DoE is a member of the Central Management Team (CMT) and the Senior Advisory Team (SAT).
Job Details
Responsible for: Resource Mobilization (RM) and Communications (Comms)
Location: Accra, Ghana or as otherwise arranged
Direct report to: CEO
Direct reports: RM Assistant, Head of Communications (Indirect report: Head of Publications)
Closing Date: Upon successful filling of the post; we recommend that you apply before 9 August
Duties
Main duties and responsibilities include:
Provide advice and support to AB CEO and leadership on resource mobilization and communications
Develop and implement mutually reinforcing strategies for communications, stakeholder/partnership engagement, and resource mobilisation in support of AB's mission and goals.
Develop and communicate AB's Case for Support and the societal importance of its work and impact with effective and persuasive messaging and materials
Manage the Engagement team, representing both RM and Comms on the CMT, ensuring that these activities are strategically embedded, appropriately resourced and synergistically executed across the organisation
Lead cultivation and stewardship activity for major donors and prospects, supporting senior staff developing funder relationships
Develop prospect contact strategies and personally cultivate major gift prospects where appropriate; manage key prospect meetings of AB staff, Board and International Council
Employ appropriate techniques, e.g. Moves Management, to manage the process of identification, cultivation, solicitation and stewardship of major donors and prospects
Implement an effective stewardship program that intensifies AB's relationship with its funders
Work with volunteer leadership through the AB Board and International Council (IC)
Collaborate with AB colleagues to ensure that fundraising proposals are realistic, achievable and accurately costed
Ensure that funded projects are monitored, evaluated and that timely reports are produced for funders
Build the fundraising capacity of AB's national partner network and engage and enable them where possible in fundraising activities
Coordinate all relevant activity, ensuring that appropriate systems are in place to ensure that records are kept up-to-date and used consistently to coordinate, track and drive activity
Perform other related duties as assigned
Eligibility
The successful candidate will be a dynamic, proactive and persuasive advocate for AB, capable of winning trust and respect, and will be able to demonstrate evidence of the following:
Desirable
African citizenship or heritage
Experience personally securing multi-$million grants/gifts
Experience managing people and coordinating activity in an international setting and across a geographically dispersed network • High-level relevant funder networks
International Advanced Diploma in Fundraising (IoF) or equivalent
Experience using Salesforce CRM system
Multi-lingual, ideally fluent French, Portuguese and African languages
Application
Applications are accepted on a rolling basis. They will long-list from an international candidate pool in August 2019, so please express your interest as soon as possible.
Send the following documents to Lucy Blythe, Director, Philia International via email: lucy @ philia-intl.com:
An up-to-date curriculum vitae with details of your career
A personal statement describing:

your interest in the post
what you would like to achieve as Director of Engagement
your availability for interview in August 2019 (by electronic means)

Specific and detailed evidence of how your skills, experience and knowledge meet the Criteria for Selection. If you lack experience or evidence in any area listed, please state how you would gain the knowledge or competency needed in order to succeed in the role.
For three referees: names, email addresses, their title/organization and how they know you Please include at least one referee who can speak to your fundraising experience and reputation, and one who can corroborate evidence of successful strategic, business planning, and personnel management. Referees will not be approached without the prior agreement of the applicant.
Your application will be acknowledged within four working days of receipt if you are a qualified candidate. Long-listed candidates will be given details of the subsequent interview process.
For more information, visit Afrobarometer.